Accurate Compliance Documentation for All Major Governments that Require Reporting
More than 40 countries have introduced track and trace laws to help regulate prescription drugs as they move through the supply chain. Pharmaceutical companies need to master the different country compliance reporting and track and trace requirements for each country in which they do business—which is complicated given that no two countries have the exact same laws.
While most on premise and single-tenant solutions only offer compliance for a limited number of countries, the TraceLink network connects to the full spectrum of government agencies that require compliance report submissions as defined by law. TraceLink exceeds all other providers by providing customers with tailored software solutions for producing compliance documentation currently required by India DAVA, South Korea KPIS, EU Hub for EU FMD, China CFDA, and the US.
TraceLink country compliance solutions provide more than just "reports" for each government entity; they enable our customers to maintain government data and connection profiles, view notifications sent to and received from governmental agencies, investigate exception alerts and quickly fix errors, and resubmit reports if necessary to stay in compliance.
TraceLink Compliance Experts Maintain Validated Integrations for India, South Korea, EU, China, and the U.S.
The laws that govern serialization and track and trace in each country have a different set of requirements and different timelines. Companies that attempt to manage this complexity on their own will need to make a significant and continuous resource investment to research the requirements, update systems, update third party partners, test, validate and deploy their solution.
To eliminate this complexity for our customers, TraceLink manages the continuous connectivity and data requirements necessary for implementing successful compliance in India, South Korea, the E.U., China and the U.S. This includes managing different event types that have specific data capture requirements for each event in each country, unique product master data elements across different countries, different outbound compliance integrations, and dozens of integration maps and data formats to support internal packaging line and ERP/warehouse system integration as well as CMO and 3PL partner integration. We do all of this while validating every map across multiple formats to eliminate the time, cost, and risk for our customers.
Timely Software Updates for Regulatory Changes Beyond Your Control
Because track and trace laws are as new to governments as they are to life sciences companies, it's common for governments to iterate on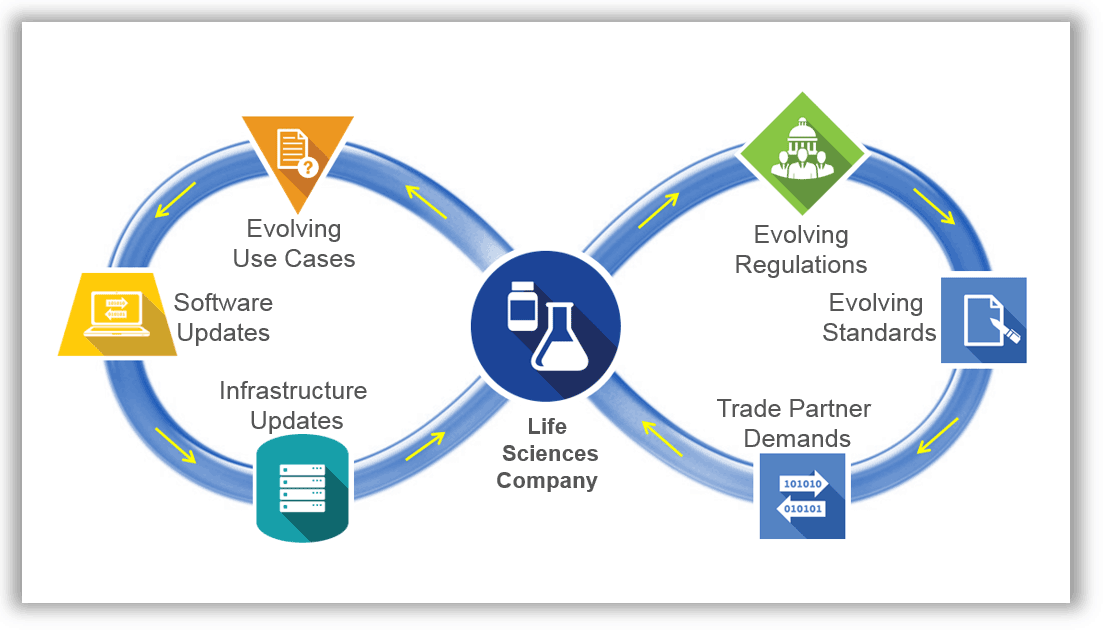 the requirements and evolve their legislation. China, Brazil and India are all good examples, where each announced regulatory changes in 2015 for how the supply chain will need to comply with their laws. In 2017, EMVO rolled out new specifications for product master data and decommissioning events for the EU Hub, plus development of a new interface for market withdrawal—a change that requiring any solution provider to conform to EMVOs latest updates.
TraceLink's unique network-tenant solution is purpose-built to help our customers adapt to critical changes as soon as they take place. What's more, automated validation testing reduces the burden of manual paper-driven validation processes and the need for in-house experts to manage. TraceLink customers have access to the industry's only automated validation solution, Automated Validation Manager, that offers:
Automated test execution to eliminate the need for resources to manually write and execute validation scripts against new functionality.
A full suite of automated tests continuously executed against each release and patches.
Validation documents updated with each release to reflect new functionality, easily accessible through a web-based portal.
Read More