There's a Reason Pharmaceutical Companies Select TraceLink
To date, 752 pharmaceutical companies from 51 countries have chosen TraceLink as their serialization solution provider. Collectively, these companies have commissioned more than 19.6B serial numbers for prescription drug products entering the global supply chain.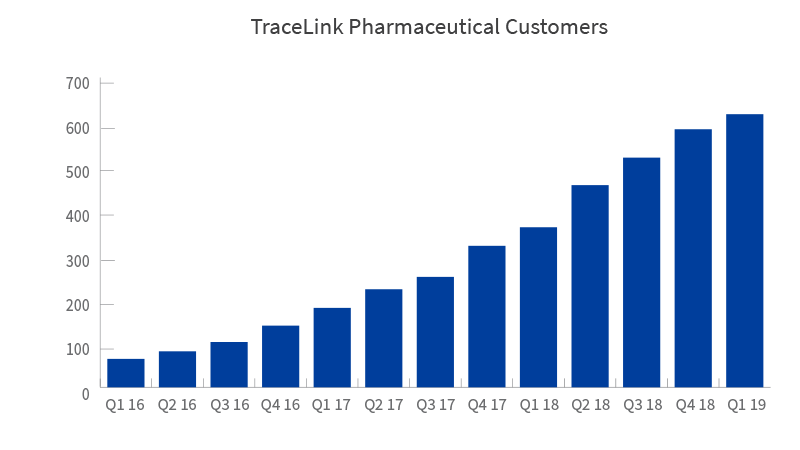 From some of the largest pharmaceutical brands in the world—to those still seeking approval for their first commercial products, drug manufacturers of all types have embraced the TraceLink network as the platform for transforming their supply chains into digital networked ecosystems that accelerate the production of serialized products. They have recognized that achieving regulatory compliance—and value beyond—is a trade partner connectivity, data exchange and scalability problem that requires complex system integration and massive transaction processing. They have seen through the false promises of on premise solutions and single-tenant architectures that cannot scale to meet their needs and introduce tremendous risk to their businesses.
Streamlined Workflows, Shared with Everyone
Every pharma company that joins the TraceLink network benefits from the hundreds of other pharma companies who are already on it. We take the information maps, format interoperability, messaging choreography, and configurable workflows that we've developed for each preceding customer—and allow new companies to leverage that work to speed their integration process. With on premise and single-tenant solutions, every integration for every company is a time consuming and costly custom build—with no possibility of leveraging prior integration work with future companies.
CMO Integration: The Most Efficient and Cost-Effective Anywhere
TraceLink facilitates the fastest and most comprehensive integration to CMOs. That because when any pharmaceutical company subscribes to TraceLink, we automatically onboard all of their CMOs to the network. The 752 pharmaceutical manufacturers who've selected TraceLink for serialization work with a total of 850+ different CMOs—all of which are on our network—and with just a single connection to TraceLink, you can connect to any of them and start exchanging serialization data. In fact, when faced with the choice of integrating to TraceLink or another solution provider, CMOs cite the significant time-savings and ease of working with TraceLink.
For every CMO that is a trading partner of our pharmaceutical customers, we provide a broad range of education resources. You'll quickly learn the basics of TraceLink, and have dedicated TraceLink expert assigned to support every step of your integration. You'll also receive testing assistance to ensure successful data exchange, and communication templates to standardize and simplify processes.
Easily Manage Complex Transactions for Extremely Unprecedented Data Volumes
Because our customers have commissioned more than 19.6B serial numbers, we understand the deep complexity of serialization file transactions.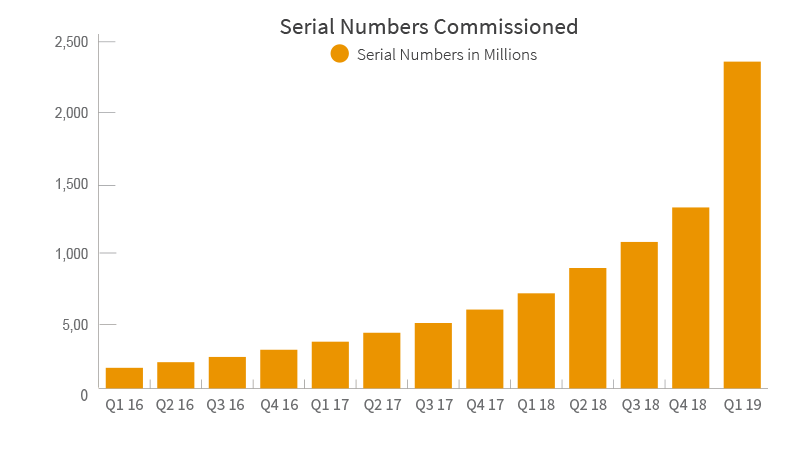 Serialization files routinely exceed 100 MB in size, with some as large as 250 MB. Compare this to a typical EDI ASN file that is about 4 KB. A system designed to handle these smaller transactions just can't map and process larger volumes of data all at once. And the challenge goes beyond large files. Two CMOs batching files may send data to you in different ways: one sending a large single file while another sends you thousands of small files. Other companies may choose to batch transactions, sending them to you once a day, or once a week.
The TraceLink network runs on Amazon Web Services, so you don't need to plan for any particular file transaction scenario. Unlike on premise and single-tenant solutions that limit transaction processing by file size or quantity, TraceLink handles any file transfer in any method—regardless of file quantities or sizes—with the same speed and efficiency.
Integration with Wholesale Distributors
Pharmaceutical companies using TraceLink for serialization have business relationships with more than 870+ wholesale distributors, which also have also been on boarded to the TraceLink network. TraceLink automatically translates file formats for the downstream customers of pharmaceutical companies, and includes any applicable aggregation or disaggregation information. We also provide user interface capabilities for trade partners that need to access data but do not have B2B capabilities.
Similar to CMOs, we provide education for wholesale distributors who are trade partners of our pharma company customers, so they understand the basics of TraceLink. Each receives a dedicated TraceLink staff resource, testing assistance to ensure successful data exchange, and SOPs for communicating to partners on project kick-offs and implementation deliverables.
Healthcare Providers and Pharmacies
TraceLink's pharmaceutical company customers have access to the world's largest network of more than 279,000+ healthcare providers and pharmacies. Whether direct shipments or drop ship scenarios, our network supports these requirements. We translate any file formats required for exchange with healthcare providers and pharmacies and also offer the ability for pharmaceutical companies to subscribe to a Digital Information Platform and share drug product and other information with healthcare providers and pharmacies that have opted in to receive it. This extends the value of the TraceLink network as a new digital communication channel for the purposes of enhancing patient consultations during drug dispensation and enhancing the way pharmaceutical companies interact with pharmacists and patients.
Automated Validation for Continuous GxP Compliance
Pharmaceutical manufacturers know that software updates must be validated to ensure that their systems meet GxP compliance requirements. Nearly every solution provider will claim to keep your system in continuous compliance, but also promise limited software updates on a schedule that you control. In an industry bound by new regulations and in a constant state of change, no provider can predict how many releases you'll need in a year, because there is no way for them to control the various aspects of continuous change.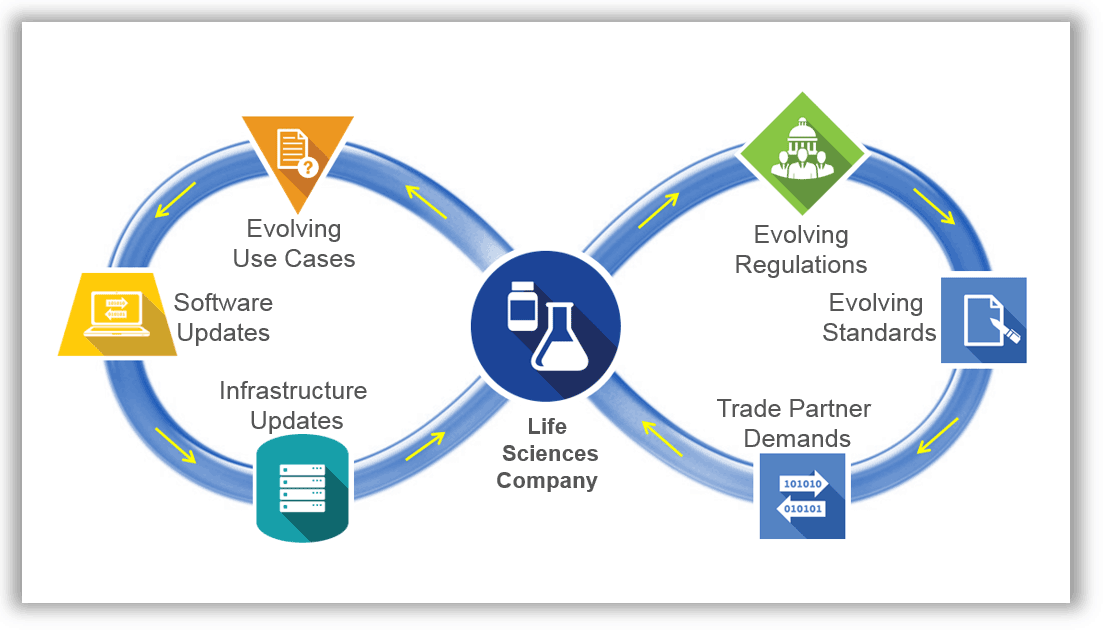 TraceLink's unique network-tenant solution is purpose-built to help pharmaceutical companies adapt to changes as soon as they take place. What's more, automated validation testing reduces the burden of manual paper-driven validation processes and the need for in-house experts to manage. TraceLink customers have access to the industry's only automated validation solution, Automated Validation Manager, that offers:
Automated test execution to eliminate the need for resources to manually write and execute validation scripts against new functionality.
A full suite of automated tests continuously executed against each release and patches.
Validation documents updated with each release to reflect new functionality, easily accessible through a web-based portal.
Get a Free Network Analysis
Pharmaceutical companies typically find that 80-90% of their CMO, wholesale distribution, hospital and pharmacy customers are already on the TraceLink Life Sciences Cloud. With just a single connection, you can connect to all of your supply chain partners and begin securely exchanging serialization and compliance data. Other track and trace providers need to configure individual B2B connections to each of your supply chain partners, adding significant time and costs, including many hidden ones.
TraceLink will perform a free network analysis for you. Before you start to work with us, you'll know exactly how many of your partners are already on the TraceLink network.
Read More