Seamlessly Manage Your Business Relationships and Regulatory Responsibilities
Wholesale distributors that purchase prescription medications from manufacturers and resell them to other distributors, health systems, hospitals and pharmacies have some of the largest trade partner networks comprised of upstream and downstream trading partners. The cost of the systems and staff required to establish direct data connections with every individual supplier is significant. Where integrations don't exist, US distributors may find themselves managing product shipments that generate tens of thousands of paper compliance transactions in a given year, which can quickly drive additional time and labor costs into the millions.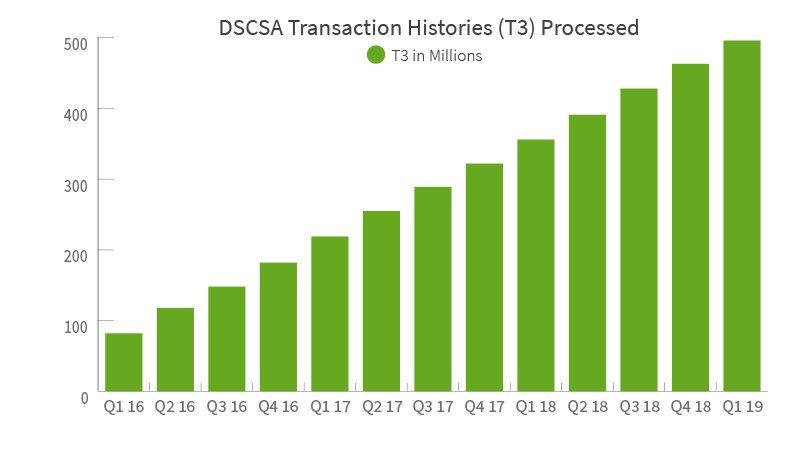 The TraceLink network instantly connects any wholesale distributor to more than 1800+ pharmaceutical manufacturers and 279,000+ hospitals, pharmacies and physicians that are already on our network. Our wholesale distribution customers in the US have contributed significantly to the 716M+ Transaction Histories (T3) that TraceLink has processed since early 2015 for the U.S. Drug Supply Chain Security Act (DSCSA). This currently reflects an average volume of 42,237 ASNs (Advance Shipping Notices) per day. No other solution on the market has demonstrated the same ability to achieve this type of scale.
The TraceLink Network Reduces Wholesaler Compliance Costs by Up to 70%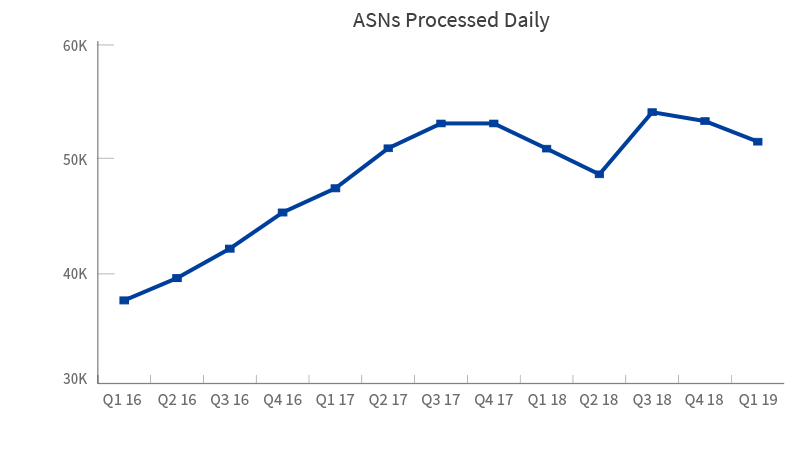 US wholesale distributors currently managing a mix of paper and electronic DSCSA compliance documents have found that they can reduce their compliance infrastructure and labor costs by more than 70% in the first year as a TraceLink customer. For the typical mid-market wholesale distributor with approximately 40 upstream suppliers and 200 downstream customers, the cost savings are achievable by establishing a single connection to the TraceLink Life Sciences Cloud, which then provides an immediate data connection to any of the wholesaler's trading partners who are already on our network. This eliminates time-consuming point-to-point integrations, each of which is estimated to take approximately 10 days to implement at $1,500 per day—or $15,000 for each integration.
Data Exchange Made Simple: Any File, Any Format
One of the most significant challenges of exchanging data between trade partners is that there is no single standard in use. Most compliance requirements only specify the data elements that must be exchanged, leaving format decisions up to individual companies. With a myriad of format preferences across the industry, this presents a unique data exchange challenge—particularly for wholesale distributors that must receive data from upstream suppliers and then send data to downstream customers. A common approach for many solution providers is to mandate the use of one specific format for their customers to use, which provides little flexibility to include additional information if the recommended format in use cannot accommodate that information.
The TraceLink network eliminates this challenge for wholesale distributors by allowing them to receive and send data in whatever format they most prefer. Through its single connection to the Life Sciences Cloud, a wholesaler distributor establishes a profile that defines the format of the data they want to receive, the format they will send, and their B2B transport. TraceLink then takes the incoming data in whatever format a supplier chooses to use and translates all the information into the format you've selected to use. All data translation, company-specific identifiers, and message choreography are centralized in TraceLink so you don't have to manage this complexity your own. When you're ready to send the data downstream, you use the format you prefer and TraceLink automatically translates the information into the formats that all of your customers prefer to use.
Get a Free Network Analysis
Wholesale distributors typically find that 80-90% of their upstream pharmaceutical suppliers, and downstream hospital and pharmacy customers are already on the TraceLink Life Sciences Cloud. With just a single connection, you can connect to all of your supply chain partners and begin securely exchanging compliance data. This eliminates the time-consuming process of managing accurate compliance transactions internally, or pay costly fees to other track and trace providers that need to configure individual B2B connections to each of your supply chain partners.
TraceLink will perform a free network analysis for you. Before you start to work with us, you'll know exactly how many of your partners are already on the TraceLink network.
Read More