The Fastest, Most Cost-Effective Path to Serialized Production
Contract manufacturing and packaging organizations (CMOs and CPOs) on the TraceLink network have experienced firsthand that there is no faster and more comprehensive method of integrating to brand owners. Configuring CMOs for serialization is a complex process, and for those using on premise software or single tenant solutions, hidden integration costs can be astronomical and implementation timelines take far longer than anticipated. With 141 CMOs that have selected TraceLink as their serialization partner, and 850+ that we've on boarded as partners of our pharmaceutical customers, we have the largest ecosystem of global CMOs and CPOs.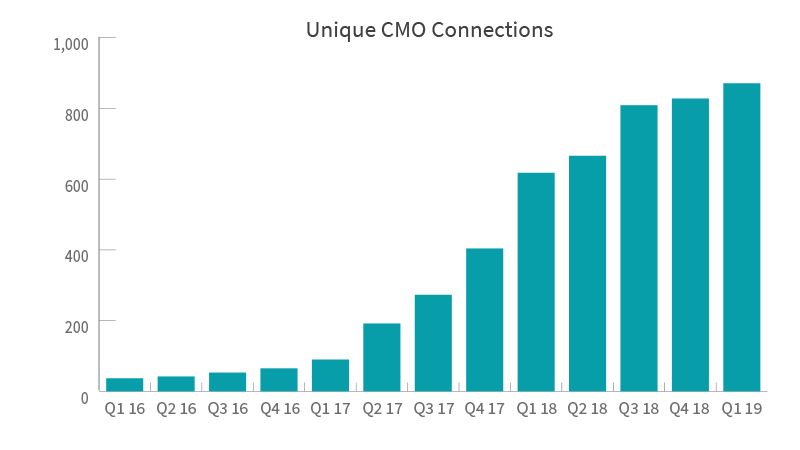 We've currently completed 511 unique connections between brand owners and the CMOs on our network, establishing the critical integrations that are required for serialization and successful data exchange.
Integration Challenges Facing CMOs
Most regulatory requirements mandate that supply chain companies perform some combination of generating, tracking, exchanging, and storing serialized information. As a CMO, you must be able to receive serial numbers from your partners and then communicate back serialization events—reserved, commissioned, decommissioned, destroyed, and more—that occur at your facilities.
Because each pharmaceutical company has a unique set of internal systems and serialization workflow, each of them also has unique and complex integration demands around mapping, event choreography, transmission protocols, validation and more. Collecting, understanding, and implementing these demands from clients who are not often following a consistent industry standard will add significant time and effort to your process. If you are using an on premise or single-tenant solution, it can take 30-45 days to integrate a single CMO with an approximate cost of $15,000 per integration. If you're working with multiple pharmaceutical partners, you won't likely have enough time to tackle each of these connections individually.
TraceLink Enables Rapid CMO Integration to Brand Owners
TraceLink eliminates all of the complexity associated with trade partner connectivity. With just one integration to TraceLink, you can interoperate with more than 1800+ pharmaceutical manufacturers that are already on our network and leverage the information maps, format interoperability, messaging choreography, and configurable workflows that we've already developed for hundreds of pharma companies and their CMOs. This speeds up the connectivity process and dramatically reduces your integration costs.
Unlike other serialization providers, we assign a dedicated integration expert to guide every step of your project. We'll also test your configuration to ensure that you're ready for successful data exchange, and we'll provide you with templates for Standard Operating Procedures (SOPs) to make it easy for you to communicate with partners on your project timelines and deliverables.
Configuring CMOs for Serialization on the TraceLink Network
Using TraceLink to prepare for serialization is the quickest way to ensure your brand partners that you're ready to support their production needs. While both the CMO and the brand owner share a portion of the project responsibilities, TraceLink does the majority of the configuration work, including map development to provide format interoperability and configurable workflows for data choreography. Unlike other vendors, TraceLink provides every CMO with a dedicated configuration expert, assistance with tests to ensure successful data exchange, and standard communication templates to streamline processes.

Automated Validation for Continuous GxP Compliance
CMOs know that software updates must be validated to ensure that their systems meet GxP compliance requirements. Nearly every solution provider will claim to keep your system in continuous compliance, but also promise limited software updates on a schedule that you control. In an industry bound by new regulations and in a constant state of change, n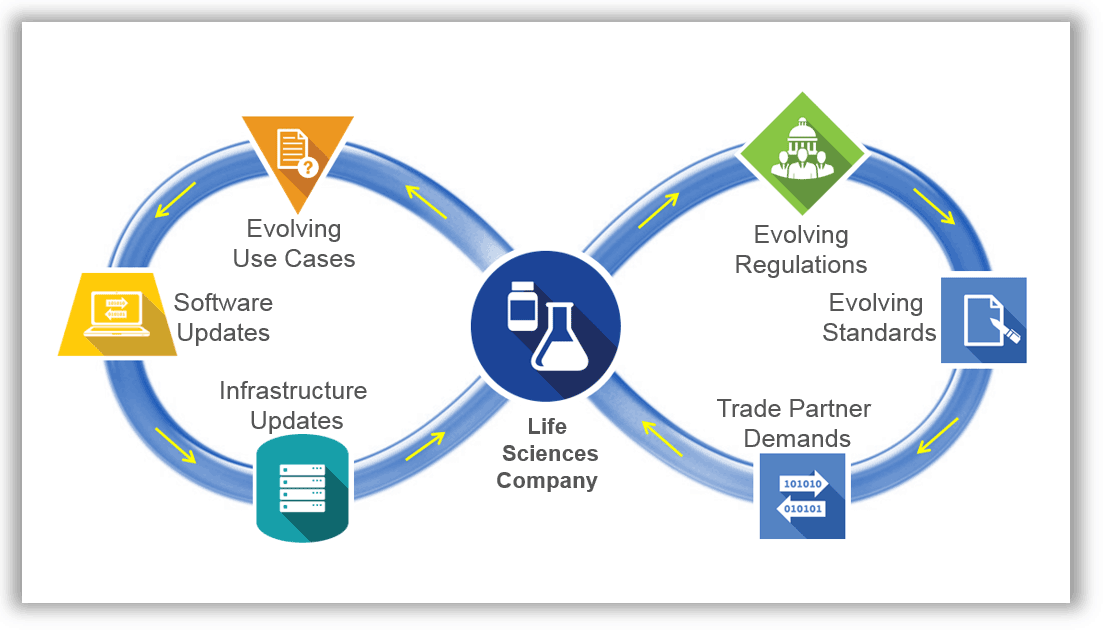 o provider can predict how many releases you'll need in a year, because there is no way for them to control the various aspects of continuous change.
TraceLink's unique network-tenant solution is purpose-built to help you adapt to changes as soon as they take place. What's more, automated validation testing reduces the burden of manual paper-driven validation processes and the need for in-house experts to manage. TraceLink customers have access to the industry's only automated validation solution, Automated Validation Manager, that offers:
Automated test execution to eliminate the need for resources to manually write and execute validation scripts against new functionality.
A full suite of automated tests continuously executed against each release and patches.
Validation documents updated with each release to reflect new functionality, easily accessible through a web-based portal.
Get a Free Network Analysis
CMOs and CPOs typically find that 60-70% of their pharmaceutical brand customers are already on the TraceLink Life Sciences Cloud.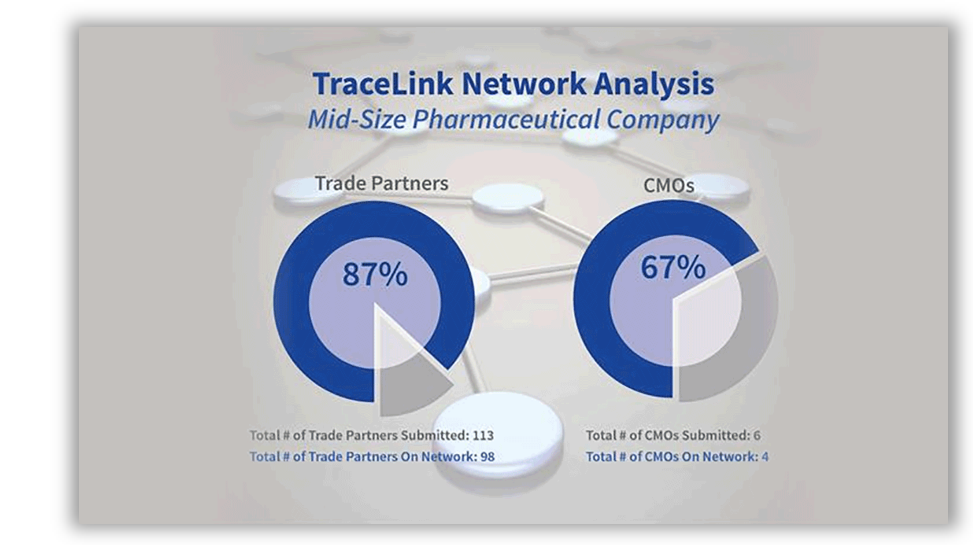 With just a single connection, you can connect to your supply chain partners and begin securely exchanging serialization and compliance data. Other track and trace providers need to configure individual B2B connections to each of your supply chain partners, adding significant time and costs, including many hidden ones.
TraceLink will perform a free network analysis for you. Before you start to work with us, you'll w exactly how many of your partners are already on the TraceLink network.
Read More