The Supply Chain Work Management solution is a revolutionary new way to execute supply chain management processes by digitalizing work across multiple tiers of supply chain partners.
High performance supply chain management requires well-choreographed execution between cross functional teams at your company and your supply partners. From planning and sourcing materials to making and delivering products, there are an endless number of processes that cross company boundaries. Unfortunately, these processes are managed today primarily through emails, phone calls and spreadsheets and have not been digitalized - until now!
The Supply Chain Work Management solution enables teams to: 
assign tasks and track due dates
manage incidents
review documents
manage changes
track progress with dashboards
Exceptions are resolved faster. Costs are reduced. And OTIF delivery goals are exceeded.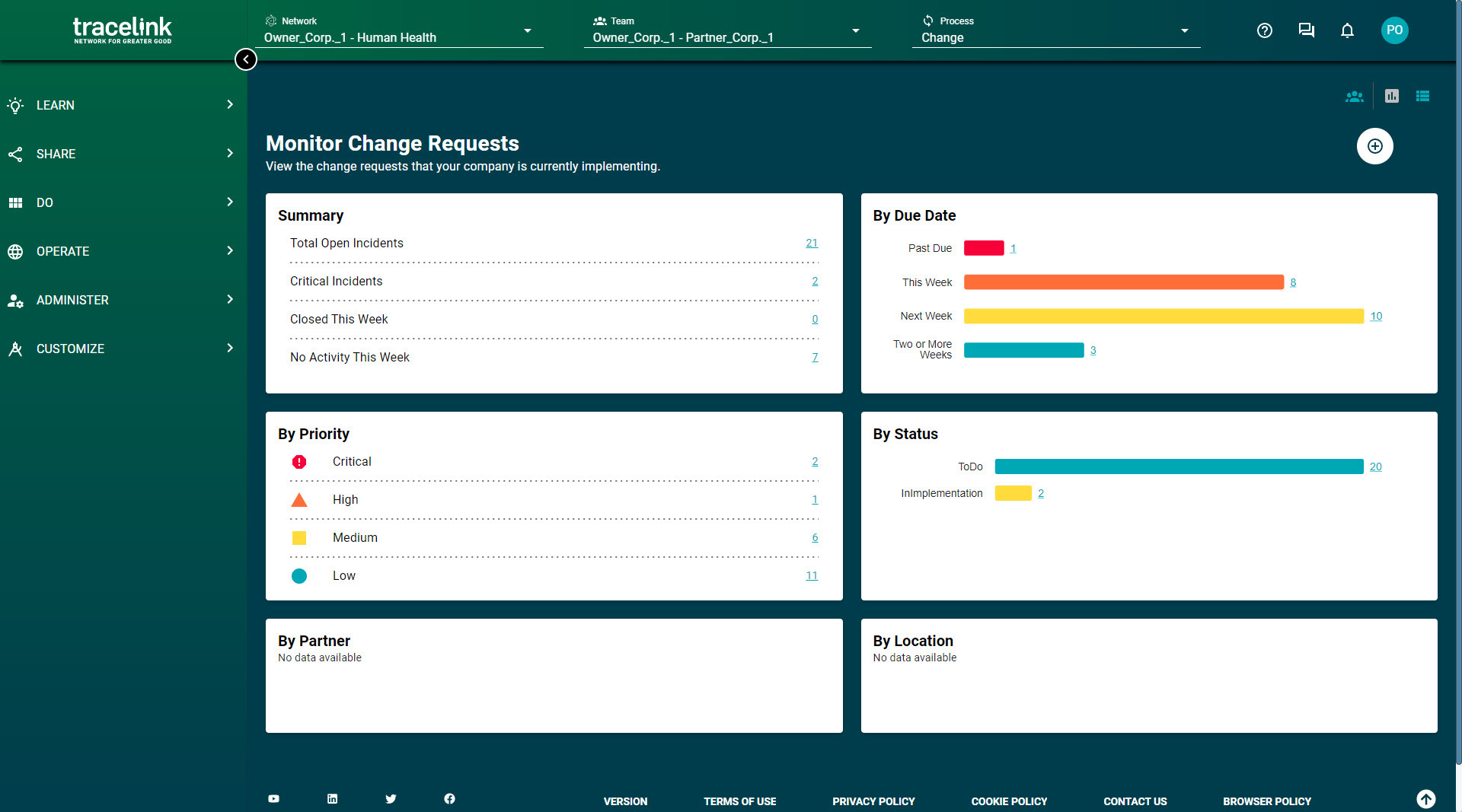 Challenges
No Digital Connectivity: companies today connect with their suppliers through costly point-to-point integrations. These expensive data exchanges are limited to a few partners and make end-to-end supply chain digital transformation impossible.
Poor Visibility: supply chain leaders lack comprehensive visibility into the work being done by cross-functional and cross-company teams. These leaders are forced to rely on ad-hoc reports and emails to track progress and manage escalations, with no real-time visibility into the status of projects or supplier performance trends.
Lack of Centralized Management Tools: Managers often spend 50%-80% of their day in meetings and video conferences to simply understand the status of supply chain processes and issues.
Failure to Get the Right People Involved: It's not always clear which stakeholders should be involved to execute supply chain processes. This lack of clear accountability leads to confusion over roles and responsibilities and delays completion.
Unstructured Collaboration and Decentralized Information: Teams typically depend on unstructured and decentralized communication tools like emails, phone calls, and virtual meetings to execute supply chain processes. As a result, important information is often missing or difficult to find and deadlines are missed.
No Process Innovation – Without a structured work management platform, teams struggle to design better ways to the manage projects, issues and changes that are a part of everyday supply chain life.
Unlimited innovation
Supply Chain Work Management running on the Opus platform enables organizations and their supply chain partners to streamline existing supply chain processes and create new ways of working together not possible without network connectivity.
Gain centralized visibility
Dashboards provide real-time visibility into the status of work being done by cross-functional and cross-company teams. Quickly identify high-priority issues and exceptions, spot critical missed deadlines, and have the visibility to apply additional resources when the situation demands it.
Apply an efficient process
Improve process efficiency with workflow-driven actions, clear due dates, and automated notifications. With Supply Chain Work Management, everyone knows who is responsible for the next action.
Use the right team
Create "process teams" digitally and dynamically to make sure processes are routed to the right team members and subject matter experts from inside and outside of the organization. Rapidly engaging with the right subject matter experts leads to significantly faster completion.
Add structure to traditionally unstructured processes
Purpose-built processes for incident management, document reviews, and change requests bring structure, ensure comprehensive data collection, timely follow up by the right resources, and on-time completion. The Task Management capability provides the additional flexibility to bring structured collaboration to any internal or external supply chain project.
Simplify Employee Work
Today's supply chain challenges are increasing the complexity of work and driving the need for enhanced collaboration and faster decision making. Supply Chain Work Management simplifies how work gets done with supply partners. Teams using Supply Chain Work Management have the information they need to make decisions at their fingertips, reduce the number of people that need to be involved in the decision-making process, and speed decision making with real-time collaboration.
Capabilities 
All Supply Chain Work Management capabilities share a set of common features:
Interoperable Digital Networks - Supply Chain Work Management runs on TraceLink's Opus Platform, the platform for the Internet of Supply Chains™ (IoSC). Opus enables networks to be built with suppliers that link people, processes and systems around a common business purpose. Building the networks on the Opus platform enables interoperability across networks. 
Dashboards - Provides managers, employees, and partners with the capabilities to monitor processes by status, due date, priority, location, and trading partner.
Data Sharing - All trading partners share data through a standard data model that is extensible while preserving interoperability. Rigorous security protocols ensure partners can only see their data while the owning company can see all partner data. 
Document Sharing - Attach documents to tasks, incidents, change requests and document reviews to manage secure sharing across trading partners. 
Configurability - Tailor solutions with Solution Designer to change the user experience, data attributes, workflow, user roles, access policies, and deployed solution bundles.
Audit Trail - Provides audit trail and reporting for status, responsibility, and completion rates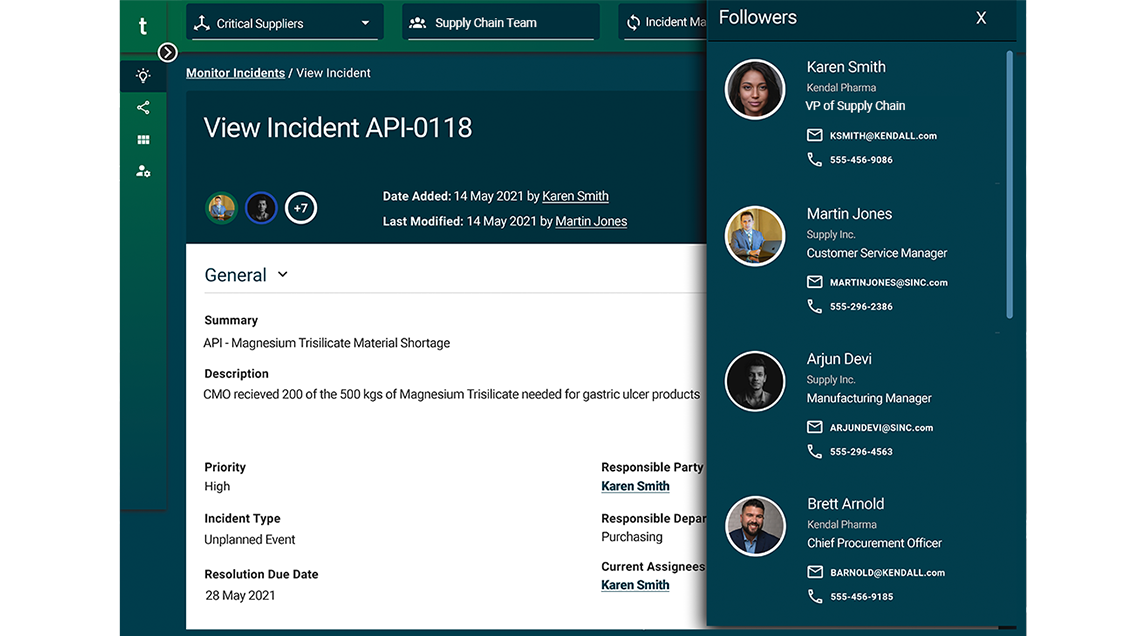 TASK MANAGEMENT
Use tasks to manage and track projects for any multienterprise process that requires collaboration across multiple supply chain partners.
Create tasks from a library of predefined templates, customize the templates, or build tasks from scratch.
Task dashboards provide a single view into current and past tasks by status, priority, due date, and risk level with notifications to keep projects on track.
Unique multienterprise task structure enables one, two or more external partners to be assigned different sub-tasks as part of a single multi-company process.
Configure task templates to drive continuous improvement methodologies such as Six Sigma DMAIC and conduct reviews of recurring issues.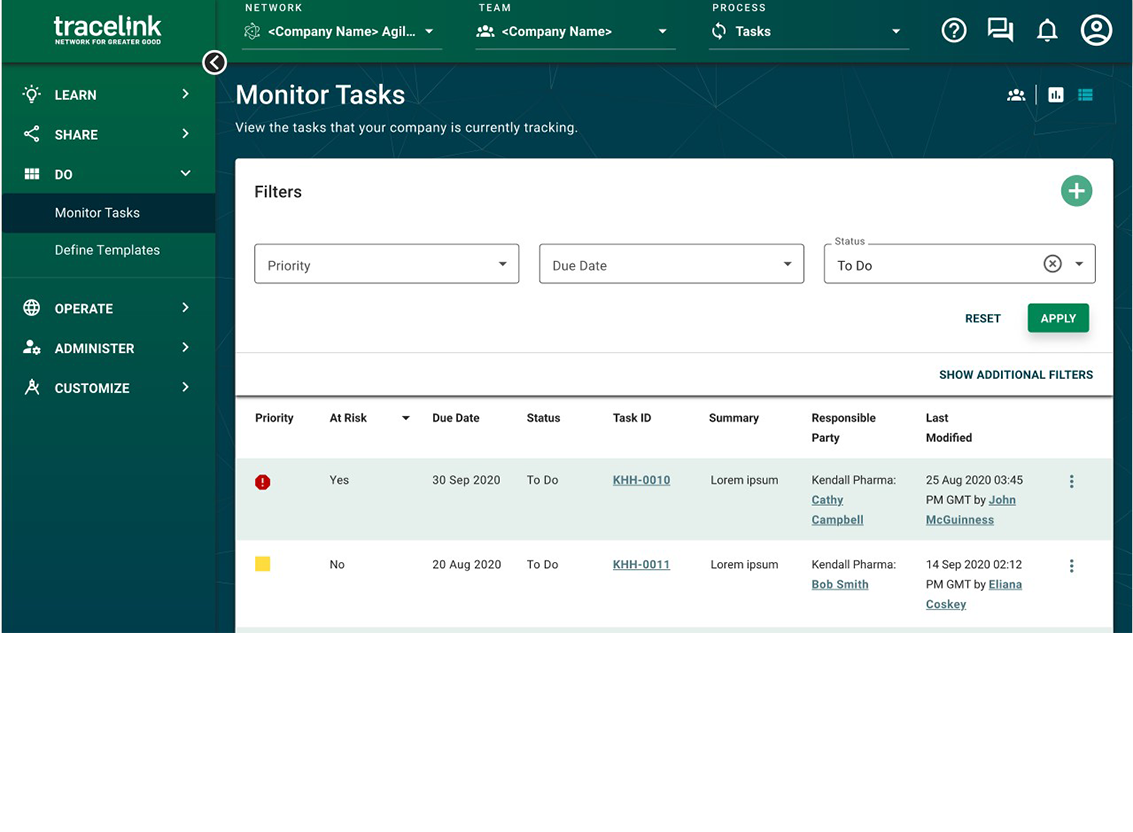 INCIDENT MANAGEMENT
Capture, analyze, resolve, correct, and prevent planning exceptions and supply chain issues.
Incident dashboards track issues and exceptions by priority, due date, issue resolution status, sites, and partner. 
Configurable drop-down lists ensure easy and accurate issue data is collected to speed resolution.
Integration with planning systems like Kinaxis RapidResponse enables real-time collaboration with suppliers to respond to supply chain issues and resolve planning exceptions.
Collect root cause data and perform analysis of prior incidents to support continuous process improvement methodologies such as Six Sigma DMAIC.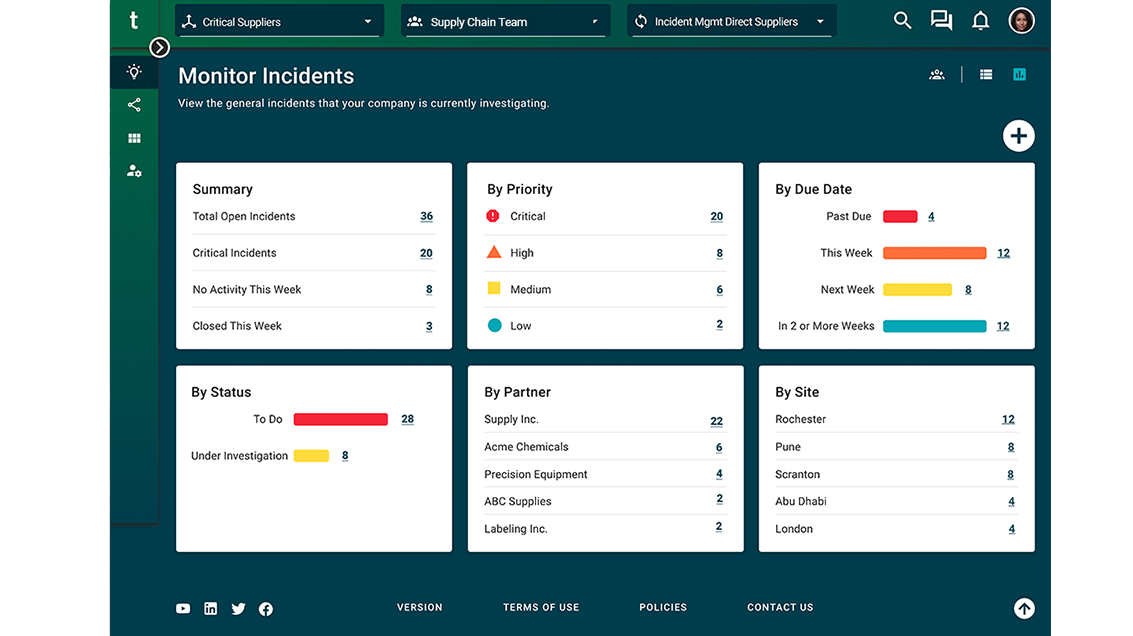 CHANGE REQUESTS
Enables trading partners to initiate online change requests
Assign, evaluate, and track change requests through closure.
Track change type, material category impacted, change driver, implementation dates, and impacted sites and products.
Integrated two-way communication and document sharing with suppliers, with private and secure communications and access controls.
Extract change data for analytics to monitor changes and identify supply risks.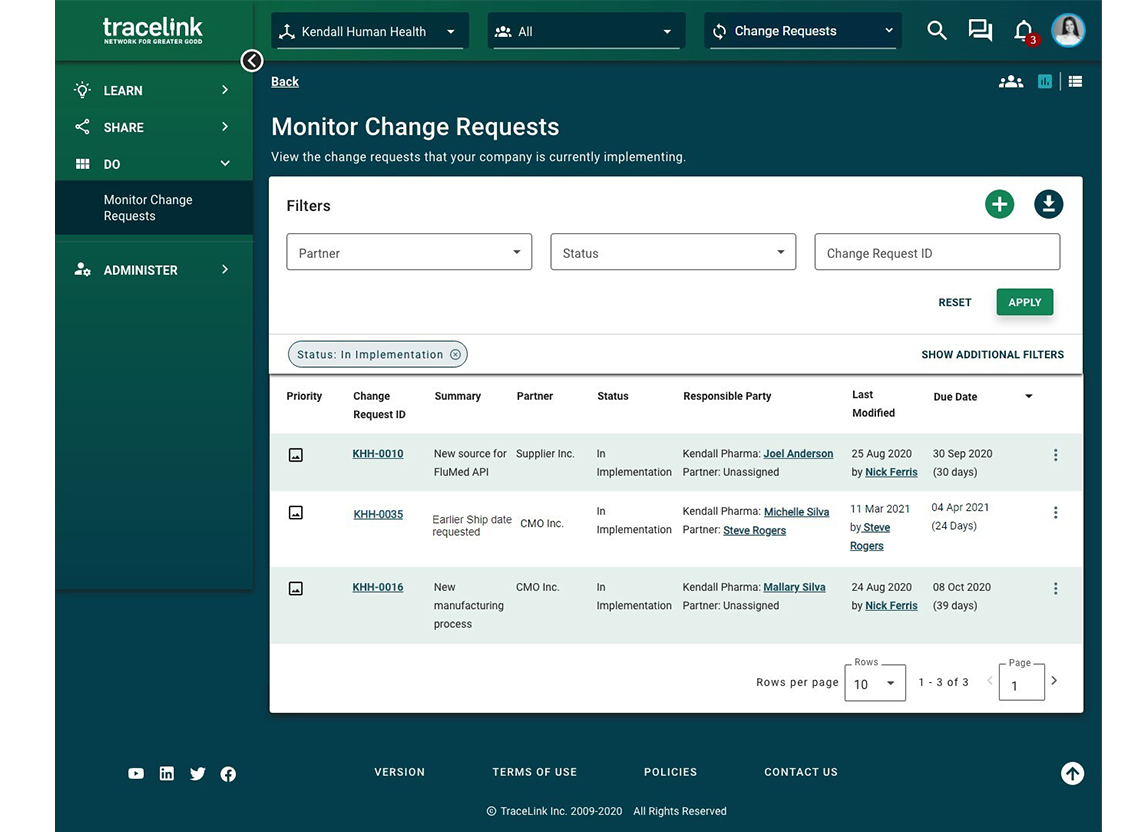 DOCUMENT REVIEW
Collaboratively review and approve documents like SOPs, CAPAs, contracts and more with supply chain partners.
Track review and approval process by status, due date, priority, location, and trading partner.
Workflow-driven review and approval process.
Access controls ensure confidentiality and approver authorization.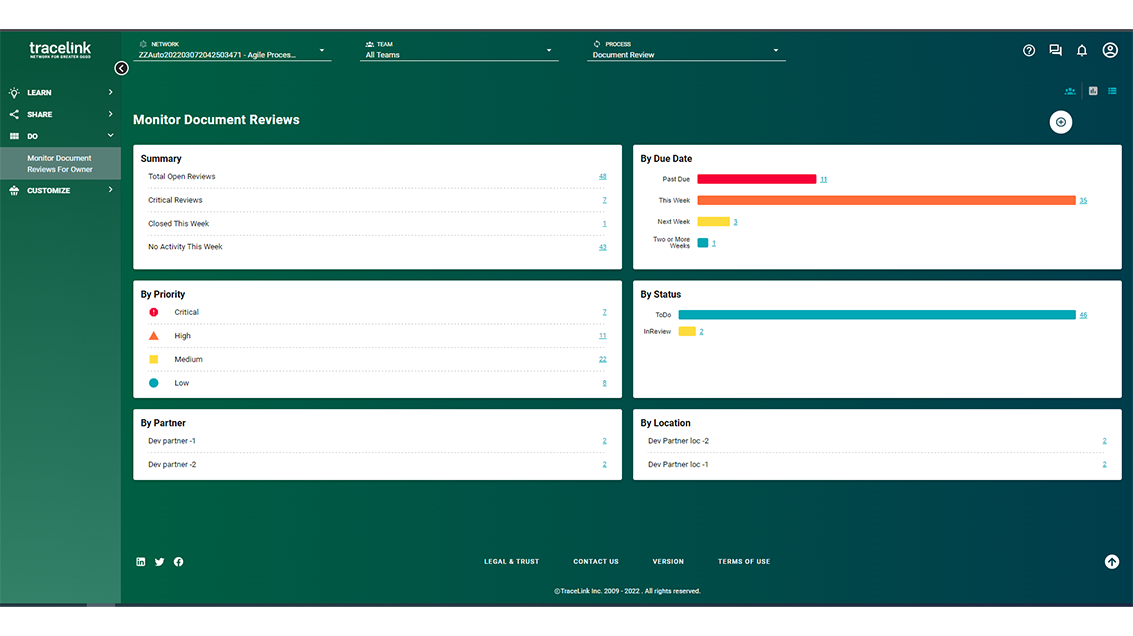 Supply Chain Work Management drives immediate and continuous value:
Immediate Benefit

65%
Issue and exception resolution times reduced by as much as 65%.
Intermediate Benefit

35%
Number of open issues and exceptions reduced by as much as 35%.
Long-Term Benefit

97%
Reduce manufacturing disruptions by 97%.
Deploying Supply Chain Work Management Impacts Key Business Metrics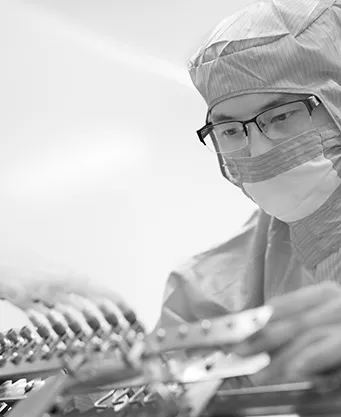 Over time, the average issue and exception resolution times become part of the order cycle times. Reducing resolution time reduces planning cycle and order cycle times.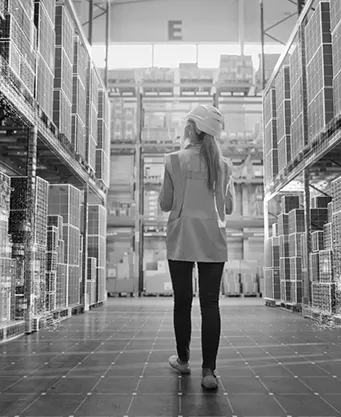 Collaboratively clearing issues and exceptions also improves order fill rates as suppliers are engaged immediately. This is especially important during periods of high growth when open purchase orders are being increased frequently.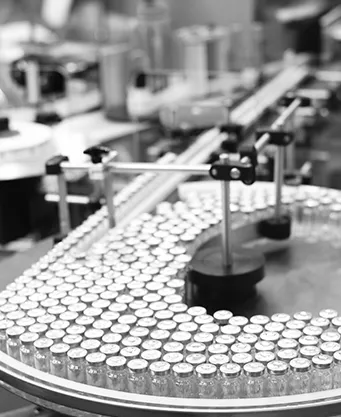 With better informed supply chain management teams attending production meetings, fewer incomplete orders will be released to production. This reduces unnecessary changeovers and improves throughput.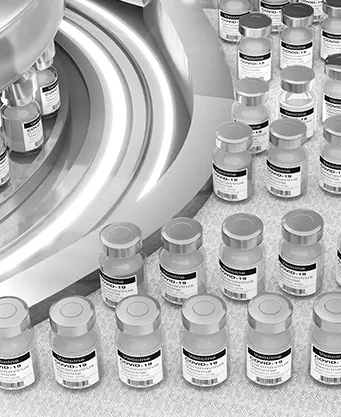 As order cycle times are reduced, less buffer inventory is needed for a shorter period of time. As these reductions spread across more components and finished goods, cash-to-cash cycle times will be reduced.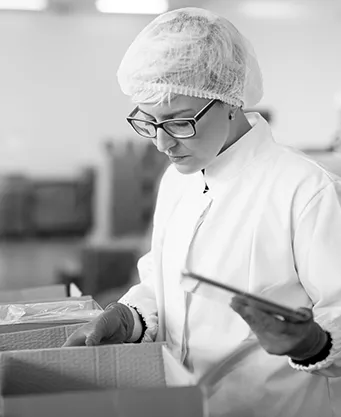 Fewer issues and exceptions means fewer surprise shortages, which improves the manufacturing plant's ability to deliver against the schedule.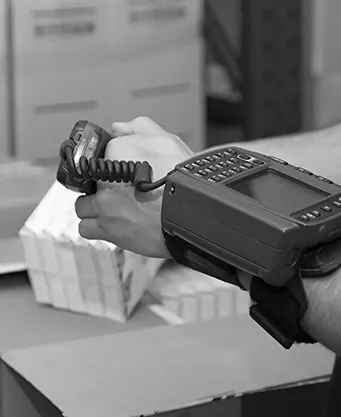 Extra inventory buffers poor performance. The combination of higher order fill rates, shorter order cycle times, better schedule attainment, and more precise issue and exception management will enable safety stocks and WIP inventory to be reduced. Lower inventory improves inventory turnover.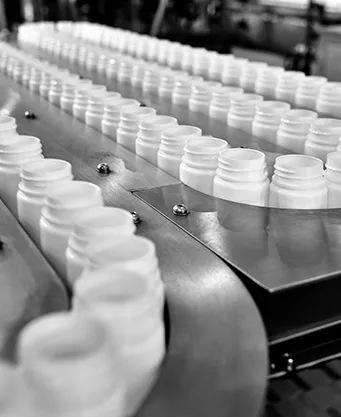 Engaging suppliers in the issues and exception resolution process provides a more precise understanding of when and how many short components will be available. With this information, planners and senior managers can more intelligently allocate scarce components and avoid consuming them in assemblies that are missing other parts and cannot be completed.
| | |
| --- | --- |
| Exception Management | Connect planners and suppliers in real-time to support rapid exception resolution. Provides visibility to managers, planners, and supply chain partners to unresolved exceptions, critical and high-priority exceptions, past due exceptions, and suppliers with open exceptions. |
| Multi-step/Multi-supplier Exception Resolution | Some exceptions, especially those caused by global material shortages, substitute material requests, faulty designs and production quality problems require a multi-step, structured workflow process to resolve. Task templates for each situation ensure that the resolution process includes specific functional department participation in a prescribed sequence (e.g. R&D must sign off on a substitute material). |
| Plan Finalization | Collaboration occurs between Sales, Marketing, and Supply Chain teams to review and update forecasts and plans for a specific planning period. Using task management, email plan exchanges are replaced with structured collaboration. |
| Forecast Collaboration | Sharing forecasts with suppliers is a best practice to ensure on-time delivery of critical materials, components, and finished goods. A task template has been created for the supplier forecast collaboration process that includes procurement, planning, manufacturing, carrier, and the supplier. |
| Capacity Confirmation | Confirming supplier capacity is a best practice to ensure internal planning parameters are aligned with supplier capabilities. A task template has been created for the supplier capacity confirmation that includes procurement, planning, manufacturing, and the supplier. |
| Customer Forecast Collaboration | Customers share forecasts with suppliers within SCWM to confirm capacity and delivery dates. |
| New Product Launch/Phase 3 Commercialization | The complex process of moving a product from clinical trials to commercial distribution can done through a series of task templates and is specifically designed for smaller, early-stage pharma as they often lack the structured process of more mature pharma companies. |
| | |
| --- | --- |
| PO Collaboration | Purchase orders for direct materials are subject to frequent change from demand volatility, material shortages, shipping delays, production problems and many other issues. Task management ensures the process moves through a predefined sequence of cross functional and supplier steps -- procurement, planning, manufacturing, commercial, and the suppliers' teams. |
| Vendor Selection | Collaboration occurs among various internal teams for evaluation and vendor selection. A task has been created to define and monitor the multiple activities involved in the evaluation process along with the capture of all comments and documents. |
| Alternative Vendor Development  | Collaboration occurs among various internal teams (R&D, manufacturing, quality and Procurement) for evaluation and selection of the appropriate alternate vendor. A task template has been created to define and monitor the multiple activities involved in the evaluation process along with capture of all comments and documents. Dashboards and structured workflow enable team members to define and monitor the status of the process. |
| Supplier Price and Delivery Negotiation | Supplier price and delivery negotiation happens for every new component or finished goods. Digitalize the communication with internal teams to identify lead times, annual quantities and frequency of delivery required. Suppliers respond online with price breaks, who was paying freight, special shipping requirements (cold chain, special shipping containers, etc.). |
| Procurement Bidding Process | A carrier bidding process has been created for lane tendering and execution. Carriers respond online with information including: pricing, mode of transport, goods loaded, goods unloaded, etc. |
| Procurement Inbound Shipment Process | A task template has been created to support communication with selected carrier on price, dates, carrier type, loading/unloading goods, special handling instructions, etc. Sub-tasks can be added as needed to include customers in discussion as required. |
| | |
| --- | --- |
| Incident Management | Organizations use Incident Management for the reporting, tracking, root cause analysis, and resolution of all problems and issues that occur across the end-to-end supply chain. All issues are captured in the Incident Management solution, and companies and their supply chain partners have one source of shared truth as they work collaboratively to resolve incidents. Organizations have achieved a 65% reduction in time to resolve supply chain issues and a 35% reduction in the total number of supply chain issues. |
| Tech Transfer | Tech Transfer is the process of moving manufacturing operations from one contract manufacturing site to another or moving a Phase 3 drug from clinical trials manufacturing site to full-scale production site. This is a complex process can be managed through a series of task templates. |
| Six Sigma DMAIC/Continuous Improvement | Incident management history helps identify recurring issues. This information can drive a DMAIC project which includes extracting data from Incident Management, identifying recurring issues, analyzing these issues to determine root causes, and creating a CAPA to prevent this issue from recurring. |
| Standard Operating Procedure Creation and Approval | Pharma manufacturing requires manufacturing, material handling, QA, and many other processes to be formally documented. The Tasks with Document Review processes can be used to create and approve SOPs. |
| | |
| --- | --- |
| Vendor Managed Inventory | Vendor managed inventory enables suppliers to manage the customer's inventory. When demand is higher than expected, the customer can use tasks to request an earlier replenishment. |
| No-show Carrier Resolution | Task templates can be used with a transportation company when a truck does not arrive for scheduled pick up. Using tasks enables the shipper, the customer and transportation company's dispatcher to resolve this issue in real-time with a record of what was decided. |
| | |
| --- | --- |
| Return Material Authorization/Recall | Task management can be used to coordinate a return between the customer, logistics and other internal teams to determine disposition of the returned good(s). This process includes a version for handling return of drugs near expiry. |
| Return Defective Product | Tasks and Document Review processes to manage defective products or material that need a disposition (return to vendor or dispose) and coordination with the transportation provider or waste disposal company. |
Related Solutions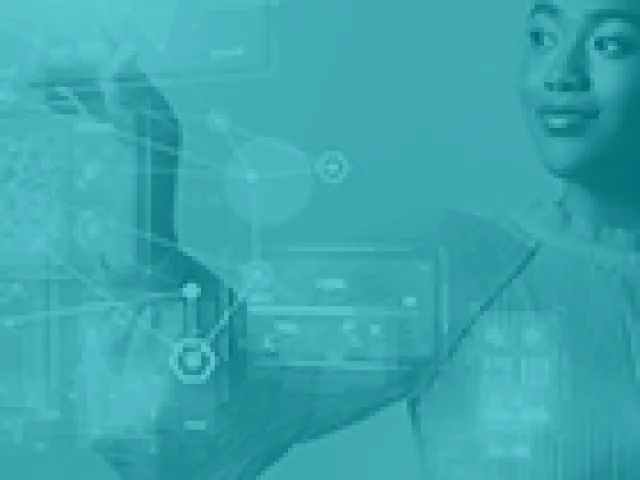 Solution Designer
Solution Designer is the no-code customization solution for Opus multienterprise solutions.
Illuminate the Blind Spots In Your Supply Chain Planning Process
Get greater visibility into the exception management process so you can make strategic decisions based on all the data flowing through your supply chain. Discover how TraceLink helps you manage exceptions as they occur and reduce their impact on the bottom line.
Runtime: 4:23 
Capitalize on a Platform Built to Help You Thrive in Today's Disruptive World
With a central source of truth and purpose-built workflows, you can resolve issues up to 65% faster. See how Incident Management, a capability of the TraceLink Supply Chain Work Management solution, centralizes and structures supply chain tasks and processes to drive greater coordination with partners.
Runtime: 2:54
Looking to turn their supply chains into a key competitive advantage, businesses face a mandate to digitalize their supply chains. This deep dive into Incident Management illustrates how the unique design of TraceLink Supply Chain Work Management helps you speed this digital transformation process and simplifies the way you work with your supply chain partners.
Runtime: 20:04
Discover how to digitalize your supply chain processes and synchronize work across your suppliers with these videos from TraceLink University
Introduction: Optimizing the supply chain issue management process
Runtime: 3:19
Part 1: Optimizing the supply chain issue management process
Runtime: 3:06
Part 2: Optimizing the supply chain issue management process
Runtime: 2:06
More than 275,000 leading suppliers from across the globe are already on board.
Add them to your network today and kickstart your digital transformation.
Kinaxis Partnership
"I am excited to hear this news", said Frank Binder, Global Head Supply Chain Management at Santen, and customer of both Kinaxis and TraceLink. "The integration of Kinaxis and TraceLink's platforms will give me actionable visibility to critical exceptions, it will give teams from across our supply network the digital capabilities required to resolve exceptions faster, and it will improve the overall quality of the supply plan."
"The partnership with Kinaxis is an exciting step toward delivering Industry 4.0 network connectivity to improve business processes across the end-to-end supply chain," said Shabbir Dahod, President and CEO of TraceLink. "Our Opus platform enables decision makers to connect companies, people, processes and systems through business networks to drive better resiliency and agility in supply chains. Together with Kinaxis we will be able to empower businesses to concurrently plan directly with their suppliers."