Digitize every aspect of your supply chain to leverage information about the journey that medicines take from the time they are manufactured to the moment they are consumed by patients. TraceLink's information sharing network is the only digital supply chain platform that enables you to link every part of your supply ecosystem, optimize your business performance, and empower patients with valuable learnings that can improve healthcare outcomes.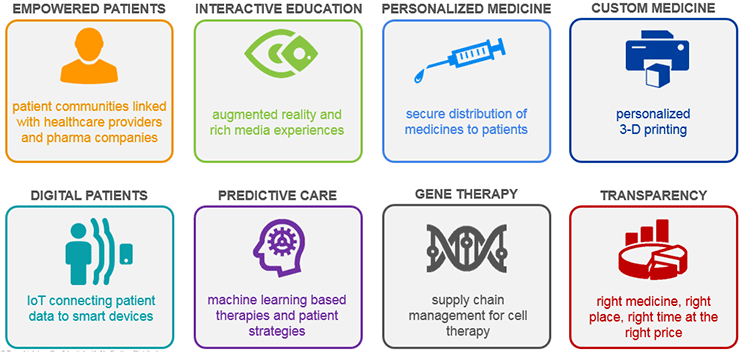 Benefits
Empowering Patients. Provide access to rich information about the medicines patients take and the ability to join communities and share information with their peers as well as back to pharmaceutical companies.
Interactive Education. Leverage a digital communication channel to deliver rich media experiences to pharmacists and patients for more effective medical education.
Personalized Medicine. Align specific therapeutic treatment options and regimens with the exact needs of patients.
Custom Medicine. Take advantage of new on-demand manufacturing processes, such as 3D printing, where medicines can be produced for a particular patient right the pharmacy.
Digital Patients. Integrate information gathered from body sensors with therapeutic treatment options.
Predictive Care. Utilize machine learning to analyze information about treatment options based on personal health conditions to develop medicine strategies that lead to predictable outcomes.
Gene Therapy. Ensuring complete transparency and end-to-end supply chain management for cell therapies.
Transparency. Delivering end-to-end supply chain visibility and business insights to ensure that medicines reach the right patient, at the right time, and at the right price.
Digital Supply Chain: Core Components
Integrate Once, Interoperate with Everyone™
Provides immediate interoperability with all other members of the TraceLink network with only a single connection to TraceLink, eliminating costly and time consuming point-to-point connections associated with on-premise or single-tenant cloud solutions.
Network Directory
Enables companies to discover one another for the purposes establishing links, registering users and configuring maps for integrating business processes.
Network Tenancy
Augments multi-tenant architectures by permitting discoverability and direct collaboration between businesses, devices and people for the purposes of interacting and sharing data.
Network Applications
Provide secure, anonymized data exchange to direct and indirect partners on the TraceLink Network based on rules, permissions, and business context.
Network Management
Offers a dedicated team of integration experts to guide every step of your project.
Native Cloud Platform
Leverages Amazon Web Services (AWS) global cloud-management platform to save hundreds of hours per year in IT staff time with by eliminating the need to maintain a physical global IT infrastructure.
Quality and Validation
Automate the entire validation life cycle of the TraceLink Life Sciences Cloud with automatic testing and confirmation to ensure all current TraceLink software capabilities meet GxP compliance in accordance with industry standards such as GAMP 5.
Read More