Connecting with your NVMS is a coordinated effort between TraceLink and NMVS solution providers.  Below are the live connections and those in progress.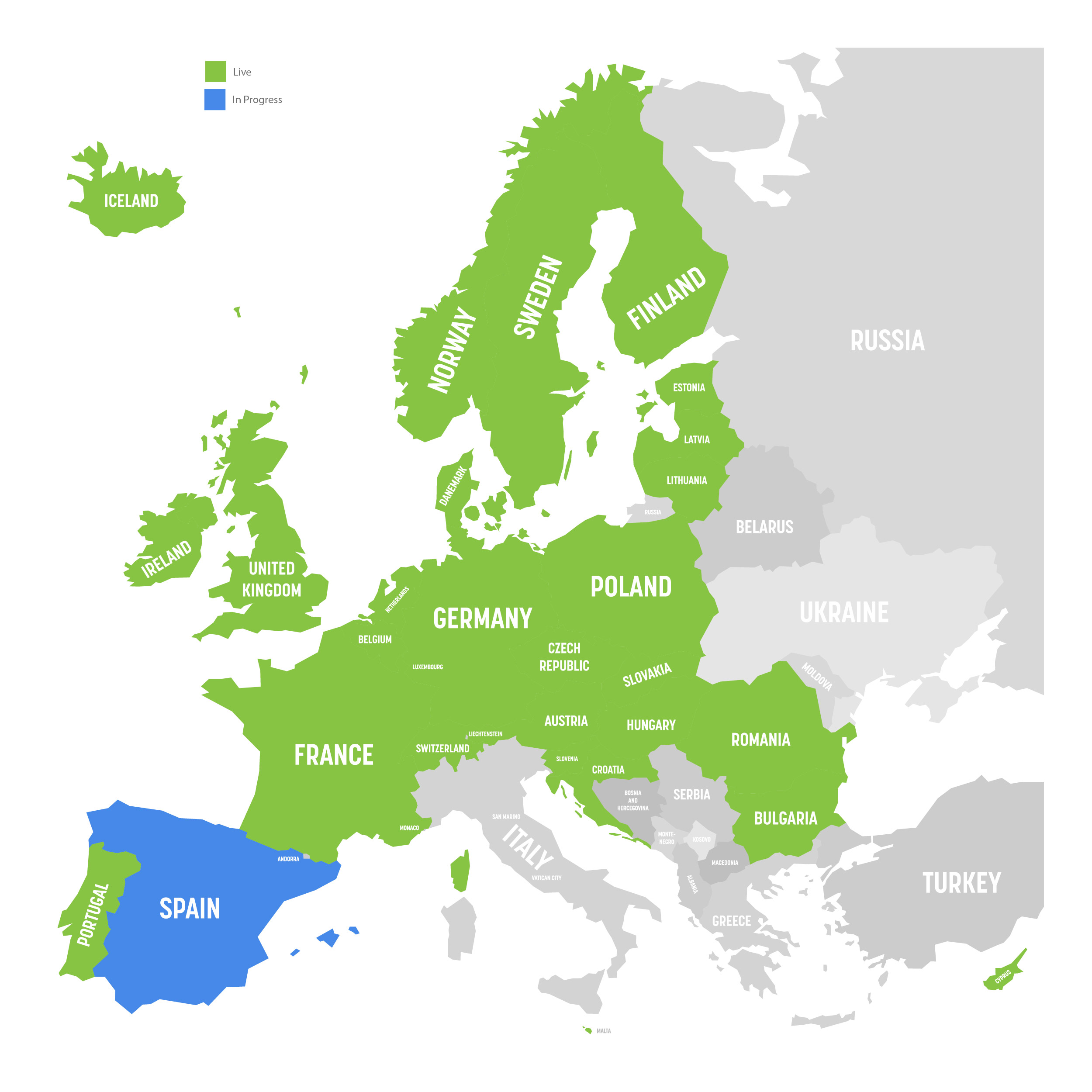 To begin your EU FMD compliance connection process, please find your country's NMVS page below:
What is EU FMD?
On February 9, 2019, the European Union took steps to ensure patient safety through the formation of the European Union Falsified Medicines Directive (EU FMD), created to keep counterfeit, recalled or stolen pharmaceuticals out of the legal supply chain. Now hospitals, retail pharmacies, clinics, and dispensing doctors will be required to verify and decommission prescription medications.
How Do I Connect?
Prior to working with TraceLink and Smart Rx Manager, dispensers will need to connect to their country's National Medicines Verification System (NMVS), which in turn is connected to the European Medicines Verification System (EMVS), also known as the EU Hub.
What is on the Product Packaging?
The EMVS requires pharmaceutical manufacturers to adorn their product packaging with a unique identifier (UI) in the form of a 2D barcode that includes NDC, serial number, expiration date and lot number plus a tamper-resistant seal for an extra layer of protection.
What is a NMVS Blueprint Provider?
Each county's NMVS is run by a 'blueprint technology provider,' Solidsoft or Arvato, which maintains the in-country NMVS system and is part of the EU FMD connection process.
What is an EU FMD Technology Provider?
TraceLink provides a solution for EU FMD compliance in the form of a mobile-first, cloud-based solution called Smart Rx Manager. As your EU FMD technology provider, TraceLink connects the Smart Rx Manager mobile app to the NMVS once we receive the required information indicated below.
How Do I Get Started?
To start your compliance journey, and prior to signing up for Smart Rx Manager, you need to secure information required for Smart Rx Manager to connect you to your NMVS.
Step 1
Go to your country's NMVS website and register your hospital, clinic, or retail pharmacy. If you are a dispensing doctor, you need to follow the same steps.
Please have the following information ready to submit to the NMVS:
Name of your IT software provider(s): TraceLink.
Name of 'organization' to be registered.
Registered pharmacy name.
Retail pharmacy name, address, and pharmacy PSI number details for each physical 'location/premise' you want to register. Each physical address/premise needs to be connected to the NMVS in your country.
'Authorized representative' details: Include name, position, and unique email address of the business owner or supervising pharmacist. Each physical address will need a unique contact name and unique email address.
A 'Super User' name, position and email address, i.e., the administrator for your pharmacy.
Step 2
NMVS will take your information and perform a legitimacy check on your pharmacy.
Step 3
The 'Super User/Administrator' will then receive a communication (email) from your country's NMVS. The NMVS will provide the information (see below) to provide to TraceLink for us to connect your Smart Rx Manager account to the NMVS.
Once you have registered with your NMVS, you will be able to provide us with the following information. This information is necessary for TraceLink to configure your verification and decommissioning solution, Smart Rx Manager.
For both Arvato and Solidsoft
Location name (your registered institution name for individual locations).
Parent organization name (if multiple locations are being on-boarded).
NMVS username.
NMVS Secret Key (AKA password or passphrase).
Additional information Countries using Arvato Blueprint Provider
NMVS Provided Certificate (p. 12 document)
Certificate password
Read More