TraceLink's Product Track solution delivers a flexible and rich compliance data management system for the secure creation, management, and exchange of track and trace data with supply chain partners to meet requirements for compliance with U.S. Drug Supply Chain Security Act (DSCSA) regulations across the U.S. pharmaceutical supply chain.
Challenges
In November 2023, item-level traceability introduces significant complexity and industry-wide challenges compared with current lot-level traceability.
Trade partners must ensure that Transaction Information (TI) with serialized product identifiers and Transaction Statements (TS) are provided for each unit of product that they receive, with such data exchanged in an electronic, interoperable manner.
Trade partners must be able to exchange this information electronically in the event of a suspect product investigation or verification request.
While the law doesn't specify an electronic format, the pharmaceutical supply chain is adopting the Electronic Product Code Information Service (EPCIS) standard to encode and communicate transaction data, replacing ASNs primarily used today for lot level data exchange.
This will require new network connectivity tools to establish digital connections with direct suppliers/trade partners, and often with indirect trade partners as well under certain business conditions.
These new requirements add an additional burden on companies to ensure the identity and authorized trade partner status of the suppliers and trade partners with which they do business.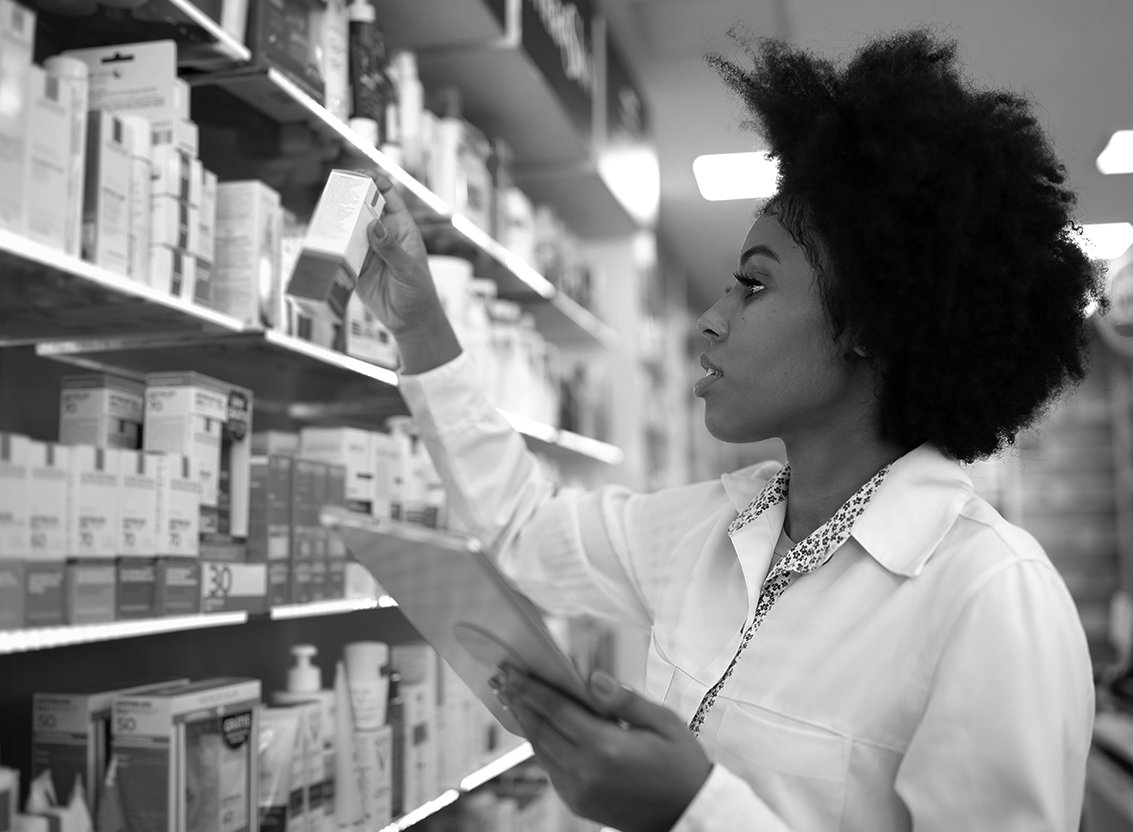 2015-23
Traceability, Verification, and Serialization
Benefits
TraceLink's Product Track application, informed by almost a decade of work with hundreds of companies across the supply chain, provides compliance data management and product traceability capabilities to meet the wide-ranging needs pharmaceutical companies, repackagers, wholesale distributors, pharmacies, and hospitals/healthcare organizations.
Manage Complex Product Distribution Ecosystems
Manage complex product distribution ecosystems, high-volume/high-transaction supply networks, and complex product configurations and portfolios through a single, flexible DSCSA compliance application with extensive business rule and data management configurability.
Empower Users and Sites
Empower users and sites with powerful, easy-to-use UI tools for compliance management, transaction analysis, reporting, and issue analysis/resolution to ensure your business stays in compliance and your operations remain efficient.
Simplify Network Connection
Let TraceLink worry about connecting you to and maintaining data exchange links with your entire supply network. Simplify connection to supply and trade partners for exchange of DSCSA Transaction History (TH), Transaction Information (TI), and Transaction Statement (TS) documentation by leveraging platform data integrations and integrate-once, interoperate-with-everyone data translation capabilities with the almost 300K entities connected on the TraceLink Network*.
Keep Product Inventory Flowing
Keep product inventory flowing through warehouse and distribution operations while ensuring compliance with DSCSA requirements with extensive workflow, operational process configuration, and information analysis tools.
Leverage Extensive Segment-Specific Business Rules
Leverage extensive segment-specific business rules, data management capabilities, product management and operational requirements, etc. to tailor Product Track operations for the unique business and supply network needs of manufacturers, distributors, repackagers, and pharmacy dispensers.
Quickly Identify and Resolve Issues
Quickly identify, investigate, review, and resolve compliance-related operational exceptions and trade partner data exchange issues with powerful information tools in an integrated environment.
Develop and Maintain Compliance Records
Develop and maintain a deep information repository of product and transactional information to meet compliance record retention requirements under DSCSA, to support M&A activities, and to inform business decisions and operational excellence activities.
Capabilities 
Product Track provides an extensive array of compliance data management, operational process support, and supply chain data exchange capabilities for DSCSA.
Business rules and data management capabilities coving the broad range of TI and TS use cases

Direct purchase, Secondary distribution, Drop shipment, Exclusive distributor, Loan / borrow, Repackaging, Returns, Co-license / affiliate, etc.

Generation and exchange of required compliance data and optional business data as needed depending on the current state and history of the product
Simplified network connectivity for direct / indirect partners using TraceLink's Integrate Once, Interoperate with Everyone (TM) network and data mapping capabilities.
Integration with supply chain processes across a diverse set of business and operational use cases

Initial transactions for products (new, repackaged) being introduced into the supply chain
Shipments and receipts between trade partners
Returns, drop shipments, and other special supply chain transactions
Exceptions (void transactions, update product status and quantity, resend transaction, etc.)

A secure web portal for companies without the capabilities for full data integration with trading partners
A flexible interface to search for and analyze compliance data across a wide range of attributes for business purposes or to respond to FDA requests for information
Reconciling compliance data against physical inventory to analyze transactions and product level data
Exception management to resolve errors (quantities in a shipment, etc.) in DSCSA compliance documents while maintaining full audit trail of changes
Manage compliance data for the full DSCSA record retention period
Create electronic, fielded Transaction Histories from paper DSCSA documents, including attachment of scanned paper documentation*
* Under DSCSA 2023, the Transaction History (TH) will be retired and paper-based Transaction Information and Transaction Statements will be eliminated.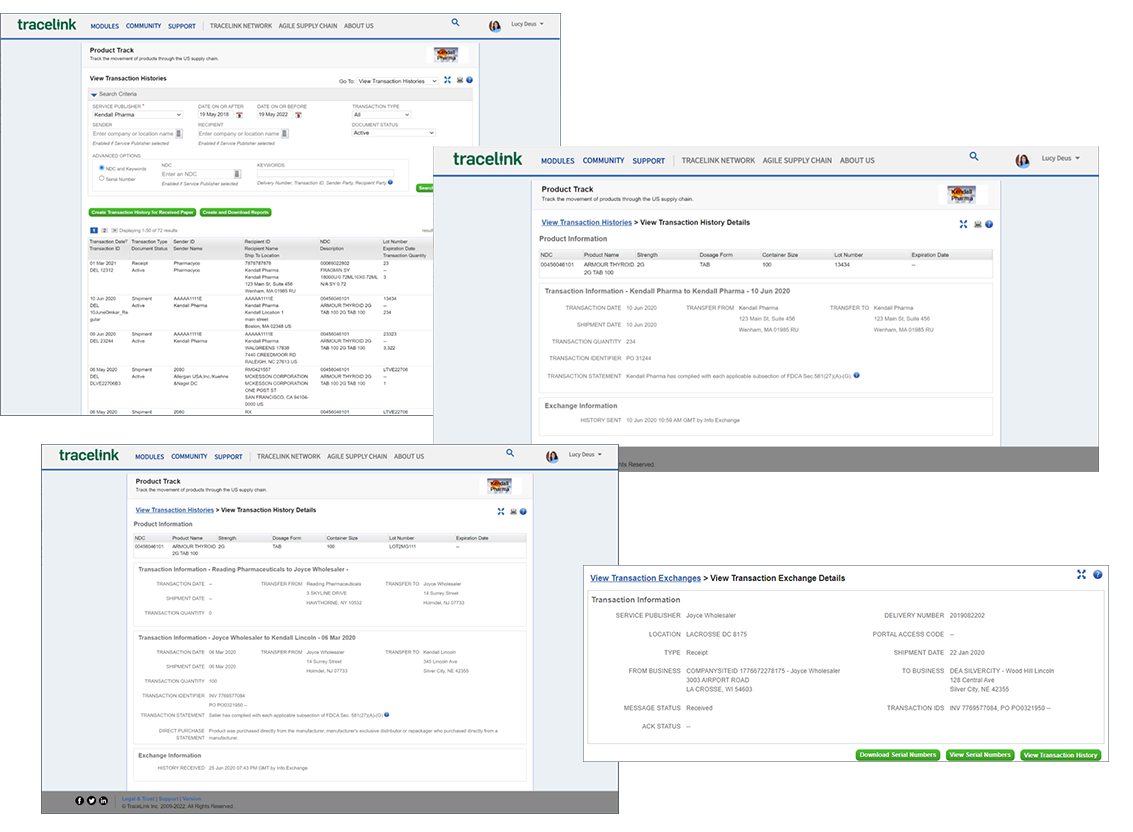 TraceLink Community
A place for members to harness the digital supply chain, collaborate with peers and lead the life sciences industry in creating transformational solutions to serve patients better.