Register to watch the recording
Recorded at the June 2020 LogiPharma Digital Summit, this panel of renowned industry leaders and academic experts explores the necessity—and challenge—of building more agile and resilient pharmaceutical supply chains. Hosted by TraceLink's Chief Digitalization Officer, Roddy Martin, the panel cites examples from multiple industries to help pharmaceutical companies understand how they can respond more effectively when a disruption threatens the availability of critical medicines.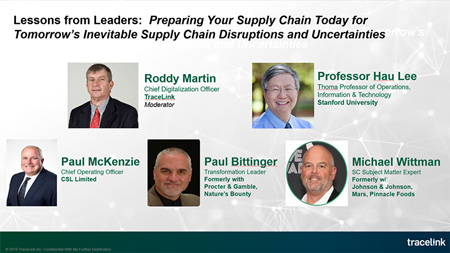 The panel features Professor Hau Lee, Stanford University; Paul McKenzie, Chief Operating Officer, CSL Limited; transformation leader Paul Bittinger, formerly with Procter & Gamble; and supply chain expert Michael Wittman, formerly with Johnson & Johnson.