Russia's new and still-evolving serialization and track-and-trace compliance regulations for the pharmaceutical supply chain are the most voluminous, cumbersome, and complex in the world. In this regulatory market, keeping your products flowing efficiently from manufacturer to patient—without costly disruptions or delays—requires a shift from reactive to proactive supply chain monitoring strategies, and self-service troubleshooting and analytics capabilities for serialized operations and supply chain teams.
Serialized Product Intelligence from TraceLink provides key capabilities that will help you achieve serialized operations excellence in Russia. With Serialized Product Intelligence, you can:
Continuously reconcile and match operations and compliance activities.
Accelerate root cause analysis and issue resolution.
Gain full visibility into aggregation hierarchy.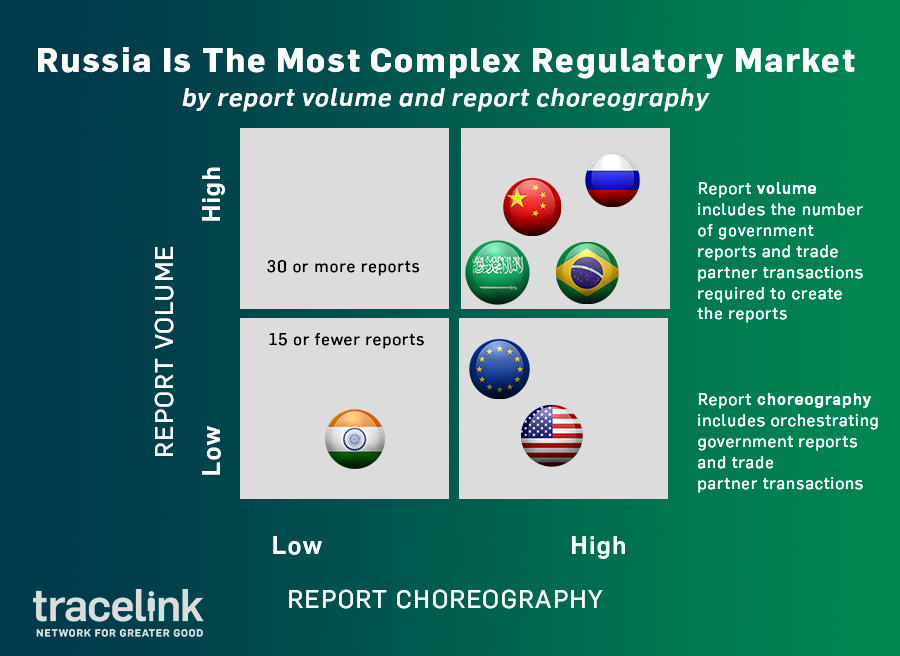 The road to operational excellence in Russia
Let's take a closer look at some of the key challenges of the Russia regulatory market and the Serialized Product Intelligence capabilities that can help your serialized operations team navigate them successfully:
High regulatory burden
Challenge: The regulatory burden Russia places on manufacturers is many times more demanding than EU regulations—and the complexity varies based on use case. Almost all of the required compliance reports are filed at the highest level of product aggregation. This lack of visibility adds a great deal of complexity to tracking operations and associated compliance reports.
Capability: Serialized Product Intelligence enables you to quickly track all serial numbers in the aggregation hierarchy that are associated with a given compliance report, even when the report displays only top-level-packaging serial numbers.
Value: Serialized Product Intelligence helps you achieve product visibility and improve product availability while you successfully navigate a uniquely complex regulatory environment.
Complicated reporting choreography
Challenge: Sequential processing of messages across the supply chain. Serialization events must be time-stamped and reported to the Russian Drug Circulation Monitoring System (MDLP). When a message to the MDLP fails, the associated shipment is considered non-conformant until the issue is addressed.
Capability: With Serialized Product Intelligence, you can run root cause analysis reports with end-to-end timeline view. You can also search by lot, serial number, and transaction IDs.
Value: Serialized Product Intelligence helps you accelerate root cause analysis and troubleshoot faster so that teams can resolve issues quickly and mitigate or avoid delays.
Maintaining advanced audit trails
Challenge: Maintaining an enhanced audit trail of all messages sent and received.
Capability: Serialized Product Intelligence lets you monitor and search the audit trail across all users, systems, and events, and drill into the details of each message.
Value: With Serialized Product Intelligence, you can demonstrate compliance upon request while gaining a lateral view into serialization operations across the organization.
Achieving consistency between operations and compliance
Challenge: Ensuring that compliance reports follow the precise supply chain orchestration that is required in Russia, including critical steps that must be meticulously followed during production. Failed reports and missed operational steps can block products in the supply chain.
Capability: Serialized Product Intelligence gives your serialized operations team full visibility into the product packaging hierarchy.
Value: Serialized Product Intelligence helps you catch exceptions early and ensure that compliance problems do not disrupt your operations.
Achieve operational excellence with Serialized Product Intelligence
Serialized Product Intelligence enables you to proactively manage serialized operations, maximize the business value of serialization investments, and gain a competitive advantage that stems from your ability to maintain control despite Russia's immense regulatory complexity. 
With Serialized Product Intelligence, you can establish supply chain monitoring and controls in Russia that will have a significant and positive business impact, and you can rapidly investigate exceptions in a self-service manner. Your team can proactively monitor Russia compliance reporting by performing reviews designed to answer important questions such as:
Which lots were targeted for the Russian market during a specific time period?
Do serialized operations reports and compliance reports match?
Were any expected compliance reports omitted?
Do our compliance reports in TraceLink match what is displayed in the MDLP?
Has every serial number in a batch been properly communicated to the MDLP?
Serialized Product Intelligence will provide you visibility into all Russia compliance reports, the listing count for each report type, and clear visibility into whether reports failed or were successful.
When reports fail, users can review the hierarchy of an affected lot and see how that impacts the delivery and receipt of affected Serial Shipping Container Code (SSCC) numbers. Most reports include top-level serial numbers. But with Serialized Product Intelligence, you can drill deeper into the complete, last-known inferred serial number hierarchy, drastically reducing the time required to complete a root cause analysis.
Serialized Product Intelligence provides end-to-end visibility into the event history of serial numbers, saving time and resources needed to compile the data manually in Russia and every other regulatory market where you do business. The top business use cases for Serialized Product Intelligence include:
Analyzing commission quantities and details across individual or multiple CMOs.
Demonstrating regulatory compliance at any product, batch, or target-market level.
Tracing serialization events to determine the root cause of supply chain disruptions.
Conducting root cause analysis of operational errors.
Reconciling operations to compliance at the micro level.
Analyzing suspect product alerts.
Empowering business users with self-service intelligence.
With Serialized Product Intelligence, your organization will spend less time dealing with the complexity of Russia regulations and more time focusing on achieving operational excellence.