Agile Process Teams for Supply Chain Issue Management (APT-SCIM) replaces unstructured, ad hoc processes with structured, workflow-driven, and supply chain-specific incident management processes that collect detailed data from internal operations and supply chain partners. This ensures that subject matter experts assigned to the resolution team have the information needed to promptly resolve the issue.
Supply chain issues are an everyday reality
When issues such as late deliveries, material shortages, or product quality defects impact operations, all supply chain partners must be part of the resolution process. Collaboration with supply chain partners is necessary to ensure swift resolution and minimize supply chain disruptions that can result from these issues.
The ad hoc processes that most manufacturing organizations use to resolve supply chain issues that are based on phone calls, emails, spreadsheets, and countless video meetings are not effective. As a result, supply chain management teams lack a clear, comprehensive view of all issue resolution processes across the organization and the current status of individual issues.
Without visibility, managers often spend half of their day or more attending meetings and responding to emails in an effort to better understand the issues impacting supply chain operations and the corrective measures being taken in response. These unstructured processes make it very difficult for managers and subject matter experts to track who is responsible for the next action and follow up efficiently.
A more efficient way to manage supply chain issues
To resolve issues promptly, organizations require issue management tools that provide visibility into new issues while enabling stakeholders to assign the right subject matter experts and track the progress of the resolution process. To ensure a more efficient resolution process, it is critical that each subject matter expert knows when their input is required so they can take the next step in the issue resolution process and move the process forward. To address these critical capabilities, TraceLink Agile Process Teams for Supply Chain Issue Management (APT-SCIM) provides a library of purpose-built, workflow-driven incident resolution processes.APT-SCIM starts by providing top-down visibility to incident workflow status through the Monitor Incidents dashboard, so managers are instantly aware of new issues that need to be assigned and resolution processes that may have not been started. Delivered on the Opus Digital Network Platform, APT-SCIM has existing connectivity to more 284K network partners and the ability to quickly onboard countless more, so you can engage your partners from across your supply chain as needed to facilitate a successful issue resolution process.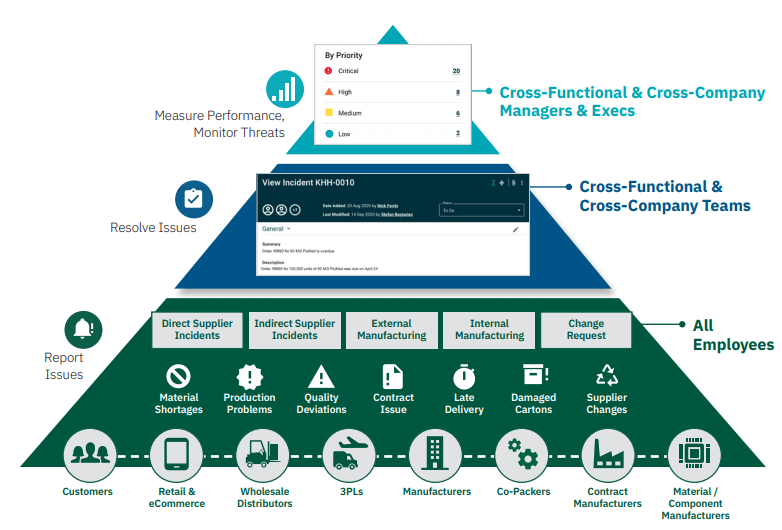 By collecting data about supply chain issues from the source, APT-SCIM improves overall efficiency by eliminating the emails that fly back and forth as teams attempt to track down this information. APT-SCIM alerts and notifications keep the internal and external resolution team members aware that they have been assigned a task in the resolution process.
In addition, the Monitor Incidents dashboard ensures that managers and the resolution teams are aware of issue resolution priorities and due dates. Your supply chain partners have access to the same dashboards based on access permissions that you set, so that they are in-sync on priorities and due dates. This further improves the efficiency of the issue resolution process.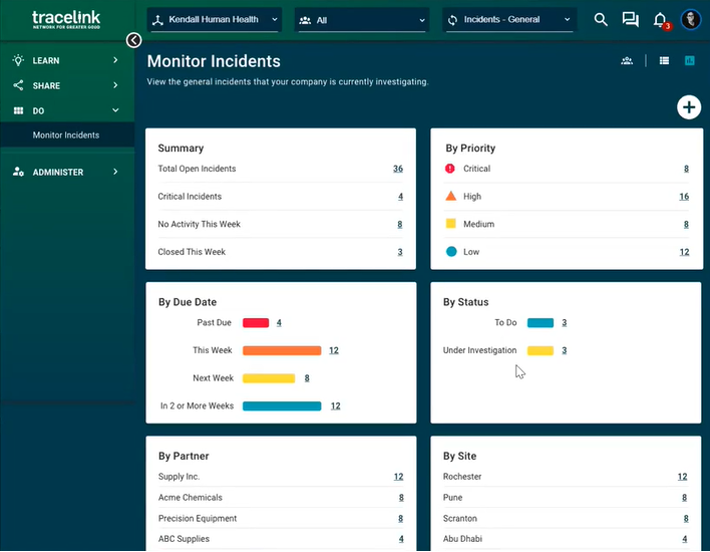 The Monitor Incident Dashboard "By Status" panel gives managers the ability to oversee the entire incident management workflow. You can drill into the status to see the individual issues, including a quick overview, the partner involved, who is responsible for taking the next step, and relevant due dates. With that information easily available, managers can shift priorities or follow up as needed to ensure incidents are being addressed on time.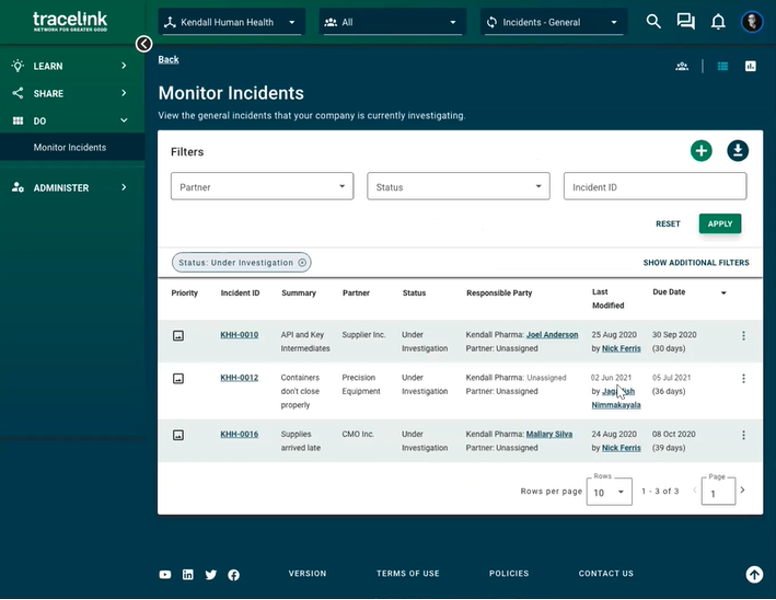 To improve efficiency, workflows can be customized with additional workflow steps to fit the specific needs of your incident management processes. The Workflow Studio capability of the TraceLink Solution Builder no-code application provides business users with easy-to-use tools for creating custom workflows to further refine the steps in your issue resolution process.
For example, companies that have adopted a "report all issues no matter how small strategy" may find that incoming issues need to be triaged before assignment to a resolution team. With Workflow Studio, you can add a triage step in the workflow. This new triage status will appear on the Monitor Incidents Dashboards and make it easy to assign priority and owners, which ensures urgent tasks are dealt with as soon as possible.
With additional structure and improved workflow-driven efficiency provided by APT-SCIM, companies have reduced issue resolution time by up to 65% and incident occurrence by up to 35%.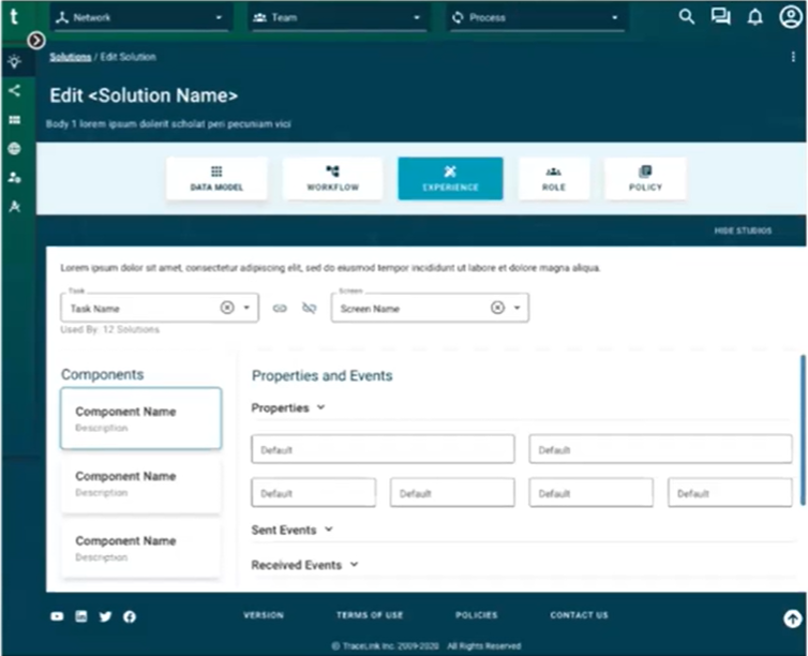 To LEARN MORE, CHECK OUT OUR SUPply chain issue management best practices handbook.
And visit our Supply Chain Issue Management Resource Center.