Building a stronger relationship and improving communication with critical suppliers is the best way to mitigate the disruptions that may impact the availability of indirect goods and services.
Since 2011, indirect spend has been growing by an estimated 7% per year globally and usually accounts for 20% of a company's total expenses. The diverse categories of materials and services within indirect supply are challenging to manage. Critical services and supplies to keep production facilities running smoothly fall into this category. 
As global supply chains become increasingly interconnected, the challenge of managing the indirect goods and services categories requires more time and vigilance. Unlike direct materials, you are not managing the components or labor required to make and deliver these goods and services. For example, a global shortage of IC chips could make getting a replacement motherboard for a critical process controller hard to get. It is simply not possible to manage the vast variety of goods and services across indirect categories close enough to understand how they may be impacted by a global shortage. Building a stronger relationship and improving communication with critical suppliers is the best way to mitigate the disruptions that may impact the availability of indirect goods and services.
Given the goal of building stronger relationships, phone calls and emails no longer suffice, and the need for improved communication and centralized collaboration is absolutely essential for transforming the way indirect supplier issues are resolved. The Indirect Supplier Incident Management process of Agile Process Teams for Supply Chain Issue Management (APT-SCIM) was specifically designed to address these unstructured and inefficient methods of communication and drives to the heart of reduction in time to resolution. With APT-SCIM, both you and your supply chain partners can transform the issue management process and use this effort to build the stronger relationship needed to mitigate the impact of expected disruptions.
APT-SCIM easily connects you and your partners digitally and securely. Cross-functional subject matter expert teams are formed in this digital environment for you and your partners, where members can create, monitor, and track progress of the resolution of issues with role-based access controls. Enabling supply chain partners to proactively inform you of a current or pending issue is essential to building a stronger relationship, and it provides maximum lead time to adapt and mitigate potential supply chain disruptions.
APT-SCIM operational dashboards provide critical metrics enabling you to zero in on the most important issues quickly with the ability to drill into the details and track ownership, due dates, issue resolution status, and more. These dashboards also provide insight into time-to-resolve trends across your network of suppliers. Teams can also focus on the performance of a specific supplier. These metrics contribute to any company's continuous process improvement efforts and support Six Sigma methodologies, strengthening overall supplier relationships and operational efficiency.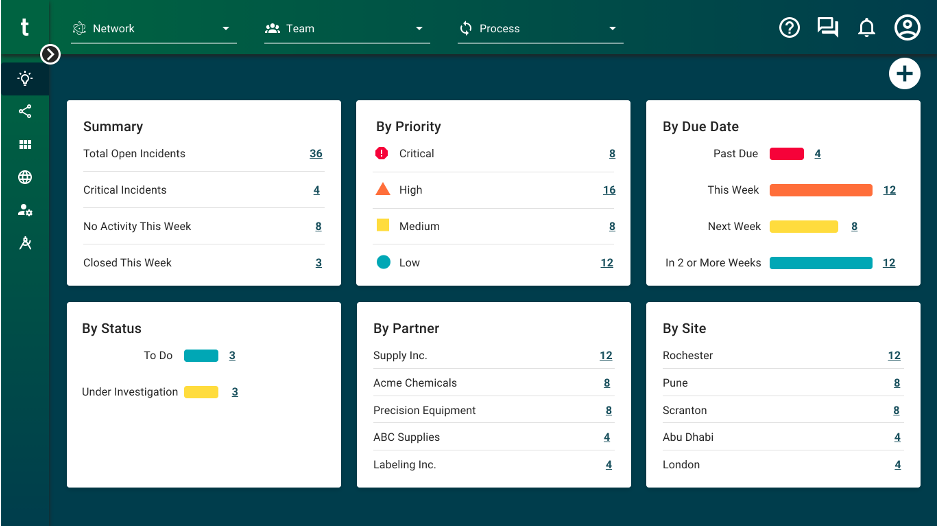 Creating new issues is a snap with our structured user experience and minimal data entry, which make it easy to provide issue visibility to the appropriate teams internally and across enterprises. A robust set of structured data fields are available which can be populated with pertinent information during the resolution process, including service type, category and problem, originating location, business and financial impacts, comments and attachments for supporting information, and much more. Drop-down selections make the process simple for users and reduce data entry errors. Field-level toggle switches enable you to decide what information is shared with partners and what information is only visible to the internal team.
As workflow drives the resolution process, notifications alert the team member that needs to take action. Settings allow users to subscribe to the notifications to 'follow" specific products and issues. Notifications can be received in your inbox and are always available when working in APT-SCIM.
Customers using APT-SCIM have been able to focus on the most disruptive and costly supply chain disruptions requiring attention, realizing up to 35% reduction in the number of supplier issues and up to 65% reduction in issue resolution time. In the spirit of building stronger relationships with critical suppliers based on "win-win" scenarios, your suppliers will benefit from these reductions as well.
Learn more: Download our supply chain issue management best practices handbook today.
And visit our Supply Chain Issue Management Resource Center.