Users that have applied Six Sigma process improvement to the incidents reported in APT-SCIM have also reduced total defects per million by as much as 96%.
Mike Barga, former Director of Supplier Quality at Thermo Fisher and a pioneer of supply chain issue management digitalization, believes that "the goal of a supply chain issue management program should not be to reduce total open incidents." The wisdom behind this rather counterintuitive statement is that Barga wanted partners and internal teams to report all issues, even small ones, regardless of how many there were. Collecting information about small issues from upstream supply chain partners can prevent the issues from becoming bigger and more costly downstream. In this blog, we will examine how total open incidents can be reduced while encouraging employees and partners to report all issues.
TraceLink Agile Process Teams for Supply Chain Issue Management (APT-SCIM) enables companies to achieve these somewhat conflicting goals. First, it makes it easy for all employees and partners to enter issues. An issue can be logged with as little as a one-line description, and with a series of drop-down lists that guide the user through the issue definition process, it is easy to collect a more complete definition during initial entry.
Second, comprehensive APT-SCIM dashboards make it easy to track all open incidents, identify incidents that have not been assigned, and identify the partners with the most open incidents. A critical first step to reducing the total number of open incidents is getting them assigned. The "By Status" panel of the "Monitor Incidents" dashboard displays the workflow status—the incidents in "To Do" status are those that need to be assigned.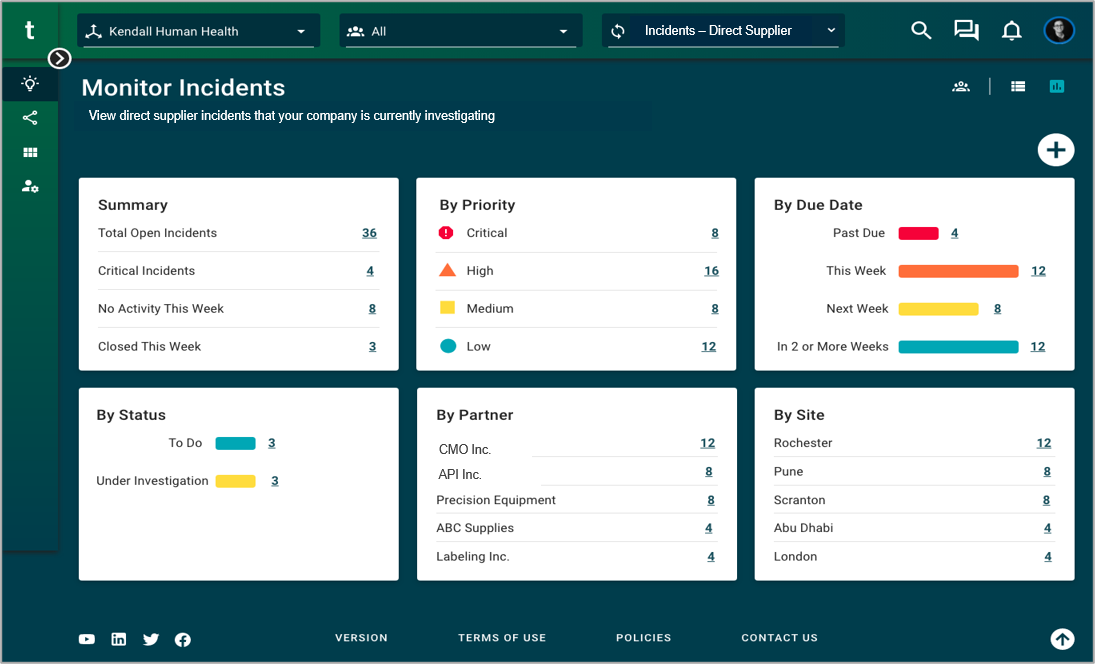 The next step in reducing the total number of incidents is identifying the partners with the most open incidents. The "By Partner" panel on the dashboard displays the total open incidents by partner. A best practice of APT-SCIM users is to assign an experienced team of subject matter experts (called a Process Team in APT-SCIM) to partners with the most open incidents. A unique capability of APT-SCIM enables partners to be grouped on a sub-network that we call a "Process Network." This enables managers to easily create dashboards that are focused on a smaller group of partners. In this case, we could create a Process Network for partners with high incident counts. The partners in this network get the special attention they need to help reduce incident count. They also get access to the same dashboards so they can keep track of total open incidents and understand incidents you consider critical and high priority.  
APT-SCIM enables teams of internal subject matter experts to work together with the subject matter experts from partner companies. This not only enables faster resolution of the current issue, but also ensures that a more complete resolution history is gathered, including the potential root cause designation. This resolution history supports continuous improvement projects to find recurring incidents. Eliminating recurring incidents at high-incident-count partners is a very effective way to bring down the total number of open incidents. 
By using the input from subject matter experts at partner companies to help kick off continuous improvement programs such as Six Sigma DMAIC, companies get more insights that can help them find recurring incidents that may not be obvious. For example, a material shortage incident at a second tier supplier that was reported by your contract manufacturer and a late order incident reported by you against the same contract manufacturer could very well be related to the same process defect—poorly established lead times. If you placed the purchase order at the second tier supplier with a lead time that was too short to produce a full order in time to deliver it to the contract manufacturer, it is a problem you created, and not a supplier problem. The late order at the contract manufacturer could also be related to a lead time that was set too short to complete the entire order prior to requested delivery date. With this knowledge, you can create a continuous improvement project to look at the process for establishing lead times, not material shortages or late orders.
To summarize the three steps above:
Identify supply chain partners with most open incidents
Invite partners to collaborate on APT-SCIM to improve the issue resolution process and assign a team of internal and partner subject matter experts.
Identify recurring incidents and initiate process improvement projects

APT-SCIM customers that used these three steps have reduced total open incidents by as much as 35% while encouraging all employees and partners to report more issues. By reporting all issues, you feed your continuous improvement teams a rich set of data that can be used to help reduce the total number of business process defects and quality defects behind the incidents. Users that have applied Six Sigma process improvement to the incidents reported in APT-SCIM have also reduced total defects per million by as much as 96%.
Want to learn more? Download our supply chain issue management best practices handbook today.
And for additional information, visit our Supply Chain Issue Management Resource Center.