Opus Solution Designer is a no-code development solution that enables business users to customize multienterprise solutions, thereby accelerating Industry 4.0 supply chain digitalization. Opus Solution Designer helps companies with rapid scaling, updating, and management of solutions across partners and networks by enabling the citizen developer to make customizations to their multienterprise solutions while still maintaining network interoperability with supply chain partners.
Challenges
For more than 25 years, companies and solution providers have tried various methods to connect enterprise systems operating at different nodes of the supply chain to enable supply chain digitalization. The goal of these investments has been to gain the benefits of information exchange and to orchestrate supply chain operations:
EDI executed through third-party value-added networks
Control towers layered on top of enterprise applications
Point-to-point integrations of enterprise systems based on information exchange protocols like FTP and AS2
First-generation multienterprise supply chain business networks designed to share data through proprietary cloud applications
Ultimately, all approaches have failed to enable true supply chain digitalization in the form of highly-collaborative, network-wide supply chain process execution and orchestration—this can more accurately be labeled "supply chain work management."
The primary factors leading to the overall industry-wide failure to achieve supply chain digitalization and highly orchestrated supply chain work management include:
Low Engagement and Productivity: Point-to-point (P2P) integrations are built over time to exchange selected data between the company and one partner or a small group of partners, and it is prohibitively expensive to extend these integrations to all supply chain partners.
Slow Response Time: While control towers provide some visibility into the flow of orders, shipments, and deliveries to points in the supply chain and generate exceptions, they are not connected to supply chain partners to enable collaborative resolution. This leads to the need for follow-up emails and phone calls that result in a longer resolution time.
Limited Third-Party Usage: While portals might be considered a shared application, they take a one-size-fits-all approach and lack the customized experiences required to meet the unique needs of different supply chain partners. The failure to deliver customized experiences, while maintaining a consistent and unified navigation, leads to low adoption or limited usage of portals.
Difficult Scaling and Evolution: Business users responsible for digitalizing shared supply chain partner processes must rely on IT groups for all deployments and customizations. As the business process evolves, business users create more and more customization requirements for IT and must wait for solutions. This dynamic means supply chain digitalization projects evolve much too slowly. To be successful, the business users leading digitalization need the digital tools to evolve processes themselves without creating new requirements for IT.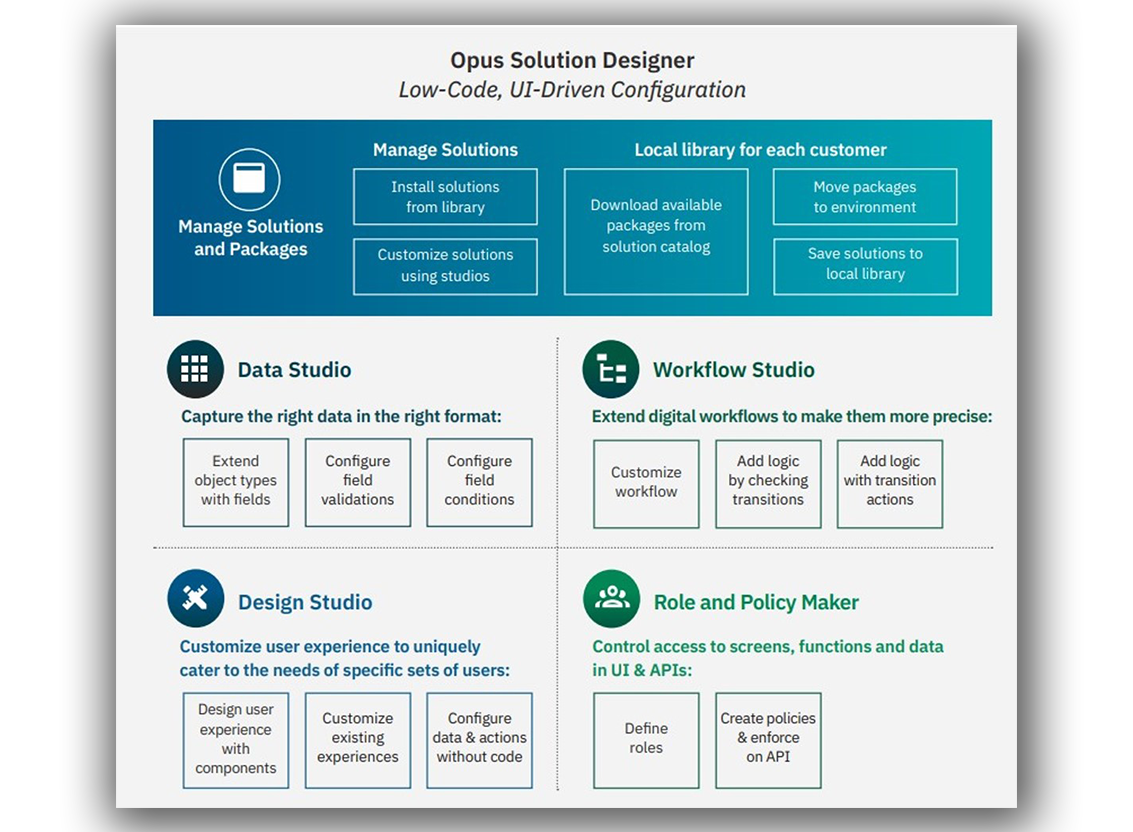 Benefits
Opus Solution Designer accelerates the pace and value of supply chain digitalization initiatives by:
Boosting Internal And Partner Engagement
User experiences that uniquely cater to the needs and habits of a specific set of users, while maintaining consistency and intuitiveness, play a key role in driving the usage and adoption of any new system. This dynamic becomes more important when a shared solution is used by cross-functional internal and external trade partner users, and the solution must meet the diverse user experience, data, and visibility requirements of a cross-company, multienterprise process.
Opus Solution Designer helps boost internal and partner engagement by enabling companies to customize user experiences to the unique needs of the supply chain partner process. These customizations can be as simple as hiding a field for a category of partners for simplicity, adding new fields, and denoting standard fields required to collect information on an initial entry.
Enhancing Workflows To Streamline Multienterprise Processes
TraceLink Opus Solution Designer helps companies improve the precision of multienterprise processes across a partner ecosystem by enabling users to customize and deploy multiple specialized workflows for the same solution on a process network basis. A process network is a predefined subset of partners that enables customized solutions to be executed across a specific supply chain ecosystem. These customizations can range from having additional steps in the workflow to performing certain checks and triggering actions such as sending notifications.
Designing Experiences To Enable Better And Faster Decision Making
One of the benefits of digitalized partner processes built on an interoperable supply chain network platform is the ability to extract real-time information from the collected data. However, these potential benefits can only be unlocked if companies are able to capture contextual data that helps them collaboratively answer difficult business questions and address unique needs of different partner networks.
Opus Solution Designer helps companies design user experiences that enable better and faster decisions across the supply chain network. Opus Solution Designer allows companies to customize the data attributes of a shared partner process on a process network basis, while maintaining a common data model and communication protocol across all shared business processes. This capability enables required solution and process customizations and simultaneously ensures that all data captured among partners is retained in a common, usable format. This includes updating dashboards to give users on both sides of a multienterprise work management process real-time visibility into metrics that are important to this specific relationship.
Ensuring Security And Compliance
Most enterprise collaboration applications fail to be deployed beyond a few critical partners because IT groups lack the necessary budget to deploy security tools, processes, and resources to manage access of hundreds and even thousands of third-party users. This challenge is even more pronounced given the complex nature of multienterprise supply chains with a variety of suppliers, partners, and customers, each with their own sophisticated organizational structures, internal policies, and access control requirements. Rising cybersecurity threats have also made IT leaders more concerned about governance, security, and compliance requirements for shared solutions. As a result, opening up digital information sharing among enterprises is rightfully approached with caution.
Opus Solution Designer helps IT leaders and business executives ensure security and compliance across the digital partner ecosystem, without increasing IT burden, by allowing precise definition and reuse of roles, permissions, and policies. IT groups can be confident that only relevant people have access to solutions, processes, data, and APIs across internal operations and external partners. This makes it practical for companies to adopt true multienterprise supply chain collaboration apps used by hundreds of external partners.
Rapidly Scaling And Providing Simplified Management Of Complex Multienterprise Processes
The ability to update shared solutions as digital business processes evolve is a critical factor in keeping pace with supply chain digitalization. IT groups typically do not have the additional resources necessary to manage, update, validate, distribute, and deploy solutions that are required by different supply chain partner processes. Therefore, it becomes essential for IT groups to share some of the digitalization backlog with capable business users—the citizen developer.
Opus Solution Designer helps companies with rapid scaling, updating, and management of solutions across partners and networks by enabling the citizen developer to make customizations and deploy updated multienterprise solutions at scale.
Capabilities
Five Critical Capabilities of Opus Solution Designer that Support Supply Chain Digitalization.
Opus Solution Designer is a simple and powerful tool that enables digital business users to quickly and easily make changes to user experiences, data models, access rights, workflow (and much more!) to ensure solutions meet current business / supply network needs and can be updated as requirements change. The five core capabilities of Opus Solution Designer include:
Using Data Studio, users can customize a shared data model by adding data attributes to the Opus process. Data models act as a data dictionary for an Opus application and describe the shared business processes that the solution provides.
Data studio enables various customizations to attributes and rules associated with a process. Data attributes can be customized to control the visibility of the data or to validate the data input. Users can add new data fields, mark fields as auditable, mark the fields to be mandatory when they are optional, add field validation rules, and define dependencies between data fields.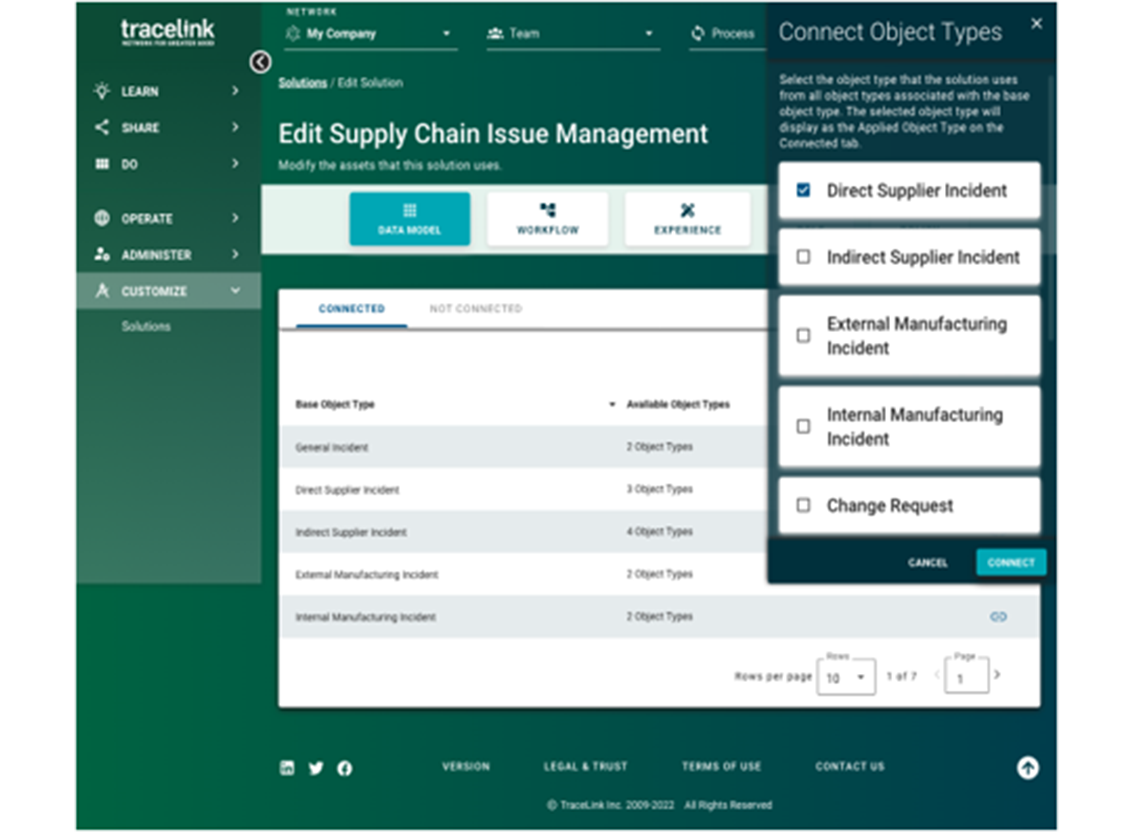 Workflow Studio allows users to customize the workflow of Opus solution processes to meet the unique needs of a partner network. Workflows define the lifecycle, or process logic, of a shared process within a solution, such as the "Direct Supplier Incident" process in Supply Chain Work Management.
Using Workflow Studio, users can extend the default workflow associated with a process by customizing the states which define the statuses that a process can have. Users can also manage the transition of a process, which is the movement of a process from one state to another, by defining conditions that have to be met for the transition, and by defining the actions that should be performed after the transition is complete.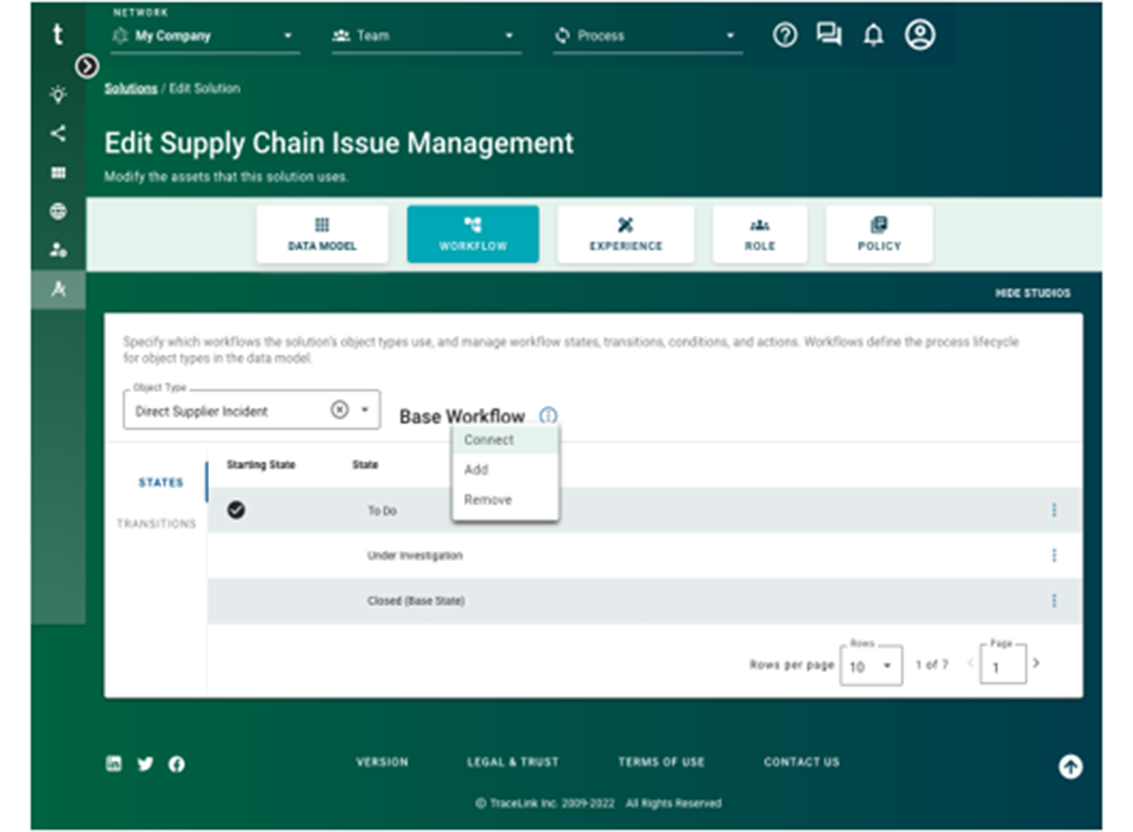 Design Studio allows users to clone and customize the user experience of Opus solutions for internal use, or for a partner or a partner network, as often as required to meet dynamically changing business needs. The user experience can be customized to change the data displayed in a form, table, or chart, to modify the display labels on forms, to add or remove fields from forms, or to make various other modifications to the component display and behavior.
Design Studio also enables users to customize navigational elements in the side menu that allow users to access different screens. Users can create new navigational elements or modify properties such as name and description of existing navigational elements. This ensures all the relevant tasks required by a business process are available and easily accessible in the side menu.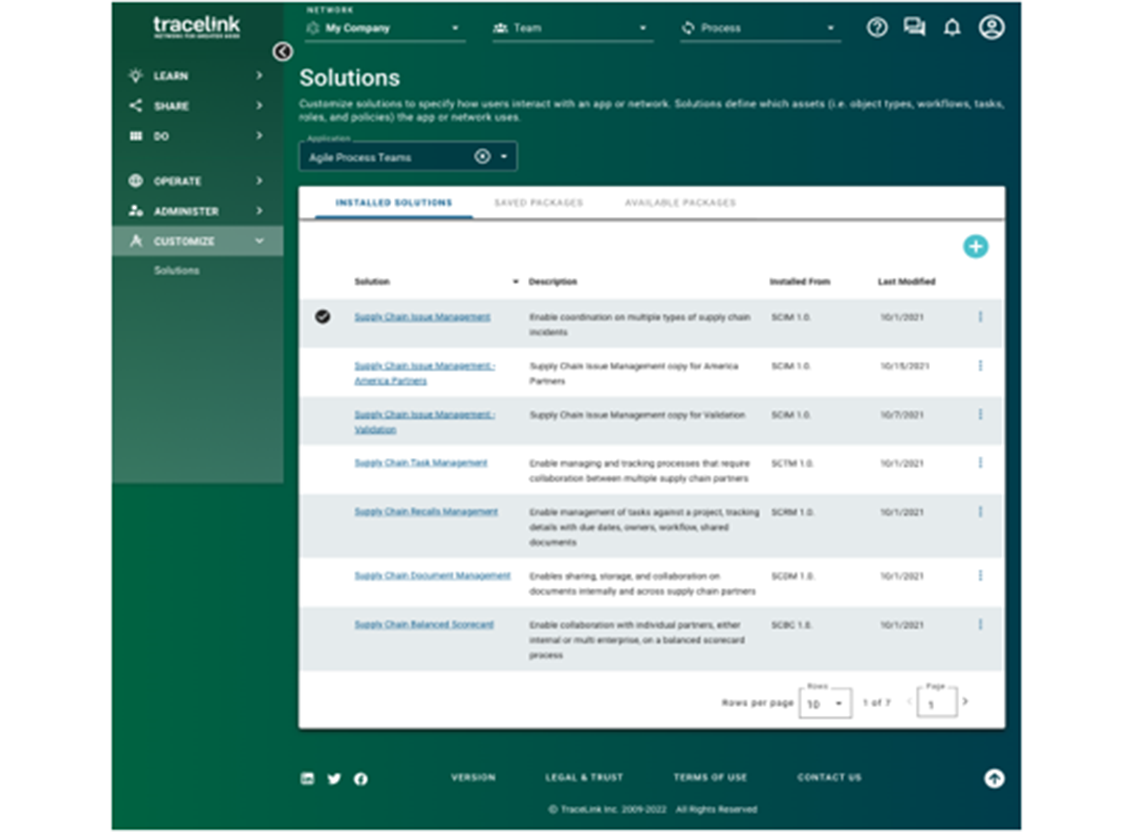 ​​​​​​
Roles are a vehicle used by Opus Solution Designer to group together one or more permissions to define various levels of access that can be assigned to a group of users. Policies are used to define granular access to Opus solutions at the API endpoint level and supply logic for the permissions associated with roles.
Using Role and Policy Maker, users can define and customize roles, permissions, and policies to control access to solutions, processes, screens, data, and APIs across internal operations and supply chain partners.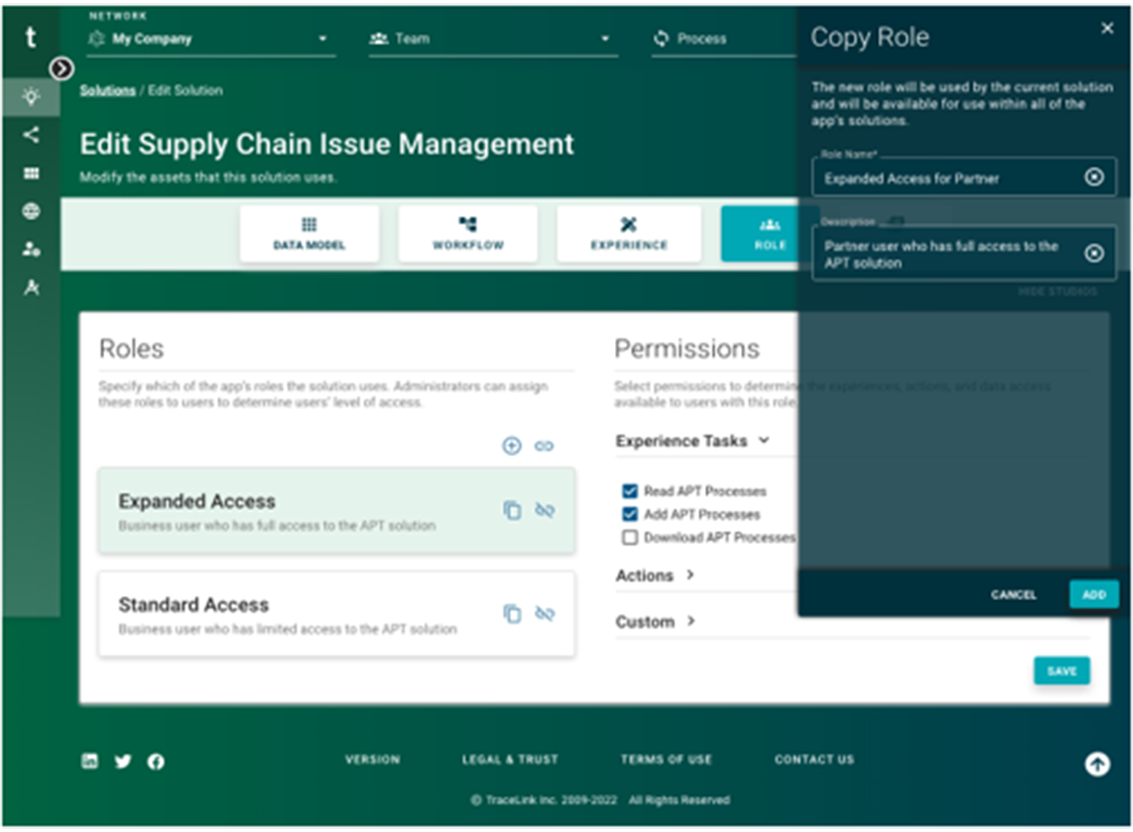 The Opus Platform enables the creation, distribution, and deployment of multienterprise solutions. Out-of-the box solutions such as Supply Chain Work Management are listed in the Solution Catalog. Users can browse the solutions available in the catalog and install them for use with a few clicks. Users can rapidly scale digitalization efforts by deploying the same solutions across multiple process networks or build customized solutions on top of existing ones to quickly introduce new digital processes as business needs evolve, all without the need for IT support.
Business users can easily make modifications to live solutions, without breaking the network connections, thus simplifying the update process for themselves and partners. The ability to modify the live solution, combined with other Opus Solution Designer features that enable teams to download and install the package, can be leveraged by customers in various ways.
For example, a customer may need to make a rapid change in production. They can do this directly in Opus Solution Designer so that the change takes effect immediately. For something more complex, a customer may choose to stage their changes in a test environment, verify that the changes behave as intended, and then export the solution to a solution package so that it can be imported into the production environment.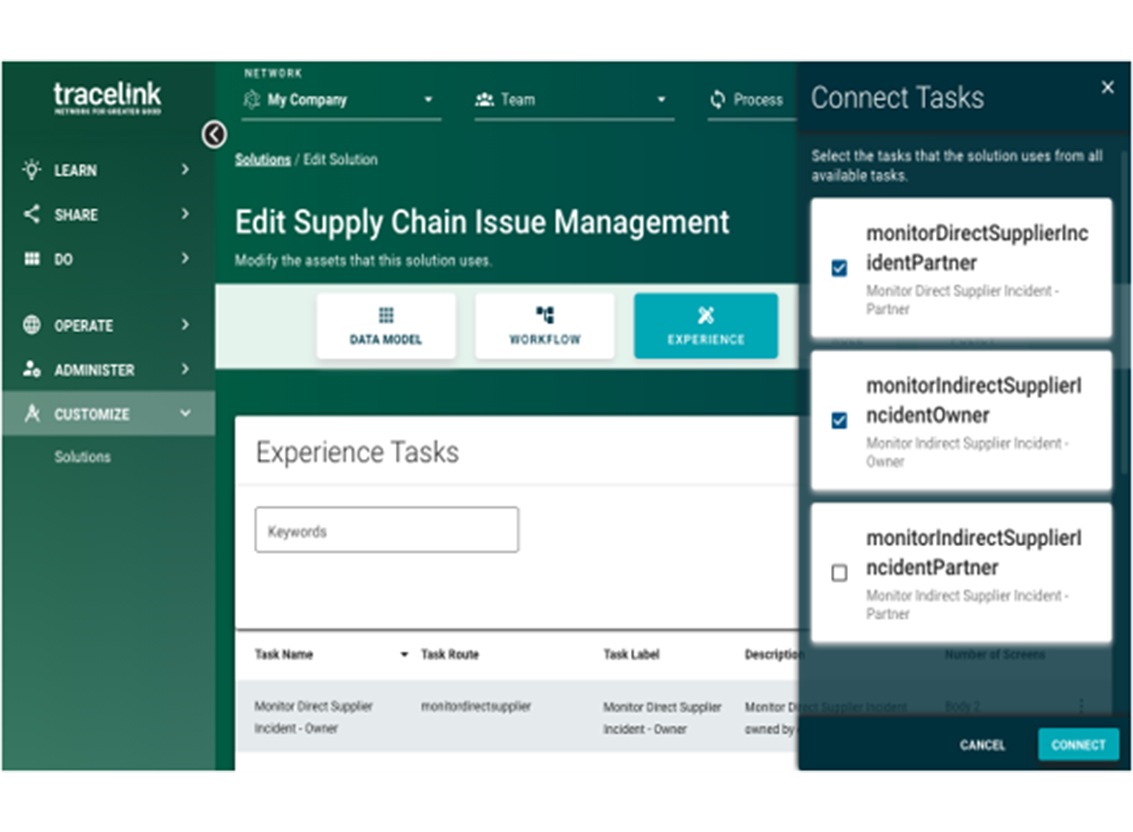 Use Cases
Enhance Workflow
The Incident process in the Supply Chain Work Management solution provides three base states for an Incident, including "To Do," "Under Investigation," and "Closed." A manufacturing company might want to add an additional sub-state called "Triage" for one of the process networks to encourage users to create all types of issues. The manufacturing company can then use the "Triage" state to decide if an issue can be resolved quickly or if it requires further detailed investigation.
Expand Shared Data
Say a manufacturer and supplier partner want to better understand why a received item was put on "Quality Hold". The manufacturer who has deployed Supply Chain Work Management can use Opus Solution Designer to add an additional field, "Reason for Hold," to the Incident Management process. Adding this additional field would also help the supplier more quickly understand what they need to do to resolve the issue. Having more complete explanations for issues, such as quality holds, enables the manufacturing company to use this data more effectively in continuous improvement projects.
With a virtually unlimited number of processes that can be supported with the Task Management capabilities of Supply Chain Work Management, expanding shared data makes clear the input data that is expected from partners. For example, to create a purchase order collaboration process, the supplier response subtask could be expanded to include fields for "Original Due Date" and "Requested Due Date" fields.
Customize Out-of-the-Box Solutions
Manufacturing companies may want to adopt an agile methodology to implement the TraceLink Supply Chain Work Management solution, thereby minimizing the risks of waterfall implementation and speeding reaction to changing business needs. Companies can quickly start with the out-of-the box processes included with the Supply Chain Work Management solution and begin by deploying them at a small scale for internal engagement. Business users can then iteratively test the solution, learn from the results, and use Opus Solution Designer to make custom changes to processes, data attributes, or role-based access, and then expand the solution to external users in measured steps and over time.
Related Solutions
Supply Chain Work Management is a multi-enterprise work management solution for digitalizing supply…
A low-code/no-code development environment for building, deploying, and managing applications on the…
TraceLink Community
A place for members to harness the digital supply chain, collaborate with peers and lead the life sciences industry in creating transformational solutions to serve patients better.