Serving as the voice of the customer, connecting the dots across customer needs, and embodying both of those in the TraceLink solution.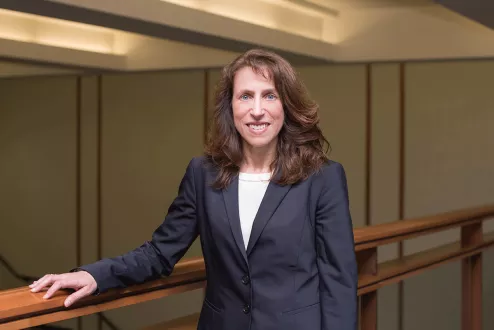 "I love spending time with our clients and listening across many voices and different threads, and discovering the essence of a business need or challenge. What excites me is the envisioning process, passionate engagement and collaboration, and seeing the product turn into something so different and so much better from what was first imagined."
TraceLink Senior Vice President of Product Management Lucy Deus leads product vision, solution design, and global market requirements analysis for the company, defining the direction and capabilities for the TraceLink Life Sciences Cloud platform and integrated applications. She brings to her role a marriage of research, envisioning, counseling, and collaboration.
As a noted leader in the technology sector, she is recognized for turning ideas into action. She started her career at the MITRE Corporation, where she led technology product design and software development projects for clients in the intelligence and defense communities. Her innovative work on massively connected networks and large scale organizational collaboration the led her into the commercial market, where she was a pioneer in building technology support for mass eCommerce at iWant.com before moving into human capital management solutions at Performaworks. In 2003, she co-founded SupplyScape, where she led design and strategy for the company's global traceability and serialization products.
Deus has been a regular contributor to industry journals and, in 2007, she served as technical editor of the GS1 EPCglobal Drug Pedigree Messaging Standard (DPMS), the first industry standard for the exchange of data used for drug traceability. She also was a final editor for the 2015 GS1 US Healthcare Implementation Guide for DSCSA. Her industry leadership has earned her numerous awards, including the 2017 Boston Business Journal "Women to Watch in Science and Technology" award. 2009 PharmaVoice 100 "Most Inspiring People" award and the 2008 EPCglobal "Person of the Year" award.
Deus holds a Bachelor of Science degree in computer science from the University of Rhode Island. She currently sits on five industry workgroups, helping drive technology and process standards, and is a key leader in the TraceLink Cloud Community where she offers solution workshops, regulatory overviews, and technical reviews for industry stakeholders.