The pharmaceutical supply chain is facing one of its most critical tests from the ongoing COVID-19 pandemic, and many companies are struggling to succeed. This new whitepaper, written by IDC Analyst Simon Ellis, features exclusive, industry-first research from IDC in partnership with TraceLink, drawing on the first-hand experience of more than 500 companies from the end-to-end pharmaceutical supply chain—including manufacturers, CMOs, wholesale distributors, health systems, and pharmacies. Learn how your peers are building resilience to supply chain disruptions caused by COVID-19, who is rising to the challenge, and who is falling behind.
What you'll learn:
Read the whitepaper for actionable insights on the current and future state of the pharmaceutical supply chain based on data from your peers, including:
What is the lasting impact of COVID-19 on the pharma industry?
Why is the pharma supply chain still suffering from poor visibility and lack of actionable data?
Why do nearly half of supply chain companies lack the agility to survive major supply chain disruptions?
How does lagging technology adoption directly contribute to poor upstream and downstream issue resolution?
Why are only 6% of companies actively pursuing patient-centric supply chain transformation, and what needs to change?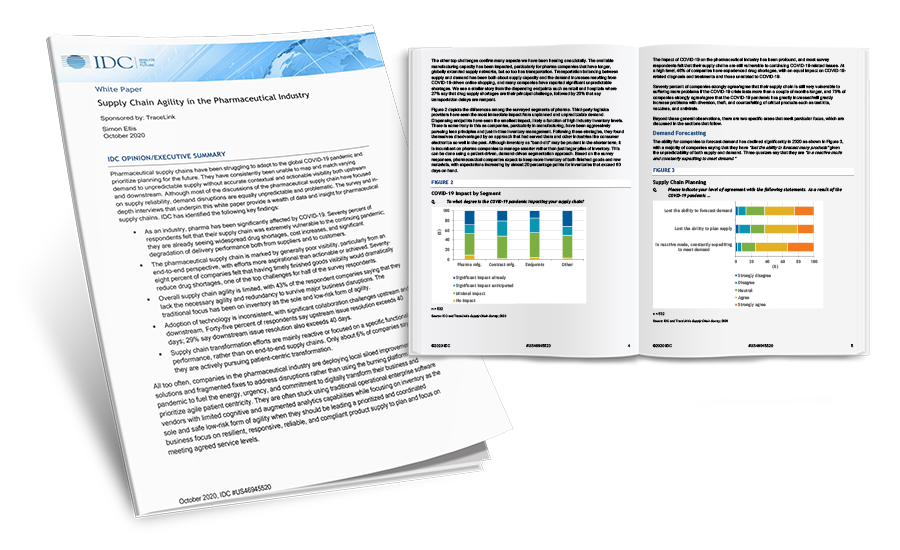 How do you compare to your peers?
Download the whitepaper to learn why the traditional supply chain management models have fallen short, and to learn how your organization stacks up against other companies across the industry on implementing a patient-centric, agile supply chain that is capable of not just surviving the next major supply chain disruption, but thriving in this new era.