Schedule a Free Consultation with a TraceLink DSCSA Expert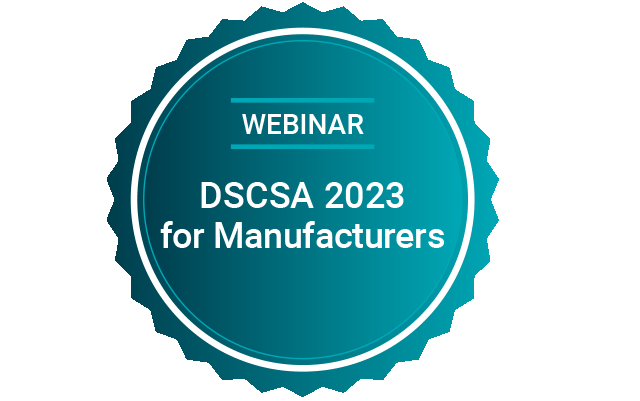 In this video clip from the TraceLink DSCSA 2023 webinar series, Ashley DeFlice, Regulatory Affairs Specialist at wholesale distributor Henry Schein, explains why pharmaceutical manufacturers must act with urgency and prepare for DSCSA 2023 now.
DSCSA 2023 compliance will require the implementation of a fully interoperable system for sharing EPCIS data with supply chain partners by November 27, 2023. But what exactly do wholesalers and retail pharmacies need from pharmaceutical manufacturers with regard to DSCSA's complex data sharing mandates? How can you implement a DSCSA 2023 strategy that works for everyone?
You can learn even more about what wholesaler and dispenser trading partners are expecting from manufacturers in the full on-demand webinar, "DSCSA 2023: Discover What Wholesalers and Retail Pharmacies Need from Pharma Manufacturers." Fill out the form to get more insight from guest speakers Ashley DeFlice from Henry Schein, and Leon Nevers, Director of Procurement & Business Development at H.E.B Pharmacy. Key topics include:
An in-depth look at what wholesalers and retail pharmacies expect from pharma manufacturers with regard to EPCIS and master data sharing, aggregation, exception management, implementation timelines, testing, verification, and more.
 
A look at how the TraceLink digital supply network enables manufacturers to rapidly "Integrate Once, Interoperate with All" wholesalers and retailers to ensure fully interoperable data sharing and compliance with complex DSCSA mandates. 
Fill out the form on this page to watch the complete webinar now. 
Transcript
Dan Walles: ...and good morning to everybody out there. Thank you for joining us today in the next session of our DSCSA 2023 webinar series with a focus on the manufacturer and distributor segment. I think this is our third webinar in this particular series.

Today, I'm really excited to be joined by your colleagues in the industry representing both the wholesale distributor segment as well as the retail pharmacy segment. We want to spend some time with you talking about what wholesalers and what retail pharmacies expect from their suppliers, particularly pharmaceutical manufacturers as well as other wholesalers.

They're also going to be able to provide some insights into what they've learned about their projects. Both of these organizations are working diligently on their DSCSA projects and started their projects quite some time ago, so out in front and certainly have a number of lessons learned.

Joining me today is Henry Schein. Joining us from Henry Schein is Ashley DeFlice, who's a regulatory affairs specialist, Paul Wilkinson, who's the manager of product category management within the medical organization of Henry Schein, and Kim D'Arcy. Kim is a senior IT solutions analyst for Henry Schein.

This team, as well as some others from Henry Schein, has been working on DSCSA going way back to 2014, when the first milestones went into effect.

In addition, I'm joined by Leon Nevers. Leon is the director of procurement and business development for HEB Pharmacy, which is a retail pharmacy. I think Leon's located in Texas.

HEB has been working on their DSCSA 2023 engagement for a number of months now. Leon's been out in front in terms of leading that segment in terms of readiness for DSCSA 2023. I'm really happy to be joined by these four, I would consider, subject matter experts in this particular area.

As I mentioned before, this is the third webinar in a series that we've been doing. We started with decomposing the requirements, the necessary capabilities. We also talked about some innovative capabilities we're bringing to market that leverage DSCSA to improve drug shortages.

Last time we met we went into some detail on the exchange of EPCIS information, and really deconstructed that particular challenge and requirements. Today, what we thought we'd do is let you hear from your colleagues in the industry about their experiences.

The webinar series will continue into January, and will cover topics such as verification, exception management, as well as product tracing as we enter into the New Year.

In terms of today's webinar, a couple of things that I hope you walk away from here today. I think we've talked about some of the challenges around item level traceability under DSCSA.

This move from tracking items from essentially a lot level to an item level, really positioning that and helping us visualize those challenges from an operational point of view, from a pharmacy perspective, as well as a wholesale distributor perspective.

In addition to that, understanding directly from Henry Schein, what their requirements are around DSCSA. Henry Schein is a primary customer for a number of you on the call today, a large national distributor.

They want to make sure they have an opportunity to explain their expectations, and why their requirements are so important for their business, what's the business impact of compliance for Henry Schein.

Similarly, Leon will take us through the retail pharmacies perspective. Whether you shipped directly to H-E-B, which I believe many of you do, or you may be involved in a suspect product investigation with H-E-B post-November 2023.

Leon will take us through their requirements for receiving EPCIS and aggregation information. I know Leon's been out in front in terms of driving testing with his suppliers as well. Both parties will talk about why they're encouraging folks to start their projects now if they haven't already.

Before we jump into that, just a quick update in terms of where we are today as an organization. We are now with moving into December. We've exceeded the 1,300 customer mark in terms of total customers. Many of those are for our serialization and DSCSA capability.

We are working with close to 900...I think that number is close to 900 of our customers are engaged in serialization in some way, whether they're a manufacturer, a wholesale distributor, or a dispenser, either sending serialization data or receiving serialization data.

The one number I want to call your attention to is this 339,000 active service links. What this represents is...This is how information, particularly DSCSA information gets communicated across the TraceLink network.

By essentially implementing these service links, we've been able to eliminate just the hundreds of thousands of point-to-point integrations that have resulted in saving the industry in excess of $4 billion, which is pretty substantial, when we look at what we have in front of us in terms of exchanging this information horizontally across the supply chain.

We continue to invest heavily. I just came out of a meeting earlier this morning about an annual update. We've added close to 80 employees to our staff this year. We continue to grow quite aggressively in...The vast majority of those investments are in our R&D organization, in our services organization.

We recognize that we have a lot of work to do together with you. We want to make sure we have the appropriate staff in place to be able to do so. One thing we're really looking at is we're here today to talk primarily about compliance within the US market. It's important that we recognize that we are operating in a global supply chain.

We've all recognized and have lived through the challenges with whether our drug APIs or finished goods are being manufactured in other global markets, whether it be in India or China. The challenges that we've faced as an industry around needing visibility into how products arrive to us in the US and how they move through the supply chain.

Although we're here to talk about a US requirement, it's what TraceLink views this as an opportunity to start to digitalize the supply chain and do that across the globe because our customers have told us that supply chain digitalization is a business imperative for them.

These are board-level discussions where companies are seeking to get better visibility, better transparency into their supply chains, and disruptions within their supply chain.

In order to prepare us for that, TraceLink is looking at how do we now start to bring together what we refer to as the Internet of supply chains, which is focused on linking together the people, the processes, the systems, and the enterprises into a network where we can now make intelligent decisions based on changes that are happening within our supply chains.

If you look at what that requires, it's being able to operate across this network, being able to create and deploy digital business processes across that network between a manufacturer and a wholesaler, between a manufacturer and a retail pharmacy.

One of those business processes that we're quite familiar with and that we've made a lot of progress on is obviously the compliance business process, things like DSCSA.

As we start to complete and continue to deploy those compliance solutions, it's important to recognize that we're enabling this common data model not just for individual organizations but a data model that represents the flow of medicines within the US and coming to the US.

From that data and from that common data model that results in this incredibly clean and timely actionable data set, we're able to now start to drive what we refer to as collective intelligence solutions. A great example of that is our product availability intelligence investments to focus on the area of drug shortages.

So that's really led to what we call our opus platform, that is built on this digital supply network. It is a true software platform. We've made the transition from an application or solution company that's been focused just on a single business process or business challenge into really helping our customers achieve this supply chain digitalization and creating this Internet of supply chains.

We're going to spend today going deeply into this serialization and traceability and obviously regulatory compliance, but it's important to recognize that the investments that you're making in achieving compliance with DSCA is creating a set of assets for you and a set of assets that will allow you to drive optimization and efficiency in your supply chains through better visibility.

We feel that we have a great experience in being able to do that based on the work that we've done with many of you today in our global serialization traceability and in-compliance activity.

Our business has been built on the initial milestones of DSCSA, whether it be lot level traceability as well as applying and managing serialization data within your operations. Now, we're completing that journey in November of 2023 with item level traceability that's required by DSCSA.

What this is allowed us to do is through those efforts as we've now start to be able to integrate to all of these partners across the network that are engaged in supplying medicines to you or that you may be shipping medicines to. In order to help you operate, collaborate, and drive better business decisions with those different partners.

We feel very well positioned to achieve that supply chain digitalization vision that we talked about in the previous slides. With that, I'd like to now dive a bit deeper into the meat of the presentation with really the wholesaler perspective on DSCSA 2023. What I'd like to do. Here is a pass to my colleagues Ashley DeFlice, Paul Wilkinson, and Kim D'Arcy.

Paul Wilkinson: All right, good morning. I'll kick us off. Dan, thank you for having us on first. Thanks to all the folks who are tuning in to this also. Again, my name is Paul Wilkinson and I am one of the managers from the product category management side for pharmaceuticals for Henderson Medical.

I've been working alongside our regulatory and our IT teams for DQSA initiatives for some time and also serving as a touch point to many of our supplier partners related to this effort.

As Dan mentioned, also representing Henry Schein today is Ashley DeFlice who is our regulatory affairs specialist and Kim D'Arcy who is a senior IT solutions analyst for us. Both heavily involved with the DSCSA, and you will be hearing from them quite a bit today also. Just to start next slide, please.

Henry Schein is currently on track for meeting compliance by November 2023, which, believe it or not, is less than one year away. Our question is, are our supplier partners prepared to exchange EPCIS data with us? Obviously, this is only going to work if everyone is on board.

With that, I'm going to let you hear from Kim D'Arcy who will begin with best practices for EPCIS data exchange. Kim.

Kim D'Arcy: Thank you, Paul, and thank you, Dan, for having me today. My name is Kim D'Arcy. I am the technical lead for TraceLink item serialization. I'm sure I've spoken with many of you or your emails back and forth in regards to lot traceability and for some of you, we've started the item serialization of EPCIS messaging.

What I am here today to do is share some of our best practices that we've learned amongst the many years that we've been working on this DSCSA onboarding, and in particular the EPCIS messaging onboarding.

Through some of our earlier onboardings, we've learned a lot of lessons that have helped us for our current and future onboarding. We just wanted to share them with all of you. They're things that you can look it out for when you start with your own EPCIS messaging.

First and foremost, this is all in related to working with Henry Schein, but this is going to go across the board for any partner that you're onboarding with. The most important step is to make sure that you have full and complete master data that you are exchanging with your partners.

Make sure you're exchanging all saleable unit GTINs, all of your locations GLNs, and SGLNs, as well as your company GLN and SGLN, as well. Please make sure that when you exchange that data, you let your partner know. If it's Henry Schein, let us know, which is your company GLN, which you will be sending within your EPCIS data as your sender identifier.

A reminder, this is something that's come up lately a lot. For the GS1 EPCIS sales shipment message, 1.2, only the GLN is the acceptable sender and receiver identifiers.

I know it's come up a lot where people are trying to send with SGLNs, according to GS1 that is no longer accessible for 1.2. Please keep that in mind and make sure that when you're working with your NSM, or if you're anyone else, make sure they know to always send those GLNs.

Another thing that we see trips people up here and there is the tags that you're using within the EPCIS message. Make sure that your tag is always indicating that it's an 11-character NDC number and that you are sending the 542 version of your NDC number. Any other combinations, if you try and send a 10-character, that's going to fail on you.

Another big thing make sure when you're sending your individual events within your EPCIS message that you send a separate commissioning event for each and every G10 within that EPCIS file. You cannot send one vocabulary list and one commissioning event for both the case and the each.

You do need to keep those separate. Make sure that when you're working with an outside solutions provider...I'm assuming anyone on this call is going to be working with TraceLink, but if that's not the case, make sure of the timing of your events.

If you're sending separate files, make sure that your commissioning event is processed completely before you send your aggravation event. Aggregation events [laughs] they give me a lot of aggravation. Sorry.

What we tend to see is a timing issue with the aggregate and shipping events. If they're sent in separate files and you're sending a huge commissioning event, the jobs are running, or it's being processed in a parallel mode, sometimes the aggregation event can start before the commissioning has ended, and that's going to cause errors.

Make sure when you're working with your TraceLink, NSM, your network services manager, or any outside party, establish your connectivity prior to starting your onboarding with your partners. That will save a lot of headaches later down the line, making sure that everyone is on the same page as far as the SFTP or AS2 connectivity that you have with your L4 solution.

A request from Henry Schein and I'm assuming it's going to go across the board for any partner that you work with. Whenever you're testing, always try to make sure that you are testing with a GTIN that partner currently purchases.

It speeds things up. Otherwise, we have to add to master data and that can slow things down a little bit. Last but not least, best practice, probably next to the master data, is the most important.

Always send the purchase order number within your shipping event and send it as a standalone. Do not include anything, nothing added to it. No GTINs, no suffixes, no prefixes, just the purchase order by itself. Next slide. Thank you.

What we have done at Henry Schein to try and help our partners streamline the onboarding process and make it less painful, is we prepared this checklist. This could be used when you're onboarding with Henry Schein or any other partner that you're onboarding with.

It basically takes you through all the steps of onboarding in the order that they should occur, at least from what we've learned from our onboardings with some of our partners.

Put it this way. No onboarding is going to be perfect. We've seen a few that are close to it, but none is absolute and perfect and smooth sailing all the way. However, we have found if we follow this checklist and like I said, go through the steps in the order as they're presented here, it goes a lot smoother. There's less things that get forgotten.

Very quickly for Henry Schein, when you're onboarding with us, your first point of contact should be sending out an email to our serialization [at] henryschein.com email.

Please send us your contact name and address, email address, regulatory contact name and email address, your solution provider if it is not TraceLink. If it is TraceLink, then please let us know that as well, and send us the contact name and email address for whoever you're working with at your solutions provider.

Send us the complete list of product GTINs. It is your choice whether you prefer to send us all the GTINs that we currently purchase from you, or if you'd like to expand and send all of your GTINs. We'll accept any of them. We'll parse out what we need to add to master data if that makes it easier for you.

Send us again your company shipping locations, GLN, and SGLNs. If you're using a 3PL, please make sure to clearly highlight that so we know when not to add that SGLNs information to our master data. We will send you our company and location GLNs. Please load all of the locations into your master data.

We request you load all of them whether or not you ship to those facilities, just in case in the future it does become a shipping partner of yours. Send us your NSM information. You can do that in that first initial email or we can do it through conversations later on down the line.

If you don't have an NSM, we will get TraceLink to get in contact with you to establish that relationship and connectivity on your behalf. Next is to establish and test that connectivity. Then we will do the exchange of the service links.

Just so everyone knows. Henry Schein, we have a lot of partners that we are currently testing with. We have future partners that we need to test with. What we do as a general practice is we're going to send you the service links for the I-test environment. We will also send the service links for production at the same time.

It makes it easier for our team to make sure that we haven't missed any steps. If you are not comfortable with loading that production service link until a later date, that's absolutely fine, but know you will receive both of them at the time that we start testing from Henry Schein.

If you're not a TraceLink partner, which again I believe everyone on this call is, but if you are not put in a request to your NSM for that service link to be created and configured. Next, we would both configure the product track service link.

Henry Schein always uses our company GLN as the receiver. We also use it as our service link identifier. We will also use your company, GLN in the same way. We do not deviate.

I apologize if this causes an issue for anyone. Because we have so many partners on both sides of the fence, whether it's manufacturer, supplier, or customer, we've had to put some rules in to make sure that we can best control our testing and make sure that we can identify who the partner is. Then we would ask you to send the test sale shipment EPCIS message.

Again, always send the Henry Schein purchase order number. Send full aggregated data within that test so we can make sure that everything goes smoothly. Something new that's come up. Please make sure that you're not sending any empty tags. Empty tags are going to cause your file to fail.

If there are tags that are optional, you don't want to send that information. Absolutely fine. Don't send the tag without anything in it. Then confirm your successful receipt with Henry Schein. We do request two successful receipts before we schedule a go-live date.

We can do more if you require more. We do ask a minimum of two. Then we schedule the go-live date. That's it. We're in production. Thank you. Next slide. Now I'll hand this over to Ashley.

Ashley DeFlice: Thank you so much, Kim. Thank you, Dan and TraceLink for having me this morning. As Paul and Dan have already mentioned, my name is Ashley DeFlice. I'm a regulatory compliance specialist for Henry Schein.

I'm going to be talking more about the broader strokes of what it means for partner onboarding and your solution testing and rollout, and how that affects your compliance along with your general industry readiness. First, onboarding takes a couple of weeks to complete. I know that you all remember what it was like when we went live with our ASN. There's a testing phase that took a couple of weeks.

EPCIS is even more complicated than onboarding ASN. We want to make our supplier partners aware, that this is not just like snap your fingers and here we go off to the races. We need time to be able to do this. As Kim already showed you, these are all the different steps that we, at Henry Schein, take to go for onboarding.

If we need to get through all those steps, then we need to make sure that we have enough time to complete that. The earlier you are ready to do that, the better it is for both our connection along with your other connection, with your other up wholesaling partners. So that leads us to our next point.

We need to focus our EPCIS connectivity in early 2023, because we need to make sure that we have enough IT resources, in order to allocate towards getting your EPCIS messages on board.

If we have 200 supplier partners that we need to connect to by November of 2023, and it takes several weeks in order to get EPCIS messaging going and live, we need to make sure that we have enough people to work on all of those connections and to make sure that this is all happening as expeditiously as possible.

If we're all of a sudden getting everybody at once in July of 2023 saying, "Oh, maybe I should start my EPCIS onboarding," there's going to be a big problem because we're not going to necessarily be able to onboard everyone at the same time.

We are urging our supplier partners, which is why we're so glad you're here today, to get as quickly as possible with us, at Henry Schein, or with your other supplier partners. So that you can make sure that you're continuing the flow of information and also not affecting patient care and affecting the supply chain by not having your information readily available to our downstream customers.

I understand that most people here are probably either with TraceLink or are looking to get onboard with TraceLink. One thing that we'd really like to high light, if you obviously don't have an in house EDI system, if you are looking for a third party solution, if you're with TraceLink, they're going to have that L4 serialization solution in place.

If, for whatever reason, you're looking at another solution provider, it has to be a level four serialization solution, or else you're going to be dead in the water. There is nothing else that we can suggest that would be an equivalent.

If you've been listening to the FDA public meeting that has been going on yesterday and today, the question has come up about is there anything else, other than EPCIS, that can be used in order to be compliant. As of right now, the answer is no.

Everyone in the industry is using EPCIS. I know Henry Schein is using EPCIS. We would encourage you to make sure that you have that level four serialization solution in place, so that you are ready to go for November of 2023. Next slide, please.

We are gearing up to have to go forward in Q1 of 2023. We are anticipating the fact that we're going to have issues arise, we're going to have errors. We're going to have things that come up that we're not going to find out about until we start moving.

That's why we're really trying to move forward in Q1 of 2023, so that by November of 2023 we are a well-oiled machine, or as well-oiled as the industry will allow us to be.

We cannot do that if we do not have the support and buy in from our supplier partners. That's where you come into place. What we're trying to do is really encourage our supplier partners to, again, really ramp up their efforts with EPCIS messaging and getting onboard with Henry Schein and your other supplier partners.

Part of the reason why we want to do this is because we want to make sure that we're correcting these errors. We're recovering our lost efficiencies.

By doing this throughout the entire year of 2023, rather than at the very last minute, we're going to make sure that we're doing our best for our customers, but also by you, as our supplier partner. To make sure that we're being good stewards of your product and that we're able to continue our responsibility for our customers.

Ultimately, the patients who we service throughout the United States. Again, we've been talking about EPCIS messaging and why this is so important and how we're coming into November of 2023. The FDA, as I've been working with our trading groups, has indicated that they are not planning on issuing any extension or enforcement discretion, around November of 2023.

This might be because they want to make sure that no one is stopping their efforts towards becoming into the serialized world. That being said, if you're thinking you want to know what the FDA, they've given enforcement discretions. We've seen it with ASN, with T3s, we've seen it with VRS. I'm going to wait.

This could seriously impact your business in a very risky way. Not only your business, it could risk the supply chain. Because the FDA again has been strongly indicating that they are not planning on any kind of discretion on enforcement.

I really want to encourage you. If you have not already, make sure that you're getting your solution provider and make sure that you are getting ready to have serialized data transmitted with your vendor partners.

I know that we've been trying to do the same thing with our vendor partners, explaining to them the importance and really reaching out to those vendors that we have not heard from yet regarding EPCIS messaging.

Obviously, you're here, you care about it. We want to make sure that we're stressing to you how important this is. At this time, I'm going to ask for the next slide and turn it back over to Paul.

Paul: OK, Ashley, thank you so much. I want to be sensitive to timing, so that the next presenter can start with their content. Just extremely brief. We're all obviously aware of some business risks of non-compliance.

We all understand that. Ashley touched on some of this, whether it be supply chain disruptions or business revenue disruptions. Ultimately, impact on patient care. All things we want to avoid and all of which are at risk if we are not ready by 2023. Thank you all.

[pause]

Dan: Thank you to the Henry Schein team. I think it was a great balance of both the technical how-tos and I really liked the checklist that was put together.

Maybe one thing that I took away from listening to that discussion was just the overall sense of urgency that is you can hear in people's voices of trying to get started and get going in the amount of work that we have to do collectively as an industry as Paul had mentioned, less than a year away now, but really appreciate the Henry Schein team joining.

I know there's been a couple of questions that have been submitted. We're going to move on to the next presenter and then address those questions at the end of the presentation.

At this point, I would like to turn it over to Leon Nevers, who's the director of procurement and business development with HEB Pharmacy. Leon?

Leon Nevers: Thanks, Dan. Thanks, everyone, for joining. I think it's really important to continue the theme of the day. As a brief overview, my discussion with you all is I'm in charge of procurement and business development, which means that the buyers report to me.

A brief history, Dan, if you can go to the next slide, on my involvement, on why I'm involved in this. I had the same question when my boss called me into his office seven or eight years ago now and said, "Hey, you're going to be in charge of DQSA," I think he called it. It was DQSA back then.

I was like, "DQSA? I don't even know how to spell that. What does it mean?"

Dan: [laughs]

Leon: "Why am I involved?" He said, "Basically, you're the stick in the room with the suppliers. You're involved so that you can ensure that the suppliers are in line with our expectations." Just to be clear, our expectations are that we are completely regulatorily...

Dan: [laughs]

Leon: ...responsible in every phase of the law. I am responsible for that, ultimately.

One of the challenges I think that you'll have in dealing with other dispensers, and again, I'm a dispenser, so I'm a retail pharmacy, is that you're probably going to run into different people that are going to be involved at different stages throughout this. One of the challenges you'll have, of course, is who's in charge.

Honestly, in my experience in dealing with so many of my other industry compadres that have come to us for advice, because we are pretty much on the forefront of DQSA, DSCSA, is that they really don't know where to start. I would say that that is our biggest challenge.

When you look at the journey that we're on, it's really difficult, obviously, to know where you're going if you don't know where you're going. That's simple.

What we really had to do, number one, is understand the law and understand the requirements. Part of the challenge, being a dispenser, was that we were at the very end of the requirements.

I think Henry Schein did a fine job of explaining some of the issues that we're facing if we're not compliant and also some of the issues I'm sure you all may be thinking about. "Hey, there may be some extra time involved in this. Maybe there's some discretion. Maybe there are some delays."

I actually had the opportunity to sit right next to the top of the FDA for about two hours in a meeting and had a conversation like this, very open conversation. Basically, they said, "It ain't going to happen. We're expecting full compliance. We're listening to the industry. We're getting a gauge on where the industry is, but we expect full compliance on November of '23."

Because of that, my job is to be in charge of the buyers and set the strategy for procurement. My ultimate request of you all, without reading through a bunch of slides, is that you understand that, number one, and that you help us reach compliance, number two.

I believe in an open opportunity for all of our suppliers. To do that and for you to be part of that open opportunity in the future, you're going to have to comply. There's no other way around it.

I've already told the buyers and I've told all of you in different meetings, and I'll say it again very clearly, that we have to have compliance with the law.

What that means is that if you're not prepared...I'm at the end of the process. If you're not prepared to send EPCIS data to us in the timeframe that we require and in the format we require and in the accuracy that we require, then I love you, and I hope you'll be prepared sometime in the future. We're going to have to move on to another supplier.

Some of you, especially the brand manufacturers, may say, "Well, what about the patient?" Sorry, I'm not the FDA. I hate to sound hard, but the reality is we are a business, and I can't put the patients at risk. Remember, the original purpose of the law was really to protect the patients. If that's the intent of the law, then I have to click into place with that based on the intent of the law.

At the end of the process, honestly, I'm probably going to be the bad guy in the room which says, "Gee, I can't buy from you anymore if you don't do what I want." [laughs] I think that's something that you all just really need to absorb and think about and understand. We're coming up to a very short timeline here, obviously.

Henry Schein did a really good job of explaining that. One of the things that you'll run into when you're dealing with the dispensers is really understanding who to work with, like I mentioned earlier. What I had to do is zoom out and go, "Oh my gosh, I'm in charge of something that is a regulatory. What do I need on the team?"

On my team, I have a legal department, and our legal guys have outside counsel that are actually experts on DSCSA. I've got a corporate attorney that is my right-hand man through this process, and he has right-hand men outside of HEB that help him understand what's going on in the industry.

I would embrace the fact that we do have...the folks that are going to do it right are going to have a robust legal department that are going to help us review the requirements. I also have a regulatory team that's...this is probably like me, it's one or two percent of our job, to be honest with you. By the way, that's true of all of us. This is not our full-time job to do DSCSA or rep.

We have a full-time job. That means that we run a business. And so all of us are devoted to running the business, and that's still the ultimate goal in this process. DSCSA is an important part of it, but it's a very, very small part of our job. I also have a supply chain.

Our supply chain manager is really in-depth in this. She's my right-hand person as much as anybody else and does an outstanding job of everything. Our focus is to stay in stock. To offset my bad news about, "Hey, we're not going to buy from you," the good news is we have a real laser focus on staying in stock.

Some of the things that Dan talked about, about the vision with TraceLink and understanding the market and all the different endpoints and how you're connected when he talked earlier, I am a big believer in that. I think DSCSA is going to get us there.

I also have our warehouse obviously involved. We do almost all of our business to our warehouse, which somewhat simplifies our task in DSCSA versus trying to educate and regulate, and control 300 stores that we have that are also trying to be in line with the requirements of the law. Really almost all of our volume goes to the warehouse.

For your purposes, that makes your job much easier in dealing with us. In my opinion, my job easier, too. Then I have the buyers. The buyers will be the face man for you. Remember that their main job is to drive sales and profits. This is a very small part of what they're going to do.

The reason I continue to bring that piece of the puzzle up is in everything that we do, we need to seek efficiency. I have a very small team that handles billions of dollars in pharmaceutical products, and their job is to drive sales and profits. I'd love to have you all continue to be our suppliers, but at the end of the day, they're going to follow the path of least resistance in a nutshell.

We don't have people waiting in line to help coach you and guide you and prod you and poke you and verify data. We're going to ask you to be as efficient in dealing with us and accurate and timely as possible.

What I would do if I were you all is, which is what you all are doing, which is why you're on the call. I applaud Trace Link for these type of initiatives and all of anybody that can raise their hand and help guide us through this. This is a murky law to be in this. That's Leon's quote. To me, what I mean by that is I'm very yes or no. Basically, I'm black and white.

When I ask a question about how to interpret the law or what's required as a dispenser, I get a lot of, "It's up to you to interpret it. It's up to you to execute it." Because of that, it makes me a little cautious. What I've done, and maybe this will help you, is go to the industry folks, the experts. There's a lot of them out there. This is their job.

HDA has been at the very forefront of helping me understand in particular how you all are doing and where you are in the process, and bringing us together to have these types of discussion like we're having today. NACDS is another industry group. I have a bunch of friends on the board of NACDS.

I would say NACDS is similar to us on the dispensing side, where they're waiting and seeing how this is going to pan out and what the members need. They're not necessarily in my opinion on the forefront, but that they are there as a sounding block and helping to get the word out if we need them.

Then the PDG group has been very...They've done a really good job honestly of helping us develop something out of a dispenser's industry checklist. We're getting closer to having that type of a checklist in place. It is definitely not a one-size-fits-all but will help the dispensers that are coming in the flood behind us, behind the forefront leaders here. [laughs]

That they're going to have to follow in place very quickly, and that industry checklist is going to help them. The next part of the process is to meet with the service providers. I did an in-depth analysis. We ran an informal RFP, for example, of the service providers and obviously TraceLink won. There were two or three others that were close, but not that close.

What sets TraceLink apart is their overall strategy of connectivity in the industry, and then also the fact that they already know a lot of the suppliers. Remember I mentioned efficiency is key for us. The fact that they know the suppliers and they're already connected to you all and can facilitate a quick connection was huge for us.

I'm very pleased with where we are with TraceLink in the process right now. I've been collecting all of your ASNs myself since that was required several years ago. We're redirecting the forefront of the ASNs now to TraceLink, which means that you all are going through a process where you're redirecting primarily from HEB to TraceLink for ASNs.

That was step one in our process. Then step two, and that's what we're talking about more today is, where are we with EPCIS? I'm fairly pleased that I have several handfuls of suppliers sending me EPCIS data through the TraceLink portal. I would encourage everyone to push that envelope as quickly as you can.

I haven't set a date yet for a deadline, but I'm thinking that we're going to start becoming more frantic in our request around the springtime of next year. I can explain more. Basically, you have to look at your IT timelines. One of the things we found when we got started with the process was, I didn't know who was going to be helping us in IT.

One of the biggest challenges we had is one of the simplest things was how to install a virtual server in our warehouse. [laughs] I would have never forecasted that that would be an obstacle but it has been. I still am working on that to be honest with you. We're not yet able to test, scan product in unless we're doing it with a handheld remote, basically using a hotspot.

That is where we are in all honesty. We'll have a remote server installed sometime in the next few weeks. Once I have that, then I'm going to be able to the handshake between the EPCIS data that we're receiving and then the scanned receipt at the warehouse. I think that that's important for you all to think about and talk to other dispensers about too.

Dan, if you can switch slides. When we went into the launch mode with TraceLink, I honestly had never heard of a GLN. I was more than pleased to find that because I'm in a very large company, we already had a GLN. Setting up the SGLN was a pretty simple deal.

You may have to work with other dispensers to help coach them through that process, because you're not going to run into a lot of others that are as large as we are once you go below the big Kroger-Albertsons Safeway, Rite Aid, CVSs, Walgreens, those types.

You're probably going to run into others that don't even know what a GLN is, and they're going to have to go and figure it out before you can get connected. I would say that that's one of the obstacles that you're going to have to work with.

The other piece is, working with the EPCIS data. I think that there's a wide range of understanding from the dispensers on what EPCIS does and what it is and how it works, and what the difference between that and an ASN is. You may have to do some education there. We're also working on SOPs and training.

SOP it's a funny word right now, because SOP stands for standard, and honestly it is a shifting sand. I've had an SOP now and my SOP has changed I bet on a quarterly basis at least.

It's probably going to continue to change and so the SOPs in training are going to have to take place. There is going to be a time where I'm going to have to go, "OK, this is our SOP." We're not there yet, and it's going to come probably very close to when the law is going to be executed in November of next year.

On the training front, I plan to start doing warehouse training very soon, starting January on how our SOPs work. We're already doing that, of course, on the tactical SOPs, but generally how SOPs would work in a audit atmosphere. What happens if somebody visits and there's questions, which part of the teams need to be deployed? Who's going to be communicating?

The very tactical things of training have to happen. As part of your timeline as suppliers, I would encourage you to think about. It's probably going to take us all a few months to figure out the SOP and training component. You have to think about that in your process in dealing with dispensers.

Again, I would like to have everybody sending me -- and I mean everybody. I've got about a hundred and...Dan probably knows, but a hundred and something suppliers that I have to get done. I only have several handfuls right now that are sending me EPCIS data. I have to get everybody done by spring of '23. That's the line in the sand that we have.

There's a lot of reasons for that. As far as the service providers role and the transition from ASNs to EPCIS, you're going to run into different ideas from dispensers and execution. I would imagine TraceLink will probably coach you through some of that.

I think that you have to forecast that too, but you're going to run into other dispensers that want to transition from in-house management of ASNs back to TraceLink, which means you're going to have to build that into your timeline. Then last, will I be ready for November of '23?

As I said earlier, I'm pretty black and white. I'm going to have to be ready because we have a business to run. I expect everybody to be in line. If I can't get the rodents in line, I'm going to have to find an alternate source. I appreciate your time today. I'm going to turn it back over to Dan. If there's any questions, you're certainly welcome to reach out to us.

Dan: Great, thank you, Leon. I think both presentations were very good. I saw some similar themes in both of them. Leon called this out particularly, one of the things that kept coming up, I heard things as it relates to supplier integrations and onboarding. Things like we have to be efficient. We have to make sure that we don't impact the business. We have a business to run."

I also recognized that for each of the folks that presented today are all operating within the business functions.

DSCSA is not their only responsibility within these organizations and they have other things to do. They continue to run their business profitably. I think we all know the economic model of a distributor and a retail pharmacy in terms of margins and it's important that we're able to help them run efficiently and get started early with our implementations.

I appreciate the information and I thought it was very well put together. We're right up against the clock here, but I did want to maybe ask a question of each party. While I'm doing that, if you did submit questions, there's a couple that are technical in nature, we'd like to reach out to you, our technical teams.

If you submitted a question anonymously, if you could add your name there, and we can reach out to you directly. The first question is for Henry Schein. Maybe you can quickly describe how you're thinking about verification, whether it'd be for saleable returns or suspect product investigations. Maybe you can comment on that?

Ashley: Sure, I can take that. We're currently using TraceLink in order to conduct our saleable returns. We're using the verification router system or the VRS.

Any errors that we're seeing at first, we're routing them as clerical errors, making sure that it's just not a matter that the serial number wasn't uploaded to the VRS and confirming with our supplier partners that that serial number has, in fact, been commissioned and that we are able to place it back into saleable stock and having that verification from our supplier.

In terms of if we're talking about suspect or illegitimate product, we're very fortunate we haven't had any of those kinds of situations come up, but we're talking about whether or not we're able to make sure that we have all of these things in place so that we aren't disrupting business, so that we are able to use our VRS system.

Make sure that if there's no issues with the barcode or any issues with the data. Like I said, those clerical kinds of issues. So that we aren't disrupting the system unnecessarily and we're able to get that back into stock, and then not having to go through a 3911 situation with the FDA.

That's what we're doing right now, is using the VRS. Then eventually, we have our SOPs in terms of suspect and illegitimate product, and making sure that we have something in place for those areas.

Dan: Great. Fantastic. Thank you, Ashley. I guess then maybe we'll wrap up with a question for you, Leon. You talked about a little bit about looking at this network approach around connectivity. Can you comment a little bit on some of the other business drivers in value that you're evaluating through the investment you're making in DSCSA?

Leon: Sure. Very quickly, there's a couple I think that shine. First of all would be our ability to capture expiration dates on receipt, I think is a big deal, and also know where the expiration dates are throughout the supply chain. We do plan to use that to the greatest advantage we can.

There's a couple of different companies that dispensers work with. Order insights is one, supply logics is another, and there may be others similar to those where we're able to redistribute inventory and reduce expired product by moving product within our own supply chain, which is perfectly fine within the DSCSA law, by the way, because we're the only owner. The expiration dates is a big deal.

In the case of a recall, I think that having the lot number and knowing where that lot number is within the supply chain is going to help us from a patient safety and also an execution and store communication front. Those are the two big things.

Dan, one last thing to note, and you mentioned it earlier, that I would point out is that we're laser-focused on staying in stock. The connectivity eventually will lead us into a really good view of potential out-of-stocks coming through the supply chain based on some of the information that we'll be receiving on product movement.

Dan: Great. Well, we're right at 12 o'clock. I want to be respectful of everybody's time. I certainly thank our panelists today. Leon, Ashley, Kim, Paul, thank you for sitting with us today and presenting your perspective. With that, we'll wrap it up.

If you did submit a question and we weren't able to get to it, we will reach out to you directly. I thank you for your time. Have a great rest of your day. Thank you, everyone.

Leon: Thank you.

Paul: Thanks, Dan. Thanks, everybody.

Ashley: Thanks, everyone.