Serialized Product Intelligence (SPI) is a cloud application that provides actionable intelligence for your serialized drug supply chain. With SPI, pharmaceutical companies of any size and business model can proactively monitor their serialized inventory; accelerate exception management and issue resolution; control cost and reduce risk; and strive for operational excellence and more timely delivery of products to regulated markets.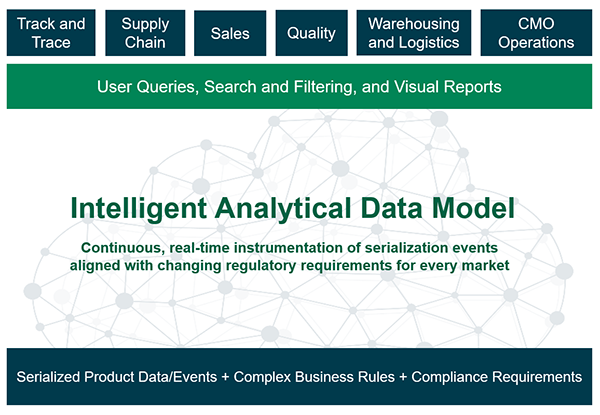 SPI connects stakeholders with actionable insights into serialized inventory.
Serialized Product Intelligence leverages serialization data to empower teams across the enterprise and external partners with actionable insight into the status of their serialized products—from commissioned lots to individual serial numbers:
SPI is an advanced operational reporting solution, for business users to get immediate answers to critical business questions.
SPI provides business users with immediate visibility into internal and external (trading partner) activity through a user-friendly interface.
SPI does not require IT resources or budget for configuration, deployment, or ongoing support.
Serialized Product Intelligence automatically analyzes serialization events, business requirements, and compliance requirements to enable fast queries; multi-parameter search and filtering; and visual reports that can be easily shared.
Serialized Product Intelligence eliminates the serialization "black box"
SPI replaces manual processes, spreadsheets, and endless XML files with automated tools that provide stakeholders across the enterprise with:
Easy access to serialized inventory status
Drop-down filters that let users refine results based on product, packaging level, and target market
Pre-configured intelligence based on regulatory requirements and business rules
Automated synchronization of incoming serialization data and events
A centralized, uniform source of insight into serialized operations across the supply chain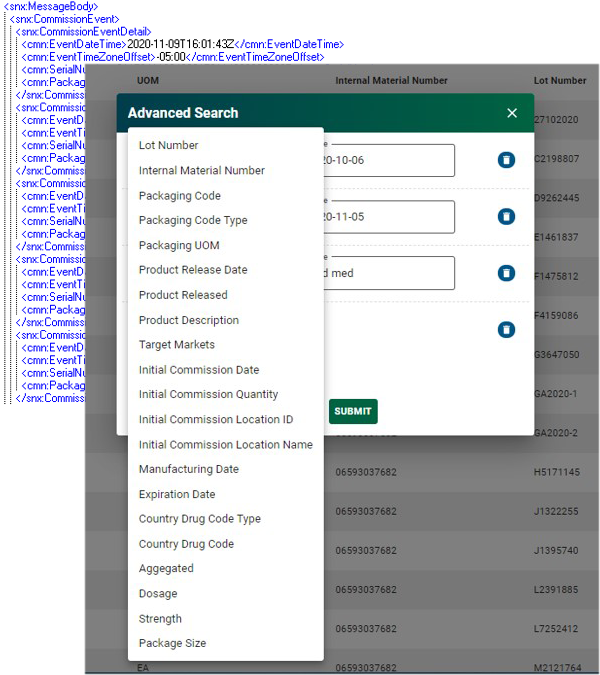 SPI replaces manual scanning and export of XML data with intelligent search tools.
Proactive monitoring with SPI helps you avoid costs and risks of serialization and compliance issues. SPI replaces serialized event logs and XML fields with easy-to-use search and filtering tools to let users drill down quickly to the data they need, spot exceptions early, and take proactive action to resolve any issues that might affect product availability.
Serialized Product Intelligence is a business tool
Establishing compliant serialization operations in a regulated market is a complex, business-critical initiative—and an opportunity to meet each new mandate ahead of your competitors. SPI lets you monitor every serialized unit of sale and provides the analytical tools to:
Empower your track and trace and supply chain teams with actionable data.
Shift from reactive to proactive exception management and resolution.
Scale your serialized operations quickly as your business grows.
Leverage the value of your serialization data to improve supply chain performance, avoid costly disruptions, keep inventory flowing, and stay in control of your serialized operations with Serialized Product Intelligence from TraceLink. Request a demo today.