TraceLink's Serial Number Manager (SNM) solution provides a centralized, flexible platform for the global generation, importation, replenishment, and provisioning of serialized product identifiers for companies needing unique product identifiers, across one or more packaging hierarchies, and in homogeneous or heterogeneous serialization ecosystems, to meet compliance or supply chain requirements.
Challenges
Pharmaceutical manufacturers and their contract manufacturing/packaging partners (CMOs/CPOs) facing regulations for serialized product identification and traceability must have a reliable, "always on" solution for generating, storing, and managing thousands to millions of unique serial numbers. Such serialized product identifiers must be created across varying levels of packaging (unit, case, etc.).
Manufacturers, CMOs, and CPOs must be able to generate and deploy these serialized product identifiers across their packaging lines and external packaging relationships at production-level speeds and accuracy, often across a highly diverse serialization infrastructure.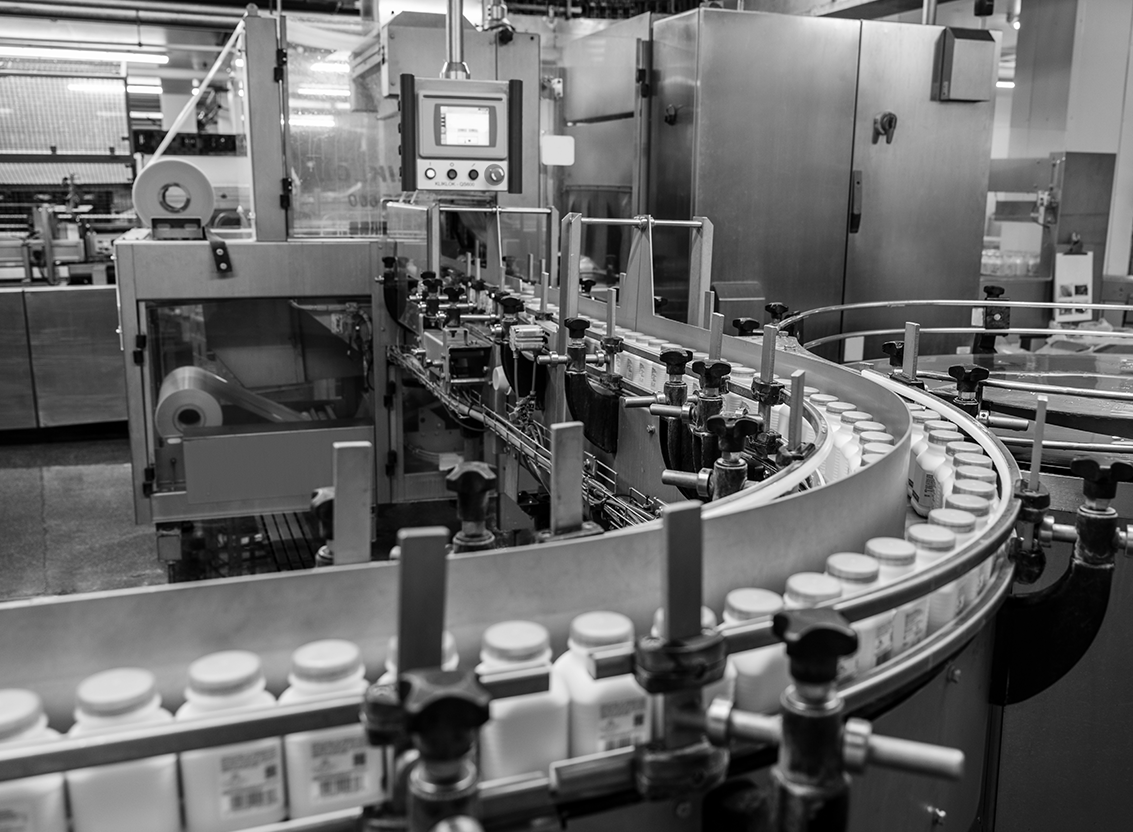 Benefits
Serial Number Manager helps pharmaceutical manufacturers, contract manufacturers or packagers, and other organizations to develop and implement sophisticated global product identification strategies by enabling a flexible, rules-based serialization infrastructure. With Serial Number Manager, companies can:
Implement a Flexible and Resilient Serialization Capability
Implement a flexible and resilient serialization capability across products and markets with templatized capabilities and built-in knowledge of the nuances and special cases in today's global serialization ecosystem, including code structures, generation rules, and packaging specifications.
Enable a Global Serialization Control Tower
Enable a global serialization control tower that can help give your organization a comprehensive view into global product identity and serialized product operations.
Centrally Manage Product
Centrally manage product identify being created for unique market needs and supporting internal and diverse external supply ecosystems.
Adapt to Change
Adapt to changing and emerging serialization requirements with a serialization engine designed to meet diverse global identification needs.
Define Separate Serial Numbers
Define separate serial number pools per packaging location.
View Replenishment History
View replenishment history and define notifications of critical events.
Synchronize Data
Synchronize product information master data.
Capabilities 
Serial Number Manager provides an extensive set of capabilities to enable a company to create a global serialization ecosystem to manage the diverse requirements for regulatory and trade partner product identification. Serial Number Manager:
Manages serial number creation for global product identifier and serialization requirements
Generates serial numbers for multiple packaging hierarchies (saleable unit, bundle, cases, pallets, etc.)
Supports GS1 standards (e.g. SGTIN, SSCC), proprietary formats (e.g., CN-EDMC), and special scenarios such as Russia Crypto Codes
Provides reusable rules-based serialization templates via CSV upload or UI

Identifier configuration (number format, EAN, GTIN-14, NTIN, company prefix, extension digit, special characters, etc.)
Generation of sequential or randomized serial numbers defined by standards-based or regulatory-specified rules
Encoding format and site-specific serial number range creation rules
Request quantities and min/max thresholds

Supports TraceLink generation of serial numbers or importation / auto-replenishment from supply partners or gov't systems
Provides diverse implementation options 

Automated generation internally of serial numbers by the TraceLink system
Automated replenishment of serial numbers from an external system into the TraceLink serialization repository
Automated replenishment of serial numbers from a manufacturer's serialization repository to a contract manufacturer's or packager's serialization repository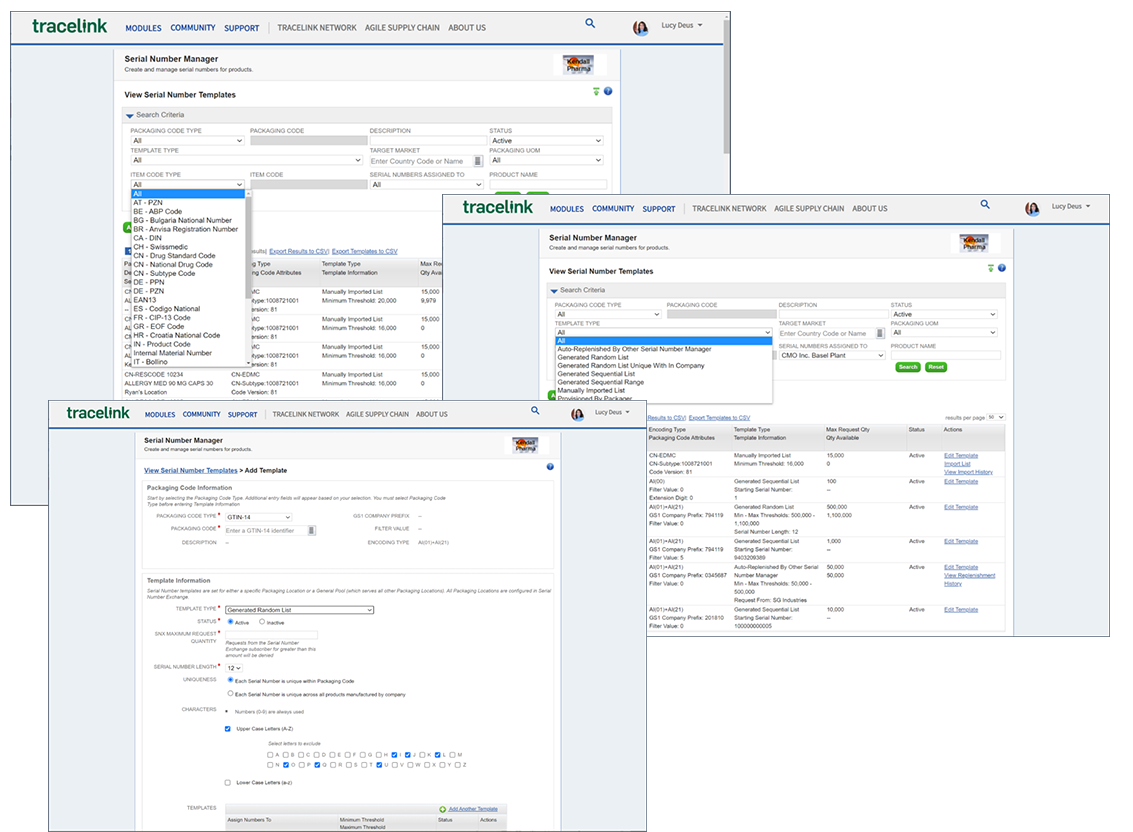 Related Resources
Serialization: The Power to Transform Your Business
See how serialization helps you achieve compliance, prevent delays, protect your brand, and provide…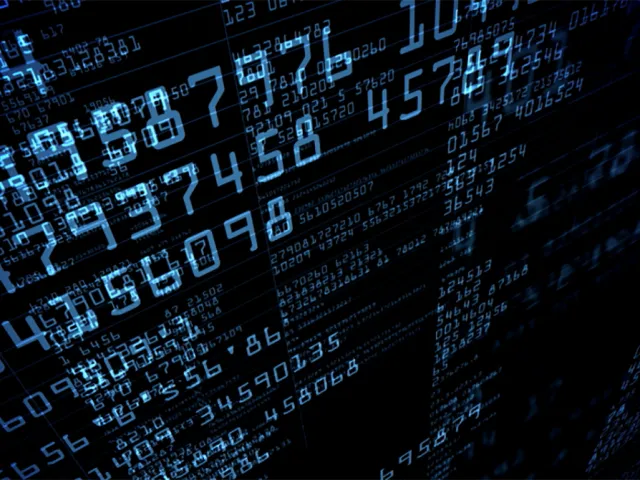 Serialization: Where to Begin
Understand the DSCSA serialization requirements, and how they can impact small pharma organizations.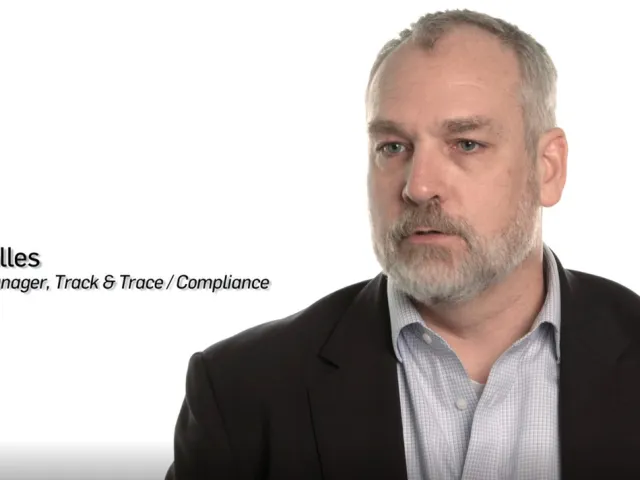 Creating A Single Source of Truth for Your Global Inventory
Watch this video to learn how TraceLink's integrated pharma supply chain platform can give you…
TraceLink Community
A place for members to harness the digital supply chain, collaborate with peers and lead the life sciences industry in creating transformational solutions to serve patients better.