Poll: Most Warehouses Not Ready for Serialized Distribution
December 14, 2016
The oncoming explosion of serialized units is cause for anyone managing serialized products in their warehouse inventory to evaluate their current scanning capabilities—and explore new supply chain integrations for operational efficiency.
With less than a year until the DSCSA serialization deadline for manufacturers, very few pharma companies, wholesale distributors, or 3PLs have implemented serialization in the warehouse, which offers business advantages. That's the finding based on poll results from our recent webinar, Creating a Serialized Warehouse for Operational Efficiency— featuring TraceLink and leading edge solution ROC IT.
Some companies are evaluating whether their WMS or ERP can provide architectural support for serialized distribution and warehousing, while others are working with a complete edge and site control solution to streamline serialization projects, increase functionality, and reduce customization and integration costs.
Last week, 40 attendees representing dozens of pharmaceutical and distribution companies gathered to hear ways to manage serialized distribution and warehousing with greater operational efficiency. During the conversation, TraceLink asked attendees about their plans, processes, and progress. The results reveal there's still a lot of work to be done to bring warehouses into the digital age, even while most companies already have some level of automation operations for distribution in place.

Here are the most illuminating findings from the group that attended:
Warehouses are not yet ready for serialization
Respondents overwhelmingly indicated they are not yet equipped to handle serialized product in their warehouses. In fact, only 1 in 5 can currently scan and process serialized product.
In addition, 64 percent reported they haven't yet begun to implement serialized distribution. That means most are still in the earliest planning stages, leaving a lot of work for end-to-end serialization onboarding and testing with their manufacturing partners—plus additional time to make any necessary adjustments.
Time is running out if you're among the majority just getting started with planning your serialized warehouse and selecting a vendor. Plan how you will adjust packaging and distribution processes, and address complex IT requirements now—so you can avoid jeopardizing speed and business efficiency in the coming serialization years.
Paper is a thing of the past
In this age of electronic information management, it's becoming too costly—and time-consuming—to scan and manage complex compliance data by hand. Most use a hybrid approach to integrate scanning technology and serialization architecture, with 2 out of 3 companies relying on a mix of sophisticated and mobile automation in the warehouse.
The ability to support centralized management and monitoring of serialized product data at the edge of the supply chain reduces the risk of delays in the warehouse. So, not surprisingly, few companies are relying on manual processes to do so—only 1 in 5 respondents said they still rely on paper.
Whether your automation relies on sophisticated conveyors, mobile handhelds, or both, integration between scanning technology and serialization architecture is a critical part of serialized distribution. Moving towards complex automation requires a dedicated focus beyond manual processes and legacy systems in the coming year.

ERP and WMS providers can't satisfy all the demands
Only 38 percent of respondents said they were confident their ERP or WMS systems will be able to handle all their serialized distribution needs.
With doubt comes uncertainty: 1 in 4 respondents don't know or don't expect their WMS or ERP will provide any functionality for serialized distribution at all. This concern will continue to raise questions about how ERP or WMS systems will extend beyond capturing data to support functionality, scalability, and product-timing complexities in a serialized warehouse.
Scanning serialized barcodes is the least of warehousing worries
Despite being the primary business process in serialized distribution, barcode scanning is not a primary concern. In fact, no respondents indicated that scanning serialized barcodes was their most significant challenge with serialization.
So what is? Few were able to identify specific warehouse operations as their biggest hurdles. Given a list of processes as most problematic—scanning, picking/shipping, receiving/returns, and printing/reprinting—half chose "all of the above."
With little indication that one operation is tougher than the next, the best serialization strategy requires the ability to communicate and integrate across each of those business processes.
If you are still determining your serialized distribution approach, watch our on-demand webinar to:
Understand the challenges of serialized warehousing.

Learn how the ROC IT edge solution integrates with TraceLink.

See a demo, and discover how to boost operational efficiency.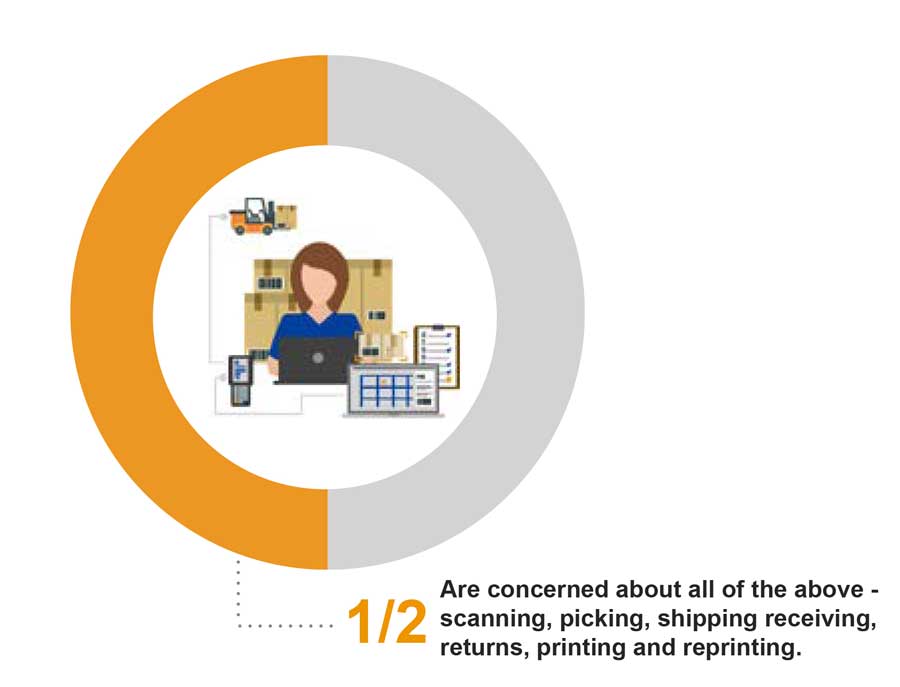 Read More