Key Takeaways
The journey to digital supply network adoption begins where many organizations are today—suffering from a lack of supply chain visibility—and ends with an opportunity to leverage the power of collective intelligence. 
To achieve the full potential and benefits of digital supply network technology, organizations require the ability to create their own digital networks on demand and a new breed of collaborative multienterprise work management solutions. 

Digital supply networks are forever changing the way organizations work with suppliers. By providing a single, virtual environment where buyers and suppliers can come together to collaborate, orchestrate shared work, and share critical information, digital supply networks enable supplier management teams to rapidly resolve issues and identify problems before they turn into major disruptions.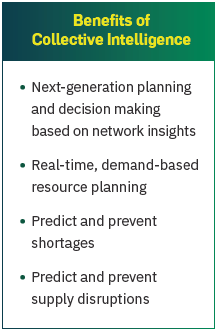 But how will the transition from a traditional linear supply chain to a true digital supply network impact your company? What kinds of challenges and opportunities can you expect? We can answer those questions by taking a look at five stages of digital supply network adoption. 
The transformation begins where many organizations are today—suffering from a lack of supply chain visibility and contending with and data silos that limit agility. But as the journey continues, those silos are gradually knocked down, and companies gain an opportunity to capitalize on the power of collective network intelligence. Organizations that adopt digital supply network technology can expect the process to unfold like like this: 
Stage 1: Prior to the adoption of a digital supply network, supply chain data is siloed and information flows linearly from one silo to the next. For example, in a linear supply chain, information flows from ingredient supplier to manufacturing organization to distributor, and so on. Visibility is generally limited to the previous or next node in the supply chain—and disruptions can easily take you by surprise.   
Stage 2: Once you go live with a digital supply network, you'll immediately begin to see your digital network links proliferate. You'll be connected to more companies from across your end-to-end supply chain. Additional supply chain information becomes available for stakeholders making decisions across the lifecycle. 
Stage 3: During stage three, supply chain data starts moving in a variety of directions and is distributed among stakeholders. These digital links begin to render informational data silos obsolete and valuable supply chain data becomes more freely accessible.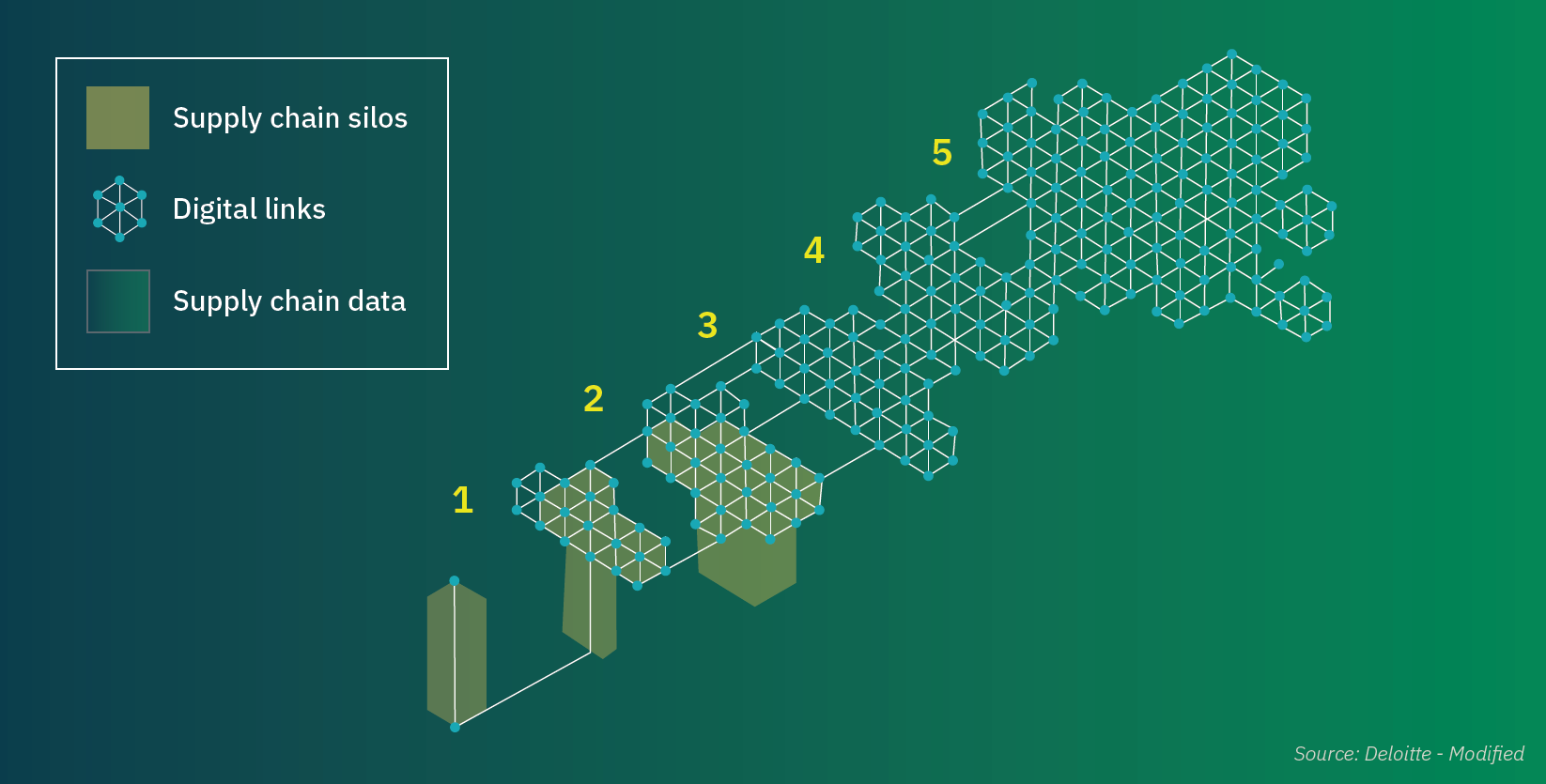 Stage 4: The network is now the connective tissue that enables you to create digital links with supply chain partners and secure information as it flows between stakeholders.
Stage 5: Data silos are eliminated and supply chain data flows freely into and out of an interconnected digital core. By this point, your supply chain visibility has increased well beyond just the next or previous node, and your ability to identify potential disruptions grows stronger. 
The power of digital supply networks is clear—but challenges remain
Many companies have made it to stage five and have significantly improved visibility across their end-to-end supply chains, but some looming challenges remain that are preventing supplier management teams from achieving the full potential of digital supply networks. 
While an organization and its network members can share data freely and orchestrate processes, silos still exist between the networks themselves. This makes it difficult to share data and glean insights across all networks in your industry. As a result, preventing shortages and predicting potential disruptions is more difficult, and supply chain optimization across your entire industry is not possible.
The answer is a digital network creation platform
To digitally transform entire industries, organizations need a network platform and a new breed of multienterprise business applications that enables them to create digital networks on demand to tackle critical business activities—while also enabling organizations to share collective intelligence freely and securely.
By pursuing a network platform strategy, cross-functional and cross-company processes can be executed with a common data model for information sharing across your end-to-end supply chain and your industry. 
The results? Products will be brought to market with unprecedented safety, security, and efficiency. Collective intelligence gleaned from cross-network analytics will help organizations predict and prevent shortages and disruptions. And entire industries will be digitally transformed.
In the next Agile Supply Chain Insights article, we'll take a closer look at the most important capabilities you should look for in a digital supply network platform.