Key Takeaways
The Agile Supply Chain Credo is a new approach to the life sciences supply chain that places a greater emphasis on people and their ability to achieve the ultimate objective: serving patients. 

One of the key principles of The Agile Supply Chain Credo is a commitment to delivering safe products and medicines on time and in full to customers and patients. 

Another key principle is a commitment to exercising resiliency and ongoing responsiveness to patient and customer demand.
TraceLink's Roddy Martin talks about The Agile Supply Chain Credo with Accenture's Life Sciences and Supply Chain Operations Team in this special episode of The Agile Supply Chain Podcast.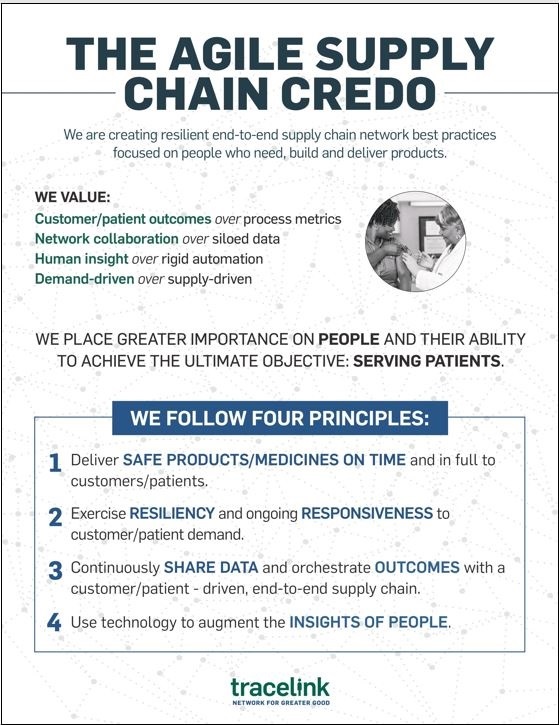 Transcript:
TraceLink's Roddy Martin talks about "The Agile Supply Chain Credo with Accenture's Life Sciences and Supply Chain Operations Team." That's right now in this special episode of The Agile Supply Chain Podcast.
Roddy Martin: Mo, Brad, and Sanjay, the Accenture Healthcare Life Sciences Supply Chain team, welcome to this thought leadership series where we're talking about The Agile Supply Chain Credo, which is pretty exciting, because it's really not a technology or a vendor‑focused initiative.
It's really to blueprint where we think supply chains need to go in the future, especially in healthcare. What are the core North Star Guiding Principles that we think the industry is going to need to adopt? It's been very evident in the pandemic scenario that supply chains—I wouldn't say are broken—but they certainly have gaps. We could do a lot better at building our healthcare supply chain.
Without further ado, Mo, you introduce yourself. Then if you could just tee up the rest of the team and talk, each of you, a little bit about your experience in supply chain, and maybe a starting thought on what you see in the Credo and what you think appeals to you. Over to you, Mo.
Mohammed Hajibashi: Roddy, thanks. My name is Mo Hajibashi. I lead our planning and fulfillment practice within our supply chain and operation organization for strategy and consulting for Accenture globally. We've got a team of very senior folks here. I'll let Brad and Sanjay introduce themselves.
Your point around supply chains and where they're headed, and frankly, what we're dealing with being agile in the supply chain or agile in the value chain, to me it's not a new concept that is out there. We've been talking about agility. We've been talking about ecosystem of value chains that need to be connected in order to solve for optimizing the entire value chain for specific industries.
What I do see though is that the importance of this, in particular in today's time, if you look at where the COVID environment that we're in has been accentuated, it's in the ability to be able to respond to different demands that exist in the marketplace.
Now, the visibility that we have to that specific demand down to almost, in certain industries, I don't see the healthcare industry being any different, getting visibility down to the individual end consumer, in this case.
Getting more customized around the products and services that they need in the marketplace, and essentially, building your value chain to address those needs, that's where I think a combination of things.
If you look at the capabilities that exist in the marketplace today, with cloud computing and access to information everywhere, to the devices that now consumers are able to share information, how they're sharing information, that we can tap into as parts of the value chain.
Essentially, now, taking that information and feeding it through the entire value chain itself, so that we're customizing the services and capabilities that have historically been built for, let's say, the volume‑based distribution to large masses of customers in the marketplace by certain demographics or regions or whatever, now can actually be customized down to the end consumer.
That is the fundamental shift that the Credo touches on, for sure. Frankly, now, every supply chain is trying to solve for is being able to have the capabilities to be able to respond to now, that changing demand at that level versus the large volumes we've been solving for historically.
Roddy: Mo, that's great. In fact, let me draw out a point you made, which is a pertinent one. That is, when I said supply chain, you said value chain. I think that is the fundamental point.
That value chain, in this case, starts at the patient. That's the core epicenter of this whole credo is how do we re‑engineer healthcare into supply chains with the patient at the center. That's great. Over to you, Brad.
Brad Pawlowski: Hey, thanks, Roddy. It's Brad Pawlowski. I lead our supply chain in ops practice in the northeast, that's part of our strategy and consulting group. Have focused primarily on life sciences and consumer goods companies all my career and on end‑to‑end supply chain transformations.
Most recently, very much on the digital supply chain, intelligence supply chain front adapting things like analytics, automation, how to make that a reality.
What I would comment on here is we sit at this point in time, that is, what I'll call the precipice of realization. At this point, most companies have some digital agenda and have done some proof of concepts. The challenge is realizing that and truly embracing digital. What does that mean?
What I like about the Agile Credo is it helps to push towards making these things a reality. You could argue, there's the old phrase of analysis paralysis. We're quite frankly in a POC paralysis right now.
Who hasn't done an analytics prototype? Who hasn't done an automation prototype or a block chain prototype? How do you scale that up and how do you make that meaningful and make a meaningful change to the end‑to‑end value chain that Mo was walking about?
It's one thing to say, "I'm going to take my supply chain planning processes and I'm going to add it to my automation so that some of the data get scrubbed and I have cleaner historical data."
If you want to truly reshape that entire organization so that 50 percent of the tasks can be automated and you rethink what people are doing, that's a big step. Most companies haven't been able to really become digital in that front.
I think if you look at some of the tenets of the Agile Credo, it will help companies push themselves to truly become digital in that sense. I think it's this important tipping point we're at. The way companies from my experience need to think about this is, what's within their control and what's outside of their control.
What's within their control are things like scaling up some of those digital capabilities. They can stand up an analytics organization and break down the walls that exist between business and IT. They can do that themselves.
Some of the bigger industry factors if we talk about the healthcare value chain, that may have to come from external factors. The patient‑centric supply chain as we've talked about it for years is an idea that everybody wants to focus on.
We know there's going to have to be some regulatory changes to truly realize that vision so companies shouldn't sit around and wait for those to happen for us to build truly personalized medicine and get some of that information throughout the entire value chain instead of it being siloed.
They can still make the changes within the organization so that they are ready for that and more and operate more efficiently in the meantime. I think there is what can be controlled within the four walls creating more digital and then some external factors that should change as well.
Roddy: Well said. I think you and I have both been on projects together in big life sciences companies where when we've introduced the idea of build from the patient back and it's, "Well, hang on. Let's not confuse the business. That's a lot for them to swallow."
Nobody says that we're going to suddenly be patient‑centric tomorrow, but let's at least bear the patient in mind as we're designing the supply chain all the way back to suppliers. Take a leaf out of P&G's book.
They designed their whole business from the shelve back to supply so what's wrong with that? Alessandro De Luca, who was on the panel talking about the Credo, was the CIO of Procter & Gamble and he's now coined the expression "the patient‑driven supply chain."
I know where he got that from because it was the consumer‑driven supply network at Procter & Gamble. Brad, great points. Let me hand over to Sanjay. Sanjay introduce yourself and talk a little bit about your role at Accenture.
Sanjay Srivastava: Thank you Roddy. Sanjay Srivastava. I lead our personalized medicine Center of Excellence, specifically cell and gene therapies. As most of you, new modalities are coming in. There's lots of excitement in the industry around this because they are potentially curative.
With that, actually it brings a new paradigm on how we think about supply chains. As Mo and Brad both have said earlier that we've been talking about Agile demand‑driven supply chains for a very, very long time and so have we been talking about patient‑centric.
None of that is new, but yet there were challenges for life sciences companies to actually adopt and implement those supply chains. With cell and gene therapies without adopting those practices, we cannot execute because for the truly one batch per one patient supply chains that are truly demand driven cannot operate in the legacy environment.
What we do and what we are helping with is companies to adopt these practices. These practices are evolving, and we are helping to drive that effort to get this implemented as quickly as we can. The standards are new. The standards are coming in.
Besides being patient‑centric and demand driven, what is important for cell and gene therapy—and not just for cell and gene therapy but also for other modalities is collaboration—when we talk about Agile and demand‑driven supply chains, is that the [manufacturer] alone cannot make it happen.
It is about network collaboration. It is about providing end‑to‑end visibility to know where the patient is, where the product is, and where the cell and tissues might be in case of certain gene therapies.
That's one aspect that we have to incorporate in the patient‑centricity is the ecosystem participation, and each ecosystem partner providing the value to the systems.
The second piece that also is part of the credo is the human insights over very strictly automated operations. We all talk about digital automation and making it fully automated supply chain where a human interaction may be limited.
At least in cell and gene therapies and many other modalities and rare diseases, where patients are truly very sick and are in need for these very innovative medicines, human insight becomes imperative.
We have to often provide that intervention to the supply chains to manage the patient journeys. While digital agenda is important, we need to have human insights on top of that digital agenda to make this work.
Roddy: That's a fantastic point. I want to go back to both Mo and Brad. I know that Accenture has a huge strategy around network platforms and being able to connect that collaboration network that you referred to around a digital platform as the augmentation of the end‑to‑end supply chain.
Mo, maybe let's start with you, a little bit about those seismic technology shifts that you see as we go from inside‑out transaction‑driven to outside‑in as Hau Lee calls it, smart hyper‑agile platforms that can support Agile operations.
Mohammed: Yeah. Now, this is to me, one of the fundamental disruptors that we've seen in the last 5 to 10 years that is emerging. If you think about technologically in‑memory data processing, which is allowing us to process massive amounts of information in literally seconds, which used to take hours of batch processing time.
If you think about what that means from a data ingestion perspective, and the ability to manipulate data in fundamentally different ways to solve across so many complex dimensions of what we're solving for in a business, in a value chain, that is one fundamental disruptor.
That simple point alone, how that drives in combination with cloud computing infrastructures that no longer do you have to have a system in your four walls to be able to run your entire value chain, you now have the ability to tap into cloud‑based infrastructure with this in‑memory data processing, to be able to get access to all the data points sitting across that entire value chain.
Now, the question for companies is, is how am I taking advantage of all that data to solve for what I'm trying to take to market?
We were talking earlier, about whether companies are making the decisions, the investments they're needing to make on digital platforms. The reality is it's going to be disrupted, either by the companies themselves or new entrants.
Look at what happened to the retail industry with Amazon. Amazon disrupted that entire industry simply by taking consumer information, standing up a brand-new homegrown value chain, to be able to solve those needs to drive a differentiated service. We're not talking about anything much different.
Now the types of insights that you can capture down to the patient level, as you're saying here, and then translate that back down to the products that are specific for that specific patient.
Then enabling them from a supply chain perspective to manufacture in a different way and fulfill to their specific needs that drive a very customer‑centric or patient‑centric approach, that's what's happening and now the technology is there to essentially do that.
Roddy: Then I think that's really exciting and to Sanjay's point, I think cell and gene therapy, or personalized medicine, simply can't scale.
If you are a massive company and you've invested no matter how good a job you did of putting in your favorite ERP system, it's just not going to be agile enough to be able to support these batches of one or community of 10 patients spread across the world and having to get small doses of therapies to them. Brad, what would you say?
Brad: Well, I guess just to pick one point Mo mentioned, Amazon never likes to throw it around, but if you don't think Amazon's coming after health you're not paying attention. They are already here. Look at what COVID has brought upon us with the telemedicine spike and rightfully so.
The whole experience with doctors is just one of those that needed to disrupted. Weeks and months to get an appointment and then you'd have to sit four or six hours just to see a doctor. Now you can just log on and talk to somebody and get a prescription in a matter of 15 minutes.
Well guess what's coming right behind that is the Amazon shipment to bring it to your door. If we think that the rules and the disruption aren't in this industry already and going to accelerate, I think you're going to be in trouble. You've got to be willing to challenge your norms because the disruption is here and it is going to accelerate.
If you'd come back to some of the technologies, one of the eye-opening aspects of when block chain was first being considered was that it was being considered around the track and trace side, etc.
One of the reasons I think companies struggle with block chain is it was fundamentally opposed to the way companies were set up in terms of data management. The whole theory of simplifying it way down to block chain was everyone has access to all the same information.
If you think about how companies are set up, it is the completely opposite. It is, "I hold on to my data and I'm going to give it to you on my terms." Then the next partner's going to do the same and pass it on and pass it along.
Block chain came up against this brick wall which was these corporate barricades that prevented the sharing that everyone acknowledges would make the end‑to‑end process much more streamlined but for reasons that weren't necessarily for optimization or even safety just the matter of, "Hey it's my data I want to hold on to it."
That's what's slowed that down. It brought to bear what some of the realities are. What I would challenge companies to do is think about those barricades you have even within your four walls.
If you talk about change control when you get a formula changed to a product, how many steps does it take to get that through and out to a product on the market, and are those steps really necessary? Before you go and break down the walls that would allow you externally to get to a true patient‑centric supply chain, you got to break down the walls internally.
I guarantee you between R&D, between manufacturing, between supply chain, trim market, there are so many barriers to just proliferate a change control through that you got work to do now so that you're ready to truly become more end‑to‑end and patient‑centric.
Roddy: Fantastic point. If you think Pill Pack was an aerobic exercise by Amazon, think again.
Brad: Exactly.
Roddy: I've heard some insights into where that's going in and it's interesting. The article I wrote on Amazonification of supply chains is alive and well. I probably do a third of my grocery shopping on Amazon. I know when I place the order and I know when it's going to be delivered at my door. Great points. Sanjay, your point.
Sanjay: I think I'll echo what Brad was saying in terms of breaking down the silos and also the holding onto the data. We've seen that in cell and gene therapy as well. All the companies are building the supply chains in silos and creating technologies to the portals that are creating a fragmentation in the marketplace.
That is creating a huge burden on the hospital systems when they have to cater to different supply chains for single therapy, because all of these centers are multi‑therapist. The second aspect internally, as Brad pointed out, the silo piece is very important in cell and gene.
Two considerations here: One is that when you talk about manufacturing in supply chains, traditionally, the metrics and the process controls were all about product quality and how do we manage that.
Here in cell and gene when we are administrating live drugs into the patients, every variable in manufacturing impacts outcomes to a different degree. We need to do sensitivity analysis to understand which variable will impact the most on the outcomes.
Therefore, break down the silos for commercial medical affairs to access the clinical outcomes data. Bringing it back to manufacturing to do the meta‑analysis and analytics is going to improve manufacturing operations, as well as identify the patients that are going to benefit the most from the therapies to be able to do patient stratification as an exam.
Roddy: I think those are very good points. I hate to say the old days, but in the past, we got consultants to implement an ERP and we said, "Get on with it. Call us when you're finished." That's just not the case anymore.
I think the point you make is you have to go and do this network analysis with specialized management consultants. Teams like Accenture really know how to think about the value stream. This is not deploying technology.
This is about a fundamentally new operating model for the business. It's not just, "We're going to engineer our business to work like our ERP system says that we're going to operate." Really good point. We spend a lot of time with a lot of the input on the Credo focusing on augmenting people with systems. Not using systems to drive people like robots, because that is really not the idea.
In closing, because we're at the end of our time, one recommendation point from each of you on, if you were sitting in front of a senior C‑level executive at a life sciences company, and they said, "Hey, what do we make of this Credo?" what would your piece of advice be to them?
Obviously, it doesn't say, "Go and do this tomorrow." It says, "You've got to change your mental model." Mo, let's start with you.
Mohammed: Roddy, what's so nice about the Credo, and it's what we're out telling our clients, is there are investments that everybody is making. There's no question of that. Brad hit on it. There typically seems to be very tactical investments to prove out capabilities and very specific points.
In many cases, we're not necessarily tied in to an overarching vision or strategy. Meaning what is the North Star that you're actually migrating towards and then all your investments and initiatives need to be essentially stepping stones or building blocks to achieve that vision.
It seems a little bit loose. My coaching would be, establish a clear vision. That vision may change based off of the learnings of the investments you make over time. You will not transform in a month or two months or even a year.
This is massive transformation for those companies. The point is, is set up a clear North Star and then lay out your roadmap and then that is going to be a flexible roadmap to achieve that goal.
Roddy: Great. That's not a six‑month project, right? This is something that you need to take on as a transformational is to top down in the organization. Great points, Mo. Brad?
Brad: My advice to C‑suite would be, disrupt yourself before you're disrupted. You don't want to be on the receiving end of the disruption.
You can look at various signals whether we talk about the end‑to‑end value stream and patient centricity, talk about competitors like Amazon, we can talk about CVS and Aetna. The signals are all there. There's a lot you can control immediately, and you want to do that disruption to yourself.
I think one example of that just if you look at the heart of what we're talking about in true patient centricity and some of the personalized medicine that Sanjay talked about, it comes down to cycle time ‑‑ cycle time of manufacturing. That's something you can control today.
You can put in a bunch of initiatives to reduce that, to have better visibility, to streamline your operations. Again, it's better to do that yourself now than to have the market forces tell you, "You need to do it immediately because you're getting disrupted." Disrupt yourself would be what my advice would be.
Roddy: Great point. I think when you're operating as a network to Mo's point, you can actually all collaborate and share data. When you're working as one long stream of integrated systems passing data from one partner and one mode of the supply chain to the next, you're never going to get there.
I think your point of disrupt yourself is, how do we operate as a network? Let's figure that out. Let's put that as the elephant in the room and let's figure out how to get that done. Great points. Thanks, Brad. Sanjay?
Sanjay: I think both Mo and Brad have said a lot of good points. What I would say is to add to those two is simply one thing, embrace the change because we are in a new paradigm. What we're seeing and what is important for this organization, and it has come to from C‑suite, is the change. The change management aspect to it.
Embrace what patient centricity and network collaboration is about supply chain and push it down to the organization so that we can actually operate in that manner and go beyond being a drug supplier to being truly a partner to the patient, to our customers, and to our partners.
Roddy: Fantastic. With that, thank you very, very much Mo, Brad, and Sanjay. This has done absolute justice, having you break the ice on a partner of TraceLink's talking about the Agile Credo. I think every point has been insightful. It's been content‑rich.
I really appreciate the time you've given up doing this with us. Thank you very much, and let's call it a day. Thank you very much. Goodbye
Brad: Thank you, Roddy.
Sanjay: Thank you Roddy for setting this up. Bye.
Mohammed: Bye‑bye.
---
Return to: The Patient-Driven Supply Network